Bush to set re-election themes in speech
( 2004-01-21 09:08) (Agencies)
U.S. President Bush, wrapping the themes of his re-election campaign in an upbeat State of the Union address, said Tuesday night that America enjoys a growing economy but is still at war and must not "falter and leave our work unfinished."
After more than two years without a terrorist attack, he said it was tempting ! but wrong ! to think the danger had passed.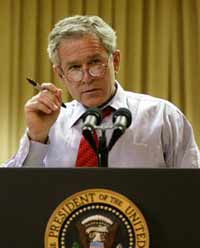 U.S. President Bush prepares for the State of the Union speech in the Family Theater of the White House Monday, Jan. 19, 2004. [AP Photo]

Bush said he was optimistic about the reviving economy and urged Congress to take steps to make sure the recovery lasts. "We must respond by helping more Americans gain the skills to find good jobs in our new economy," the president said.

Excerpts of his address were released in advance by the White House.

Bush's speech was designed to cast him as the commander in chief, grappling with the nation's problems and above politics, while Democratic rivals for his office race around the campaign trail trading charges.

The speech fell one day after the one-two finish of Sens. John Kerry and John Edwards in the Iowa caucuses threw the Democrats' race into a wide-open contest going into next week's New Hampshire primary.

"America this evening is a nation called to great responsibilities," the president said. "And we are rising to meet them. ... We have not come all this way ! through tragedy and trial and war ! only to falter and leave our work unfinished."

"Our greatest responsibility is the active defense of the American people," he said. "Twenty-eight months have passed since Sept. 11, 2001 ! over two years without an attack on American soil ! and it is tempting to believe that the danger is behind us. That hope is understandable, comforting and false."

Bush faced an electorate closely divided over the nation's direction. Americans are evenly split on his handling of domestic issues such as education, health care and energy, and just over half approve of his handling of the economy. His strong suit remains foreign policy, especially his handling of terrorism. Bush's job approval among voters in an AP-Ipsos poll early this month was 56 percent, a relatively strong position at this stage of a re-election campaign.

He said his administration was confronting nations that harbor and support terrorists and can supply them with nuclear, chemical or biological weapons. "Because of American leadership and resolve, the world is changing for the better," Bush said.

The president defended his decisions to go to war in Afghanistan and Iraq. "The work of building a new Iraq is hard and it is right," he said. "And America has always been willing to do what it takes for what is right."

On the domestic front, Bush said America's economy was being transformed by technology that makes workers more productive but requires new skills. He called for new job-training grants channeled through community colleges.

Bush urged Congress to address the rising costs of health care with tax-free savings accounts for medical expenses, tax credits to pay for insurance and ceilings on medical malpractice damage awards.

Reaching back to his political speeches, Bush spoke of values important to many Americans ! courage and compassion, reverence and integrity, respect for differences of faith and race. "The values we try to live by never change," he said.

The president was expected to repeat his belief that marriage should be between a man and a woman but stop short of seeking a constitutional amendment banning same-sex marriages.

"All of us ! parents, schools, government ! must work together to counter the negative influence of the culture and to send the right messages to our children," he said.

Reviving an old proposal, Bush was calling on Congress to overhaul Social Security to allow workers to invest some of their payroll taxes in private retirement accounts. He also was renewing proposals to help Americans cope with the rising costs of health care and to make tax cuts enacted in 2001 and 2003 permanent. But budget deficits approaching $500 billion have made many in Congress wary about expensive proposals. While Democrats emphasized that the United States has lost 2.3 million jobs since Bush took office, the president was emphasizing the economy's growth.

He also was renewing his push to steer federal money to religious groups that provide social services.

Foreign policy was the opening theme of Bush's speech, and the president was expected to point to Libya's decision to renounce weapons of mass destruction and encourage other nations ! North Korea and Iran, in particular ! to follow suit.

Last year's speech brought criticism over passages that asserted that Saddam Hussein was "assembling the world's most dangerous weapons" and cited British intelligence alleging that Iraq had sought to buy significant quantities of uranium from Africa. The administration later acknowledged it had no proof about uranium purchases.

In nearly 10 months, nothing has been found in Iraq from a long and classified intelligence list of weapons of mass destruction.

On the domestic front, Bush was to propose measures to curb the rising costs of health care, administration officials said. The package, drawing on plans already announced, includes tax incentives to make high-deductible, low-premium policies more attractive; health savings accounts, which allow workers to place money into accounts tax-free and withdraw it with no tax penalty for medical expenses; limits on medical-malpractice awards, and permission for businesses to pool their resources to get workers coverage.