China sets up daily reporting system to monitor bird flu
( 2004-01-20 15:09) (Xinhua)
China has raised its level of alert against bird flu, ordering veterinary and quarantine units nationwide to report back about their situation every day.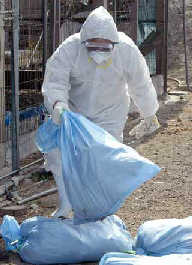 Taiwan agricultural worker packages slaughtered chickens for disposal at a farm in the southern county of Chiayi on January 18, 2004. Taiwan found two farms infected with a mild strain of bird flu and slaughtered 55,000 chickens in a bid to prevent the disease from spreading. [Reuters]

In its second emergency notice issued Tuesday following the bird flu outbreak, China's agriculture ministry also told local officials to step up the quarantine of poultry.

"If cases of bird flu are spotted, all poultry within three kilometers (1.8 miles) of the site will have to be slaughtered and all poultry within five kilometers (3.1 miles) of the polluted region will have to be vaccinated immediately," the notice said.

The notice also asked local governments to set up emergency teams and store materials for emergency use if cases of bird flu are discovered.

An around-the-clock monitoring mechanism will be adopted during the coming week-long Lunar New Year holiday, which begins Thursday, the report said.

Following an order by the agriculture ministry banning imports of poultry from bird flu-affected Vietnam, Japan and South Korea, many parts of China have tightened measures to prevent the spread of the disease.

To enforce the ban, the government in southwestern Yunnan province decided Tuesday to set up quarantine checkpoints at more than 40 trade ports along the 1,200-kilometer (750-mile) provincial border with Vietnam.

The World Health Organization (WHO) has confirmed the fifth case of human death connected with the H5N1 virus in Vietnam.

The deadly virus - highly contagious among chickens - is believed to spread to humans through contact with infected birds, but there have been no reports of the disease spreading from person to person. China has listed the virus near the top of prevention work list.