Fashion goes in for ambiguity
( 2004-01-19 14:56) (21 Century)
Leo Jimenez, a 25-year-old model in New York, has appeared in ads for Levi's, DKNY and Aldo, all of which are famous fashion brands. But, he's not exactly a conventional pretty face.
His steeply slanted cheekbones, dreadlocks (plaited hairstyle, especially popular among blacks) and jet-coloured eyes suggest a background that might be Mongolian, American Indian or Chinese.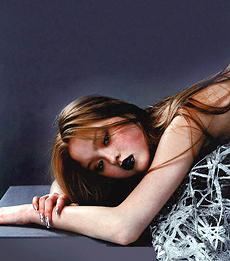 Devon Aokai, a Japanese model.

In fact, he's Colombian by birth, a product of that country's mixed racial heritage. And he fits right in with the melting-pot aesthetic of the downtown scene. It's also a look that is reflected in the latest youth marketing trend: using faces that are ethnically ambiguous.

"Today what's ethnically neutral, diverse or ambiguous has tremendous appeal," said Ron Berger, chief executive of a New York advertising agency.

Ambiguity is chic, especially among the Generation Y under-25ers. Teen People magazine's current issue is devoted to beauty and features girls who are identified, for example, as "Puerto Rican and Italian-American" or "Finnish-German-Irish-Scotch-American."

"We're seeing more of a desire for the exotic beauty that transcends race or class," said Amy Barnett, the magazine's managing editor. "It represents the new reality of America".

In the 2000 census, nearly seven million Americans identified themselves as members of more than one race for the first time. The increasingly multiracial American population, demographers say, is due to intermarriage and waves of immigration. Mixed-race Americans tend to be young.

Among art directors, magazine editors and casting agents, there is a sense that the demand for P&G (Procter & Gamble) ¡ª industry language for blond-haired, blue-eyed models ¡ª is decreasing.

Ethnic ambiguity is so powerful that even megastars like Jennifer Lopez and Christina Aguileras have deliberately changed their looks sometimes, borrowing from diverse cultural and ethnic backgrounds.

Lopez, who is Puerto Rican, takes on the identity of a Latina-Asian princess in the latest Louis Vuitton ads. And Christina Aguilera, who's half Ecuadorean, poses as a Bollywood goddess on the cover of the January Allure, which arrived on newsstands last week.

Such a transition is in line with the currently fashionable argument that race itself is a fiction.

That kind of thinking is being echoed by the professional image makers. "Some of us are just now beginning to recognize that many cultures and races are assimilating," said John Partilla, the chief executive of Brand Buzz, a marketing agency. "If what you're seeing now is our focus on trying to reflect the blending of individuals, it reflects a societal trend, not a marketing trend."

"For once," Partilla added. "It's about art imitating life."