Piano prodigy Li Yundi intelligent and cool
( 2004-01-19 08:57) (eastday.com)
Li Yundi, the youngest winner of the International Chopin Piano Competition, is certainly a piano prodigy with a keen sense of intelligence, but, he also has serious cool factor, making him an Asian pop icon -- sort of a male Vanessa Mae.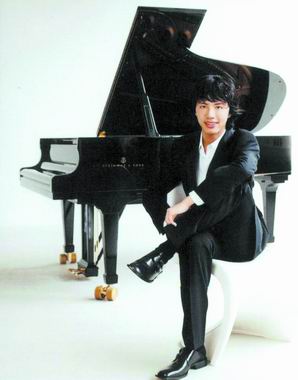 Reports say Li Yundi was born to be a pianist. [China Daily/file]

Li Yundi is in cool young kid mode. Wearing a casual navy blue checked shirt paired with blue jeans and sneakers, the erupting ring of a cell phone inspires him to mischievously whistle an identical imitation of the tune. Hardly the image of classical music's icon du jour.

But then he sits down, and strikes the first note of Frederick Chopin's ``Piano Concerto No. 1 in E Minor.''

Almost instantly, a serious expression has overtaken his expressive face, and he is one with the music. The occasion is a rehearsal for a joint concert, held last Wednesday at the Shanghai Grand Theater with Japanese violinist Tamaki Kawakubo, to celebrate the 30th anniversary of the sister-city relationship between Shanghai and Osaka.

Li plays with a rare combination of virtuoso skill and poetic interpretations, each note he plays a reminder of why, in 2000, his music inspired the jury of the 14th International Chopin Piano Competition to gave out the first top prize in 15 years to the then 18-year-old boy, the first Chinese and the youngest contestant ever to claim the trophy.

``Working with him on this concert has been a completely different, and indeed, fantastic experience,'' notes director Zhang Guoyong, who conducted the concert.

``His maturity is obvious from the arrangements of the rhythmic transitions to the superb control of strength variations, which is known as the most difficult part of Chopin's compositions.''

``It won't be long before he is a maestro,'' Zhang predicts. But the future maestro says he didn't even expect to win -- ``let win alone an worldwide acclamation,'' says the 22-year-old young man, confessing that he considered withdrawing from the contest at one point because he wanted to spend New Year's Day with his grandparents.

He's philosophical about his win, though: ``As would happened to any winner of a coveted award, my life has changed. The best part is that I can now fulfill my childhood dream of performing throughout the world,'' he adds.

Li's fairytale story is one that also mirrors the country's development over the past 15 years into a well-off society, one where parents are eager to have well-rounded educations for their children including the arts. The son of average workers in Chongqing,

Li had no exposure whatsoever to classical music at home. But like many musical prodigies, his gift became apparent early on. ``When Yundi was only one year old, he was simply entranced by the musical programs on the radio,'' recalls proud father Li Chuan, now a steel company manager based in Guangzhou. ``He would wave his hands and legs to the music -- sometimes I had to force him to calm down.''

At only three years old, the junior Li managed to persuade his parents to buy him an accordion, and, two years later, won a children's accordion competition, thus convincing his mother that it might be worthwhile to invest in her son's passion. In 1991, at the age of nine, he started lessons with professor Dan Zhaoyi of the Sichuan Conservatory of Music in 1991, one of China's most respected piano teachers.

Noting that Li's only previous instruction had been piano lessons at a local Children's Palace, professor Dan, 64, raves, ``For a child of his age, he really possessed remarkable sensitivity and a high degree of dexterity as well as considerable interpretational self-assurance.''

In addition to Li, Dan has also mentored students like Chen Sa and Zuo Zhang, both top-prize winners at international piano competitions.

``But beyond all his remarkable musical gifts, one quality stood out: his extraordinary powers of concentration, a rare quality in a child. My job was to help him fully develop all those advantages,'' Dan recalls. Li himself would add another important quality to his success: plain hard work. ``Can you see any difference between my hands and yours?'' Li asks, as he stretches out his fingers to compare. ``No? Then how about this way?''

As he tries to close his fingers together, the answer becomes painfully clear: he can't. As it turns out, exercising his fingers up and down the keyboard, eight hours per day, almost every day, has distorted the shape of his fingers.

That is the price of fame -- it's a big price, but then again, that fame is quite widespread fame. Li's unprecedented victory at the Chopin competition has paved the way for an around-the-world tour, and launched him into classical music's spotlight -- as well as the popular eye. In Asia, particularly in China, Li has an almost pop star status, thanks to his good looks and debonair ways.

His signature curls are often compared to Japanese actor Kimura Tanaka's, one of Asia's most popular television icons. Inspired by the market potential of his image -- this could be a male Vanessa Mae -- the renowned classic label Deutsche Grammophon invested 150,000 euros (US$180,000) to create a romantic musical video of ``La Campanella'' with German super model Kristina Beier, in the hope that this cutting-edge approach would boost the sales of his new album, ``Yundi Li: Liszt,'' released last August.

Amazingly, it really worked. The album went platinum in Hong Kong, selling over 35,000 copies the month after it was publicized. In 2001, his debut CD, featuring an exclusive collection of Chopin recitals, reached No. 6 on regional charts as well. But does the fact that the swooning teenagers who have turned him into a pop icon care more for his hairdo and clothes than his music bother him? Not really.

``From a business point of view, it makes sense for my company to package me as a pop icon,'' Li says.

``As for the young people who take me as their idols, I think it will nonetheless raise their interest in classic music, which is a good thing. As for me, all I really care about is advancing from being a pianist to becoming a true musician.'' To reach his ultimate goal, Li is now studying under the instruction of Arie Vardi at the Academy of Music in Hanover, Germany. The Israeli pianist is currently one of the most sought-after lecturers in the world, with big name students like Yefim Bronfman. In order to allocate sufficient time for his piano studies, Li has cut back on concerts and learning new repertoires.

His 2004 schedule includes no more than 60 concerts, all in the first half year. Chopin recitals, he says, remain his favorite.

``There's no need to prove that I am an all-round performer capable of performing the works of any composers,'' says Li, responding to critics' complaints of his Chopin focus.

``I still need time to perfect my interpretations of Chopin's works, and before I can fully demonstrate all the essences of Chopin, I will not shift to another composer,'' he says firmly. It may be, he quips, a lifelong cause. So many expectations on so young a head.

But before he sets off to live up to the expectations that have built up for him in the coming year, he has one plan that won't be scuttled. He's going home, to celebrate Chinese lunar New Year with his grandparents, just like any other 22-year-old Chinese boy.