Bank cards get nod for HK use
( 2004-01-18 23:28) (China Daily By Xu Dashan)
Mainland-based banks have got the green light from the central People's Bank of China to expand their bank card business in Hong Kong, despite overseas banks still being banned from issuing bank cards on the Chinese mainland.
Bank cards issued by domestic banks with the logo of China Unionpay Co Ltd -- the only national payment network -- were able, as of Sunday, January 18, 2004, to be used for shopping, catering and accommodation through point-of-sale (POS) machines in Hong Kong.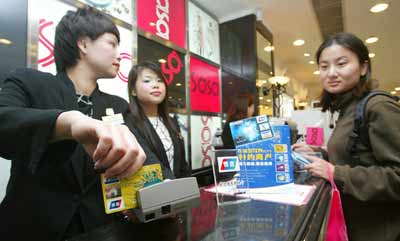 A mainland traveller uses a domestic bank card at a SaSa cosmetics shop in Hong Kong, on Sunday, January 18, 2004. As of Sunday, bank cards issued by mainland banks with the logo of China Unionpay Co Ltd can be used to pay for shopping, dining and accommodation through POS machines in Hong Kong. [newsphoto.com.cn]
The cards can also be used for the withdrawal of Hong Kong dollars in cash equalling no more than 5,000 yuan (US$602) from local automatic teller machines.
Central bank officials said the move will make it easier for mainland travellers to Hong Kong to pay their bills in the special administrative region.
One official added that the move will also allow for closer trade and tourism exchanges between the mainland and Hong Kong so as to promote the economic growth of the two sides.
Zhang Liqun, a senior researcher with the State Council Development Research Centre, said the new move suggests ties have become even closer between the renminbi and the Hong Kong dollar.
Other economists said the move will also help domestic banks increase their non-interest-rate business.
Huang Jinlao, a senior researcher with the International Finance Institute, said the bank card business, especially the credit card business, is one of the most profitable areas for banks.
"The credit card business can help bankers increase their revenue in three ways: Annual fees, high interest rates and commissions of at least 2 per cent paid by traders to card issuers," he said.
Domestic banks should try to secure a larger market share, he said.
"Expansion of the business is more urgent today, because foreign competitors, which could pose a considerable threat to domestic banks, will be freed from all geographical and customer restrictions in China by the end of 2006," he said.
Foreign banks have already developed their credit card business in China, although they are banned from issuing credit cards of their own, he said.
Two weeks ago, the Hongkong and Shanghai Banking Corporation Limited (HSBC) and the Bank of Shanghai jointly launched the Shanghai International Credit Card, which is issued by the local bank.
Citibank NA, a subsidiary of the world's largest credit card issuer and financial institution Citigroup, also joined with the Shanghai Pudong Development Bank by providing management and technology in the local bank's issuance of a dual currency credit card.
By co-operating with their Chinese partners, foreign banks can find their potential client groups and make high profits, Huang said.
Citibank and HSBC will also be able to share profits with their Chinese partners, because they have stakes in the two banks.
Liu Mingkang, chairman of the China Banking Regulatory Commission, said China backs foreign banks issuance of their own credit cards in China.
The People's Bank of China and the China Banking Regulatory Commission are busy drafting a new banking card management regulation to manage the credit card business by both domestic and foreign banks, he told a press conference last month.
"We try to accept foreign banks' applications to do the business as early as possible," he said.
Willie Fung, senior vice-president and general manager, China, of MasterCard International, said that MasterCard is confident of the continued growth in China's secured credit, or "quasi credit" as it is known in China, and credit card business as China's middle class, defined as those earning US$5,000 per year and above, is predicted to grow from an estimated 60 million people in 2002 to 160 million by 2010.
The vast majority of people in China who qualify for a secured credit card or international credit card come from the middle class, Fung said.
"It is also estimated that even today there are already more than 50 million people in China who can be characterized as 'cardable', meaning they are able to qualify for a credit card."
While there are only some 1 million credit cardholders today, there are about 24 million secured credit cardholders, and virtually all of them will become credit cardholders in the future, Fung said.