Gold rush in mobile messaging market
( 2004-01-18 23:27) (China Daily By Liu Baijia)
While most people are on their way home to spend the Chinese lunar new year on Thursday, Han Jun has to keep on working.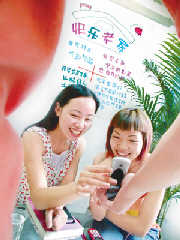 It's "cheap and cool" to send a SMS or MMS. [newsphoto.com.cn/file]

His work is to bring happiness to customers with mobile messages.

"The Spring Festival is the best time for our promotions, as people tend to send greetings with their mobile phones during such a long and traditional holiday," said Han, director of wireless business of Tom.com, one of the biggest Internet companies in China.

Tom.com is the earliest web business to promote multimedia messaging service (MMS) on the Chinese mainland in co-operation with the country's biggest mobile telecom operator China Mobile.

Han's team are speeding up their preparations with the approach of the holidays.

Han said his company will create more than 200 colourful pictures, audio and video clips and ringtones for mobile phone or Internet users to download to their own phones, or send to friends or relatives during the Chinese new year.

Tom.com has about 400,000 active MMS subscribers, who send as many as 60,000 multimedia messages every day, according to Han.

Han's company is only one of the many service providers which provide content for users to send to mobile phones, but their enthusiasm has become a big factor contributing to the growth of the MMS market in China, according to the US-based information market researcher International Data Corporation (IDC).

"Service providers will do more to promote the service and also offer maybe free MMS trial during special occasions and have people used to the service. And importantly get them `hooked' on it like SMS," said Davina Yeo, associate director for wireless research of IDC Asia Pacific operation.

"That will be an important driving force and also more people upgrading or buying new handsets,'' she added in an interview.

According to IDC's latest report on the predictions of the MMS development in the Asia-Pacific region, the proportion of MMS users against total mobile subscribers in 2004 will more than double than that of 2003 to 4.5 per cent.

She believed the growth is quite strong, because the text short messaging service (SMS) has become very popular among the Chinese people and MMS will follow in the same direction.

However, Yeo pointed out that although some service providers are investing a lot on MMS, it is still quite small compared with their investment on the short messaging service (SMS), which only includes text messages.

The IDC analyst also called content providers to find out more applications to encourage the usage by subscriber, rather than only focusing on colourful wallpaper downloading.

She added besides the requirement for varied applications, high prices of colourful and camera phones and usage will also hinder the popularity of MMS.

"Right now there are many more handset models available but it will take time for people to get used to using MMS, and for more people to have the handsets and use the functionality," said Yeo.

Han Jun with Tom.com also encountered similar problems.

His company cut the charge on colourful picture downloading from 3 yuan (36 US cents) to 2 yuan (24 US cents) from December, trying to use the three festivals -- New Year's Day, the Spring Festival and the Valentine's Day -- to further promote use of the MMS service.

The firm is also talking with big companies to help them send greetings to their customers' mobile phones.

As to the supply of colour-screen and camera phones, he did not think it is a big obstacle now, but he believed a large-scale use will not come until the end of this year.