BMW drives wedge between rich, poor
( 2004-01-18 23:02) (China Daily By Raymond Zhou)
There are thousands of traffic accidents every day -- but one touched on the national nerve. Was it an accident at all, or was it a heat-of-the-moment act of anger? In the larger picture, was the judgment fair, or has public reaction been misguided by a deep-rooted resentment of the rich?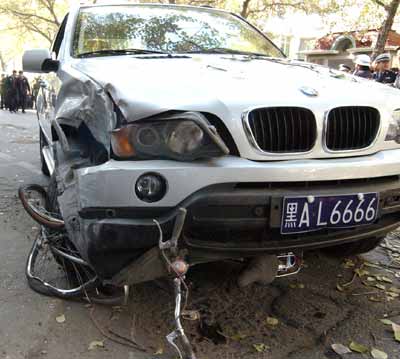 The picture shows the BMW that is involved in the highly disputed traffic accident. [China Daily]

It all started as little more than a fender bender.

On October 16, 2003, Dai Yiquan and his wife, Liu Zhongxia, were plodding along their tractor, loaded with green Chinese onions, along a narrow street in Daoli District, Harbin, capital of Northeast China's Heilongjiang Province. To avoid a head-on collision with another vehicle, Dai swerved right, scratching the left rear-view mirror of a BMW X5 3.0 parked along the side of the street. Some of the onions fell on the car, covering the mirror.

Su Xiuwen and her sister jumped out of the BMW and beat up Dai and Liu. Dai recalled later that Su yelled "How can you afford to compensate for the damage?" while Dai and his wife took the punches without striking back because "we knew we were at fault." Su's testimony admitted that she hit him only once.

The commotion soon attracted a big crowd. Someone suggested that the BMW move back a little to rid itself of all the onions on its top. Su and her sister got back into the car and -- to everyone's alarm, the car dashed forward, killing Liu Zhongxia on the spot and injuring 12 others, until it hit a tree.

On December 20, the Harbin Daoli District People's Court ruled that it was a traffic accident caused by Su Xiuwen's negligence. Su was sentenced to two years' imprisonment with a three-year reprieve.

Su's family and Dai Yiquan settled out of court. Su paid Dai more than 90,000 yuan (US$11,000) in compensation and the other 12 injured were paid about 180,000 yuan (US$22,000) in total, which is more than the usual amount one would pay for traffic-related damages.

Rage against the rich

People started posting the story in Internet forums. It snowballed into a rage, with most people accusing the rich and the powerful of trampling on the underprivileged. The BMW and the tractor stacked with vegetables have taken symbols of the haves and the have-nots.

The initial allegation was that Su Xiuwen was the daughter-in-law of a high-ranking local official, implying that her family had used its connections to get her off lightly.

The rumour swirled for quite a while before Su's family and the official mentioned came out and publicly refuted it: They are not related at all, they claimed. As a matter of fact, neither Su nor her husband Guan Mingbo has any relative in a senior government position.

But there is no denying the wealth gap between Dai's family and Guan's family. The Dais make a living on 1.3 hectare of farmland and odd jobs like carpentry. In a lucky year they manage to pull in 10,000 yuan in gross income.

Both Guan and his wife have emphasized in media interviews that they had humble beginnings. He denied that he was the president or chairman of several companies that had been implicated. "I used to work at Guanyang Group, but I had no title. My elder brother is the chairman," he said, referring to a company that has 100 million yuan (US$12 million) in registered capital and has been contracted for several mammoth infrastructure projects such as highways and bridges.

Records at the local business bureau show that Guan himself is the chairman of Harbin Longhai Market Development and Investment Co Ltd, with 15 million yuan in registered capital.

"I'm no big boss, and 15 million is no big business, and they were mostly borrowed from relatives and friends", Guan told a reporter. He admitted that he spent 800,000 yuan on the BMW, and an additional 55,000 yuan on a personalized licence plate that reads AL6666.

Guan Mingbo projects such a congenial image that Dai Yiquan, husband of the dead woman, is now willing to consider him a friend. "Guan comes out to visit me once every few days. I think he's a nice guy, so we've become friends," Dai told a Beijing News reporter.

But Dai does not seem to be able to forgive Su Xiuwen, Guan's wife. "I'm a friend of Guan, but I'll never be a friend of Su," explained Dai.

Su, on her part, weeps whenever she talks to a reporter. "Nobody understands how I feel," she said, "I've brought pain to others, but I'm a victim myself. I've no place to hide. I've been painted as an evil monster by the online crowd."

Guan said that she is a good wife and a good mother. "I wish the media would come to my home and see for themselves what kind of person my wife is."

She may not be seen as evil by netizens, but definitely personifies the arrogance of the rich. There are not only denunciations, but long, narrative poems that depict the class rupture in sharp relief.

"Resentment of the rich and sympathy for the poor are one of the driving forces in this discussion," Cheng Mei, professor at Renmin University Journalism School, tells China Daily. "People hate the nouveau riches because they believe in the old saying 'The rich are not kind' and their notion has been corroborated before."

Most people do not see Guan's offer of financial compensation as a gesture of remorse and apology, rather as a means of using money to "shut up the eyewitnesses." For example, Li Wenbing, one of the 12 injured, was knocked down indirectly, by someone hit by the car. He got 2,700 yuan. "My injury was not bad, and the money was sufficient, so why bother filing a lawsuit," he said.

Dai Qingjiang, a member of the Dai family, had told a reporter that Guan had not exerted pressure on them. The pressure was invisible, he said, as a regular Joe would feel when encountering someone driving a Mercedes or BMW. Incidentally, Guan himself drove his Mercedes to the scene on that day.

Some newspapers, like Shenyang Jinbao, quoted eyewitnesses who saw Guan comforted his wife on the scene: "Don't worry. One million yuan is enough to take care of this."

Intention to kill?

Before one reads social implications into the case, it was first and foremost a decision on whether Su Xiuwen sped forward intentionally. Su insisted that she, in her distress, made a mistake while she actually intended to back up. But many people doubt her words -- and they have plenty of questions that cannot be answered by the "official story."

The pro-Su argument goes that she did not have the motive to harm the 12 bystanders. Su herself claimed in court that she did not even recognize Liu Zhongxia, the victim.

"That would be impossible," responded Dai Yiquan when reporters relayed Su's claim to him. Dai said he would be killed, too, if he had not jumped back on impulse when the car suddenly moved forward.

When it comes to the possibility of shifting the car into reverse by mistake, opinions are divided. "There's no way one could put it in reverse by accident," contend many, including those who own the same model.

Others disagree. The possibility exists, no matter how slim, they maintain. There is reason to believe the car was originally in neutral gear because it moved on impact from the tractor. So, when Su got back into the car, she might have thought it was in parking gear.

Guan, Su's husband, attributed the forward dart to her inexperience in driving. Although she got her driver's licence in 1997, she learned driving shortly before the incident. Guan even admitted that her licence was bought instead of being issued after a rigorous test.

But sceptics say that there must be another "mistake" involved. Ordinary people would not press all the way on the gas pedal when backing their vehicles. So, she must have meant to use the brake.

All theories aside, the truth is, nobody has evidence to prove either assumption. And the law assumes one is innocent before proven guilty, said one attorney, who supported the court ruling.

Dai Yiquan, in his deposition, claimed that Su said "I'm gonna kill you" before she got back into her car. He said at least a dozen bystanders heard it as well. But his deposition was not read in full in the court hearing. And nobody was willing to be a witness in his favour. Initial media reports said that some witnesses had asked Dai for 5,000 yuan in reimbursement for testimony.

Su Xiuwen has always denied uttering these words.

Media investigators have shown many instances that demonstrate the local legal system has gone out of its way to make things easier for Su. Besides withdrawing unfavourable depositions from being read out in court, they sent Su out of detention on parole with the excuse that she had a headache -- not one of the illnesses that make one eligible for parole. Suffice it to say that many have the suspicion that Su's family probably pulled a few strings, but nobody could produce any evidence.

Prosecutor Yu Yueyang told the media that the investigation did look into possible murder or deliberate harm to public safety, but they could not get evidence to support it.

Judge Gao Ruiqiang, who issued the verdict, said: "I'm fair and impartial." Dong Yuting, deputy director of the court, revealed that the court was aware of people's accusations, but it was just conjecture that Su intended to kill. We had to base our judgment on evidence alone, he said.

Mounting public pressure has resulted in central government authorities demanding a complete review of the case, including reinvestigation of Guan's family background and the BMW's purchase time. Su Xiuwen has been under police surveillance since January 9.

The result of the investigation is expected to be announced before Spring Festival.

Public voice

Like the story of Sun Zhigang, who was wrongly taken to a Guangzhou vagabonds home, beaten up there and died eventually last year, the BMW incident would not have got so big and assumed a national proportion if the media were not involved.

But there are some differences, according to Cheng Mei, the media expert. The report on Sun Zhigang's death was broken by one particular newspaper, the Southern Metropolis News. The online version of the article reached people nationwide and legions of legal experts rose to voice concern. The result was the abolishing of the decades-old regulation of repatriating migrants and vagabonds.

The BMW story first broke online. For a while, local media in Harbin kept silent, says Cheng. Eventually, the mainstream press picked it up. And now the central government is heeding to it, vowing to get to the bottom of the story.

Professor Cheng indicates that these are signs that the new leadership is paying more attention to public sentiments. She adds that openness in governance -- letting people know the truth -- is the right way to improve on the process of democratization.

Yan Lieshan, an influential commentator, compares the Internet to the function of modern printing in Europe for bringing about a religious revolution and the role of television for bringing the outside world to 900 million rural residents in China. "With the Internet, people have one more platform for expression, which may combine the rivulets of personal opinion into a torrent of public opinion," he says when commenting on the BMW case.

But he cautions that a nation ruled by law should respect the independence of legal judgment. He criticizes old beliefs such as "no severe punishment means not calming public anger." This is irrational and against the right way of thinking in a legal society, he contends.

Cheng Mei has seen a distinction between the grassroots nature of online forums and the professional discretion of the print media. Netizens yell for blood while newspapers usually present balanced versions of the story, she says.

As a matter of fact, when a Southern Metropolis News commentary criticizes those who judge people purely by their class or profession -- such as greedy merchants and corrupt officials, some netizens accuse the paper of selling out and betraying its own tradition of speaking for the disadvantaged.

Qiu Feng, author of this article, writes that power and wealth are usually respected by the public. But when they are abused, people will change their perceptions, throwing the truth-assessment dichotomy into a vicious circle. To get out of it, the government and the business community must take concrete action to change people's perceptions.

Yan Lieshan says that public suspicion in the BMW case is not totally delusive because corruption has cast a long shadow over the public. Once they feel there is an invisible hand at work, they tend to believe that there are behind-the-scene manipulators, and officials and business people are shielding each other. "Lack of transparency and extremism are a pair of twins. They feed on each other," he says.

"It should be pointed out that the public still has hope that the local government will get to the truth," writes Li Shuguo in ChinaNews.com. "If they lose that trust, that would be the worst crisis."