SARS, bird flu watch stepped up
( 2004-01-18 22:52) (China Daily)
Health and quarantine workers are being urged to press hard against preventing another SARS (severe acute respiratory syndrome) outbreak after two new cases were confirmed in Guangdong Province, and to stay on the alert for bird flu from neighbouring countries and regions.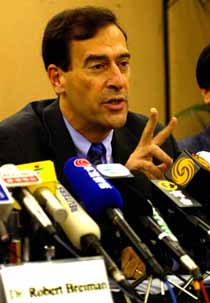 Dr Robert Breiman: No repeat of last year's outbreak. [newsphoto]

The SARS confirmations came from the Ministry of Health on Saturday just as the country's hectic Spring Festival travel season unfolded.

The ministry said the third diagnosed patient, a 35-year-old businessman, was still hospitalized but has had a normal temperature for 12 consecutive days.

"None of the people in contact with him has developed a fever or shown any abnormal symptoms," a report stated.

In fact, 22 of the 28 people who had contact with the man are now free from quarantine.

The ministry said the second of the three diagnosed SARS patients in Guangdong since last December, a 20-year-old waitress, has been discharged from hospital.

All her 100 contacts are no longer under observation. The waitress worked at a restaurant in Guangzhou that served civet cat, a suspected source of the disease.

Meanwhile, sources with the Guangdong Agricultural Bureau said it had prepared 100 million vaccines for poultry and have established 10 working stations across the province for bird flu supervision.

There are altogether 1.36 billion poultry in the province.

Dr Robert Breiman, an epidemiologist with World Health Organization (WHO), said on Friday in Guangzhou that there is, "good reason to believe that wild animals are the reservoir of the ultimate source of SARS.''

The China Wildlife Conservation Association called on people to abandon bad habits of eating wild animals and protect wildlife.

The association urged people to move foods made of wild animals off their holiday tables in the coming Spring Festival, the country's most important time for family gatherings.

Vice-premier Wu Yi said on Saturday that China will improve its co-ordinated efforts to prevent the outbreak of SARS in five provincial areas in North China.

During an inspection tour of Tianjin, Wu said governments in the region, which include Beijing and Tianjin, will launch proper publicity campaigns to prevent the disease.

She called on departments of quarantine, railway, transportation and civil aviation to strictly follow anti-SARS regulations in order to prevent spread of the disease.

Alerts on bird flu were also sounded in cities in China, especially those along eastern and southern coasts.

To keep bird flu and mad cow disease out of the city, Shanghai has banned poultry and beef imports from countries affected by the illness. Millions of chickens have been killed in Republic of Korea, Viet Nam and Japan.

Shanghai Entry-Exit Inspection and Quarantine Bureau has seized a total of 421 kilograms of South Korean chicken and US beef.

Poultry and poultry products from South Korea, Italy, the Netherland, Belgium, the United States, Chile, Viet Nam and Japan are on China's ban list.

Serious measures are being taken by Shanghai authorities and organizations to prevent outbreak of bird flu and SARS, Song Guofan, spokesman of Shanghai Health Bureau, told China Daily Sunday.

So far, no such new cases, either suspected or confirmed, has been found in Shanghai, thanks to a sounding mechanism has been laid to detect and supervise the possible cases of SARS or bird flu.

Starting this week, all clinic patients are required to have their temperature taken upon arrival at hospitals. Patients with fevers will be taken to special "fever clinics'' for further examination. Patients with respiratory symptom will be given a mask and transferred to fever clinic as well.

All hospitals should report the number of fever clinic receives every day to the health bureau.

"By this way, we can attain the first-hand and extensive network for possible SARS patients, thus enable hospital to quarantine and treat the suspected patient immediately,'' he said.

All doctors and nurses who work in the related department and may have direct contact to SARS patient have also received intensive training to better handle the case, if it occurs.

The Disease Control & Prevention Centre also denied earlier media report that legionnaire's disease is spreading in Shanghai.

The report said that two thirds people in Shanghai have been infected such diseases, which killed 9 people in France since last month.

"I don't know how that newspaper got the figures. There must be some problems (with the figures),'' said Li Yanting, an official with the centre.

She was also quoted by a Shanghai portal website eastday.com that "only several such cases have been found in Shanghai.''

Legionnaires' disease accounts for 1 to 8 per cent of all pneumonias and about 4 per cent of fatal pneumonias acquired in hospitals. The outbreaks usually occur when the Legionella bacteria has spread through the air conditioning systems of hotels and hospitals, as well as office buildings.

Busy travel season in China

China is now in its busiest travel season, when millions crisscross the country in planes, trains and buses to return to their hometowns for the Lunar New Year, the country's biggest holiday, which starts January 22.

A spokesman for the Health Ministry urged continued diligence in preventative work by health authorities at all levels, especially during this period.

"No effort should be spared in guarding against the spread of the disease," the spokesman said in a statement. "We mustn't be caught off guard or relax our vigilance."

The first case of severe acute respiratory syndrome came to light in November 2002; the disease killed 774 people and sickened more than 8,000 globally before subsiding in June.

Both WHO and Chinese experts have said that the three latest cases have been milder, with patients having fevers for shorter periods and, unlike many people stricken earlier, not needing respirators to breathe.

The waitress, who was identified by her surname, Zhang, was discharged from the hospital Saturday morning, and 100 people who had contact with her were released from quarantine and medical observation, the Guangdong government statement said.

The businessman, whose last name was given as Yang, was in stable condition with no fever, one of the major symptoms of the disease. He will remain in isolation and continue to be treated, the statement said.

According to Xinhua, 22 of the 28 people who had come in contact with him were no longer under observation.