Airbus flies high in China
( 2004-01-17 09:31) (China Daily)
The world's top commercial aircraft manufacturer Airbus said it received 36 new orders last year and made 36 separate deliveries in China, a significant business move for the multinational.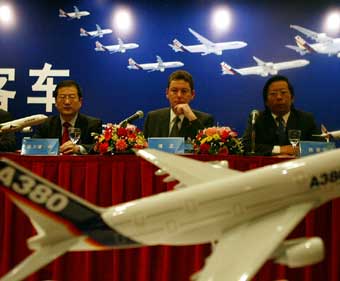 Airbus China President Laurence Barron (center) announced at a Friday press conference in Beijing that it received 36 new orders last year and made 36 separate deliveries in China. [newsphoto.com.cn]

"Both the new orders and deliveries accounted for more than 10 per cent of Airbus' business worldwide," Airbus China President Laurence Barron said in Beijing on Friday.

Airbus' goal in China is to take at least 50 per cent of the market share, as it has been doing in the rest of the world, he said.

Airbus will also intensify industrial co-operation and make efforts to be recognized as No 1 in customer service in China, Barron added.

The aircraft maker's business in China has been steadily expanding since it first entered the country in 1985, he said.

The Airbus fleet in service on the Chinese mainland, Hong Kong and Macao has grown to around 220 today from 29 in 1995.

Five Chinese manufacturers are already involved in the manufacturing of Airbus parts, such as wing components and passenger doors, he said.

"Airbus is not only selling aircraft in China, but is also committed to the long-term development of China's aviation industry," he said.

Airbus plans to considerably increase its procurement from China in the coming years worth an estimated US$60 million annually by 2007 from the current level of about US$10 million annually, he said.

Industrial co-operation between Airbus and the Chinese aviation industry began in 1985, when the General Administration of Civil Aviation of Shanghai, now China Eastern Airlines, became the first carrier in China to operate the European consortium's aircraft.

Contracts for Chinese companies to build sections of Airbus aircraft followed, as did further orders from Chinese airlines.

Aerospatiale, which is now Airbus France, signed the first product sub-contracting agreement in 1985 with Xi'an Aircraft Company on manufacturing and assembling access doors for Airbus A300/A310 wide-body aircraft.

Since then, the total value of projects subcontracted by Airbus to Chinese manufacturers has exceeded US$500 million.

In 2002, Chinese manufacturers delivered more than US$12 million worth of aircraft components to Airbus.

"Airbus' industrial co-operation with China made further progress last year," Barron said.

In October, Airbus and Xi'an Aircraft Company signed several contracts worth more than US$7.5 million to strengthen bilateral co-operation. The contracts covered the growing production rate of A320 access doors, A330/A340 brake blades and passenger door skin for A320 family.

In July, the Jinling Shipyard launched a roll-on and roll-off vessel for the transportation of A380 components.