Reported abuse of prisoners in Baghdad to be investigated
( 2004-01-17 09:23) (Agencies)
The commander of U.S. forces in Iraq has ordered a criminal investigation into reports of abuse of prisoners at unspecified coalition detention centers, U.S. officials said Friday.
A military statement gave no indication about the location or scope of the reported abuse, saying simply that Lt. Gen. Ricardo Sanchez ordered a probe ¡°into reported incidents of detainee abuse at a coalition forces detention facility.¡±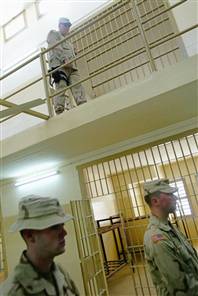 U.S. soldiers walked past prison cells at the Abu Ghraib prison just outside Baghdad in September. [AP]

¡°The release of specific information concerning the incidents could hinder the investigation, which is in its early stages,¡± the statement said. ¡°The investigation will be conducted in a thorough and professional manner.¡±

It added that the coalition ¡°is committed to treating all persons under its control with dignity, respect and humanity.¡±

'Very serious and credible¡¯

In Washington, Lawrence Di Rita, a spokesman for Defense Secretary Donald Rumsfeld, said that the case was a criminal investigation and that the reports of abuse were deemed ¡°very serious and credible.¡±

Di Rita would not provide details other than to say that the alleged abuse happened at detention centers in Baghdad.

The announcement followed allegations by Amnesty International and former prisoners of harsh treatment of detainees arrested by U.S. and coalition forces since the Iraq war began last March.

Earlier this month, three Army reservists were discharged for abuse of prisoners at the Camp Bucca detention center in southern Iraq. In late December, Brig. Gen. Ennis Whitehead III determined that the three had kicked prisoners or encouraged others to do so May 12.

Lt. Col. Allen B. West, a battalion commander in the 4th Infantry Division, was allowed to resign from the Army after he admitted firing a weapon near a detainee suspected of plotting attacks against U.S. soldiers.

In October, the U.S. military shut down Camp Cropper, a notorious makeshift prison where hundreds of Iraqis were crowded into tents through Baghdad¡¯s scorching summer.

Released detainees told of overcrowded and unsanitary conditions at Camp Cropper, and they alleged physical abuse by guards. The human rights group Amnesty International protested that it ¡°may amount to cruel, inhuman or degrading treatment or punishment, banned by international law.¡±

Other former detainees have spoken of systematic abuse, although U.S. authorities insist that conditions are in line with provisions of the Geneva Conventions.