Holiday trips turning sweet and sour
( 2004-01-16 23:43) (China Daily)
China's railway tracks are creaking, buses crawling ahead and planes burning jet fuel like there's no tomorrow..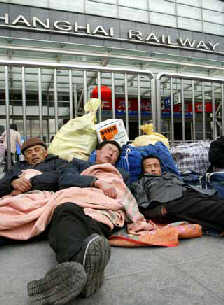 Three migrant workers sleep on the square of the Shanghai Railway Station January 16, 2004. [newsphoto]

Millions of Chinese are heading home for Spring Festival, the biggest family holiday occasion of the year which falls on January 22.

But some are still racking their brains to find a way to get a ticket.

A group of seven migrant workers from Yinchuan, the capital of Ningxia Hui Autonomous Region in Northwest China, has been struggling to buy home-bound tickets in Beijing for almost a week. The result by yesterday: two tickets.

But railway sources describe the situation for lines going to Sichuan and Chongqing in Southwest China, Anhui and Jiangsu provinces in East China as even worse.

Additional trains have failed to catch up their unexpectedly high needs.

Wu Ji, a 29-year-old professional in Beijing, has been unable to find tickets, and said he is likely to give up on his reunion with his father and mother in Chongqing.

"If I remain unlucky, I'll stay in Beijing spending the festival with friends."

Wu and the downtrodden farmers are not alone.

Many big city residents in Beijing and Shanghai choose to stay home because of traffic congestion or difficulty buying tickets.

Despite that, officials at railway stations in Beijing, Shanghai and Guangzhou say operations are in full swing for peak traffic expected to hit this weekend.

The traffic peak caused by the massive flow of migrant workers and students began since January 8. Now, urban residents like Wu are travelling home, increasing pressure on the transportation system.

Chinese travelers will make an unprecedented 1.89 billion journeys by bus, train, air or ship during the holiday season. The figure is 60 million higher than the same period last year, according to official predictions.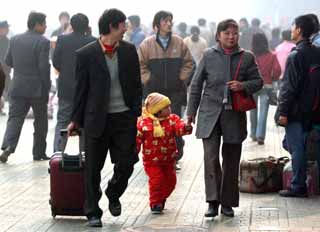 A family of three gets ready to board a train to head home for the holidays at the Zhengzhou Railway Station in Central China's Henan Province January 16, 2003. [newsphoto]
Authorities at China's biggest railway stations, including Beijing, Shanghai and Guangzhou, said yesterday staff has been working to their maximum limits.
During the peak period, the country needs to arrange about 9,000 temporary trains a day but it can only offer up to 4,500 temporary trains.Railway passengers are expected to make 137 million journeys during the 40-day peak season, 2.7 million more than last year.
Journeys by bus will rise by 3 per cent to 1.7 billion and trips by boat will remain steady at 26 million. Journeys by air will increase by 9.6 per cent to 10.5 million.
Airports are also busy picking up passengers going and coming.
Zhou Fang, a crew member serving flights from Xi'an to Beijing and back said it's quite common to wait 20 or 30 minutes during peak periods.
Ironically, the heavy traffic has created money-making opportunities for corrupt police.
Together with two officers, a police-vehicle driver named Zheng Shuhe, were caught picking up passengers at Fuzhou Railway Station in East China's Fujian province, local media reported.
"To my surprise, 11 passengers were sitting together with a prisoner infected with tuberculosis," said transportation supervisor Wang Xiaofu.