Book unveils life of Laura Bush
( 2004-01-16 16:21) (Agencies)
Years before Laura Bush became the sunny, steadying, widely admired wife who inspired her husband to emerge from his father¡¯s shadow and become a successful politician in his own right, Laura Bush, nee Welch, killed a boy.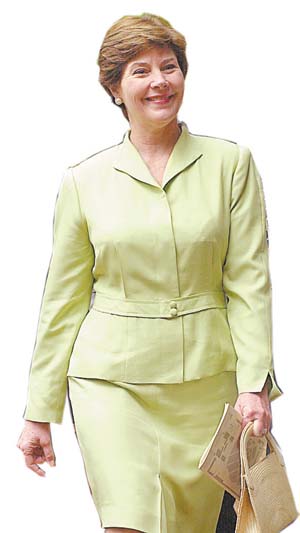 She was 17 when she missed a stop sign outside her hometown of Midland, Texas, and plowed into a car driven by Michael Douglas, a high school classmate and close friend.
It was revealed in The Perfect Wife: The Life and Choices of Laura Bush written by Washington Post reporter Ann Gerhart. Gerhart, who describes the first lady in this first full-scale biography as an unpretentious woman who reluctantly got drawn into public life when she married.
According to the accident report, Laura was driving her Chevrolet sedan on a clear night shortly after 8 p.m. Nov. 6, 1963, when she drove into an intersection and struck a Corvair sedan driven by 17-year-old Michael Douglas.
Douglas suffered a broken neck and was dead on arrival at Midland Memorial hospital. Laura was unhurt.
The accident was a sensation in the town. Laura didn¡¯t appear on the boy¡¯s funeral but wrote poems in memory of him.
¡®¡¯It was a very tragic accident that deeply affected the families and was very painful for all involved,¡¯¡¯ said Laura Bush¡¯s spokesman, Andrew Malcolm. ¡®¡¯To this day, Mrs. Bush remains unable to talk about it.¡¯¡¯
¡°Before the accident, she was a pretty normal teenager,¡± one high school classmate said. ¡°But afterwards she became more serious and quiet.¡±
Even today Laura Bush is known as the shy and quiet type.
Laura Bush has traveled a long road from Midland, Texas, to the center of power in Washington since the day in 1977 when she married the man who was to become the U.S. president.
Born and raised in Midland, Texas, as the only child of a credit officer and a homemaker, Laura was an elementary school teacher and librarian when she met George Bush.
Though the two had lived in Midland for most of their lives, even reportedly attending the same junior high school, their paths never crossed until a fateful 1977 dinner party thrown by friends, Gerhart revealed in the book.
Their first date followed shortly afterwards and within three months they had tied the knot following a whirlwind courtship.
George Bush has often said that it was due to Laura¡¯s advice and support that he gave up alcohol for good and renewed his Christian faith.
Gerhart remarked in the book that Laura, who made George Bush promise before their wedding that she would never have to give a speech, appears to have grown more comfortable in her public role in recent years. She is often at George W. Bush¡¯s side and the two speak regularly when he is away on presidential business.
Demonstrating this new found confidence, Laura became the first presidential spouse to deliver the president¡¯s weekly radio address after the September 11 attacks in which she spearheaded a campaign to highlight the plight of women in Afghanistan.
¡°I am not George¡¯s adviser. I¡¯m his wife. I don¡¯t advise him about policy, but we do talk about issues and personalities,¡± she has said. She has also spoken regularly about her support for literacy and early childhood education, and continues the work begun by her mother-in-law, former first lady Barbara Bush, to support nationwide literacy campaigns.
¡°She was not only a beautiful person to look at, she had an internal beauty,¡± George Bush said of his wife.
However, America¡¯s first family has its share of parenting headaches with George Bush¡¯s twin daughters acting out their resentment at his chosen career with under-age drinking binges and other escapades, accroding to the book.
The twins, Jenna and Barbara, now 22 and in their final year of college, are described in the book as over-indulged with no interest in the presidency.
The book says George and Laura Bush fell into the trap of spoiling their children because Laura Bush nearly lost them late in her pregnancy. It suggests that George Bush seemed less indulgent than their mother.
¡°They persist in seeing themselves as victims of daddy¡¯s job,¡± Gerhart said in the book.