US pilot freed after paying a $12,775 fine
( 2004-01-16 09:05) (Agencies)
Brazilian police at Sao Paulo's airport were deluged with calls of congratulations on Thursday for arresting an American Airlines pilot who made an obscene gesture while being photographed by immigration officials as part of a policy that has soured U.S.-Brazilian relations.
The pilot, Dale Robin Hersh, 52, who was arrested for raising his middle figure in a photograph that was splashed across Brazilian newspapers, was fined nearly $13,000 before being allowed to leave the country, officials said.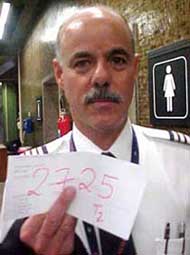 American Airlines pilot Dale Robun Hirsch (L) raises his middle finger while he was being photographed by Brazilian immigration officers upon his arrival at Sao Paulo international Airport January 14, 2003. [Reuters]

The American pilot's defiant gesture brought renewed focus to a new Brazilian policy of fingerprinting and photographing all U.S. visitors in retaliation for a similar measure introduced by the United States for many foreigners.

Many Brazilians are annoyed by what they perceive as Washington's arrogance when dealing with Latin America and welcomed Hersh's arrest as well as the knowledge that the new airport controls have irked the United States.

A Reuters photographer at Sao Paulo airport said police had received almost nonstop phone calls of congratulations for arresting Hersh and forcing him to surrender his passport.

Veronique Genevieve Claude, an official at the court where Hersh's case was heard, said the pilot had paid a $12,775 fine and was free to leave the country.

U.S. passport holders have been subjected to long lines at Brazilian ports of entry since the new controls were implemented, prompting Secretary of State Colin Powell to complain that Americans were being discriminated against.

At a regional summit in Mexico this week, Brazilian President Luiz Inacio Lula da Silva appealed to President Bush to suspend visa requirements so the two countries could drop the fingerprint checks.

In a bid to ease the tension for American travelers ahead of its famous Carnival in February, Rio de Janeiro's tourism body laid on Samba dancers for arriving U.S. tourists at the airport and handed them roses and T-shirts bearing the message "Rio loves you."

Airports in Rio and Sao Paulo also began using an electronic fingerprinting and photographing system to speed up the processing of U.S. citizens, which began on Jan. 1.

"The process was quick and easy," said actor Kevin Boguel on clearing immigration at Rio's Tom Jobim airport. "I only feel a bit embarrassed because we North Americans are getting presents and the other tourists are not."

American housewife Marilyn Ross also had no complaints after going through the immigration procedure at Rio airport. "I think it's normal," she said. "If the United States wants to fingerprint then Brazil also has the right to do so."

Brazilian government lawyers have challenged a ruling by a 34-year-old regional judge that introduced the new immigration controls on the grounds that they want to restore the government's "exclusive competence" over foreign policy.

But officials said the legal challenge, which aims to prevent judges across the country from dictating foreign policy, would have no impact on the controls on U.S visitors.