KFC fast food to wing its way at last to Tibet
( 2004-01-15 14:21) (Agencies)
Hot wings and spicy chicken legs could soon tempt palates in Tibet as KFC wings its way to the roof of the world and the only part of China it has yet to conquer.
The US fast-food chain, a subsidiary of Yum Brands Inc with 1,000 outlets throughout the world's most populous country, has permission from the government to enter Tibet, Samuel Su, Yum's greater China chief told reporters on Thursday.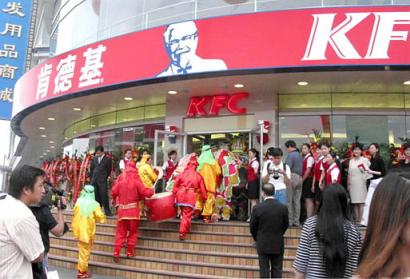 The 100th Kentucky Fried Chicken, KFC, chain restaurant opens in Beijing, China in 2003. As China increasingly embraces the outside world and its snack food, U.S. fast-food chains such as McDonald's, Taco Bell, Pizza Hut, and KFC are adding hundreds of new restaurants. [Reuters]

"We do have plans to enter Tibet," he said, declining to say when. "Supplies are a major challenge, absolutely. We are working on that right now."

Entering the far-flung, mountainous western region famous for its salty yak butter tea and tsampa, or roast barley flour paste, would solidify KFC's presence in China as it looks outside its main North American market for sales growth.

After 20 years of economic reforms, Chinese city dwellers once suspicious of Western fast-food now consider it normal to shell out 16 to 20 yuan (about US$2.50) for a meal, fuelling a fast-growing market worth some US$48 billion.

China is Yum's biggest market outside the United States, with growth rates in the high teens, contributing one-third to international profits of $389 million during fiscal 2002, chairman Peter Bassi said.

Its closest rival is McDonald's Corp, the world's largest fast-food firm, with just 570 restaurants in China. They compete with numerous domestic fast-food chains and street food vendors.

Su said Yum planned to open hundreds of KFC outlets in the country in 2004 and expand the Taco Bell franchise outside the commercial hub of Shanghai.

"Our experience has shown that when we get into cities, the people are so excited that KFC has finally arrived that we attract very large crowds," he said.

The chain experienced no decline in profit margins as it expanded into the country's hinterlands, he said. To cater to Chinese tastes, KFC introduced a Beijing-style chicken wrap last year, complete with spring onions and hoisen sauce.

Yum's chain's in China include KFC, Pizza Hut, A&W and Taco Bell. KFC chain currently runs outlets in 230 cities in all Chinese regions except Tibet.