Bush outlines plan for 2015 moon landing
( 2004-01-15 08:43) (Agencies)
U.S. President George W. Bush, envisioning "new journeys to the worlds beyond our own," unveiled a plan Wednesday to send astronauts to the moon, Mars and beyond on missions sure to cost hundreds of billions of dollars and stretch the bounds of technology. He called for a manned lunar landing as early as 2015.
Bush's election-year initiative represents the boldest space goals since John F. Kennedy laid the groundwork for the Apollo program that landed Americans on the moon in 1969.
U.S. President George W. Bush walks past a placard depicting the American flag on the moon as he arrives onstage to announce his proposals for a space program at NASA headquarters in Washington, D.C. January 14, 2004. [Reuters]

Intended to inject new life into a space program shattered by last year's loss of the Columbia shuttle and its crew of seven, Bush's proposal faces tough questions in Congress. Many Democrats say the administration should take care of problems at home before setting its sights on costly space initiatives, particularly in the face of budget deficits of about $500 billion.

Some scientists say it would be more efficient and less expensive to use robotic spacecraft instead of manned missions. Bush's father proposed a Mars mission in 1989, but it collapsed when cost estimates hit $400 billion to $500 billion.

In a speech at NASA's headquarters, Bush laid out a timetable for robotic missions to the moon no later than 2008, the first manned flight of a new spacecraft by 2014 and a manned lunar mission as early as 2015 and no later than 2020.

The president did not set a deadline for reaching Mars, and NASA Director Sean O'Keefe, briefing reporters later, said the timing of the mission would depend on the results of studies on the effects of space travel on humans.

Bush said the moon, with a gravity pull one-sixth that of Earth, could be the launching pad for "human missions to Mars and to worlds beyond." He said his goal was to "extend a human presence across our solar system."

Bush's speech put him in the political spotlight in the run-up to Monday's Iowa caucus battle among Democrats who want his job. It was the president's second headline-grabbing announcement in recent days, after his immigration proposal last week.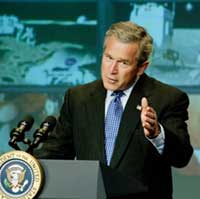 U.S. President Bush announces his proposals for a new space program during a speech at NASA headquarters in Washington, Jan. 14, 2004. critics have derided Bush's plans -- an election-year initiative, as a costly extravagance that could renew a military "space race."
[Reuters]

In vivid terms, Bush portrayed the nation's space program ¡ª with its three shuttles grounded by the Columbia accident ¡ª as at a standstill. "In the past 30 years, no human being has set foot on another world or ventured farther up into space than 386 miles, roughly the distance from Washington, D.C., to Boston, Mass.," Bush said.

"It is time for America to take the next steps," he said.

In terms of the cost, Bush gave an estimate only for the initial downpayment on his space plan. He said it would cost $12 billion over the next five years, but only $1 billion in new funds. The remainder would come from money reallocated under NASA's five-year budget. Thus, it would be for Bush's successors to figure out how to finance the costliest part of the plan.

Sen. Bill Nelson, D-Fla., who flew on a space shuttle in 1986, questioned whether $1 billion in extra funding would be enough. "You can't go to the moon by 2014 with that," Nelson said.

House Democratic Leader Nancy Pelosi, D-Calif., said Bush's plan faces strong scrutiny. "As we go forward with any initiative we have to examine our priorities," she said. "We have serious challenges here on Earth."

Rep. Dana Rohrabacher, R-Calif., chairman of the House Science Committee's Space and Aeronautics Subcommittee, praised the plan.

"America is not going to remain at peace, and we're not going to remain the most prosperous nation, and we're not going to remain a free nation, unless we remain the technological leader of the world," he said. "And we will not remain the technological leader of the world unless we are the leaders in space."

In his speech, Bush got a high-tech introduction from a beamed video image of astronaut Michael Foale, aboard the International Space Station 240 miles above the Earth.

"I know that I'm just one chapter in an ongoing story of discovery," said Foale, making his sixth trip into space. In the NASA audience sat Eugene A. Cernan, commander of the last Apollo mission to the moon in December 1972, the last man to leave his footprint on the lunar surface.

Bush brushed aside arguments that robotic exploration should replace human missions.

"The human thirst for knowledge ultimately cannot be satisfied by even the most vivid pictures or the most detailed measurements," Bush said. "We need to see and examine and touch for ourselves."

An AP-Ipsos poll out Monday found the public evenly split on Bush's plan to build a long-term base on the moon and eventually send astronauts to Mars. That's similar to the way Americans felt more than 35 years ago about the first efforts to land men on the moon.

The poll found that just over half said it would be better to spend the money on programs like education and health care rather than on space research.

"Mankind is drawn to the heavens for the same reason we were once drawn to unknown lands and across the open sea," Bush said "We choose to explore space because doing so improves our lives and lifts our national spirit. So let us continue the journey."

Under Bush's plan, the shuttle fleet would be retired by the end of the decade.

NASA would develop and build a new "crew exploration vehicle" to ferry people first to the space station after the shuttles were retired, and then to the moon.

Defending his priorities, Bush said the space program has brought tangible benefits with advances in weather forecasting, communications, computers, search and rescue technology, robotics and electronics.

To carry out his program, Bush formed a new panel, the Commission on the Implementation of U.S. Space Exploration Policy, to advise NASA. Pete Aldridge, a former Air Force secretary, was named to lead the effort.

Bush spoke as NASA engineers in the Jet Propulsion Laboratory in California were maneuvering the Mars rover toward its first touch of the soil of the red planet. It was supposed to roll off its landing platform early Thursday.