US troops capture Iraqi rebel's nephews
( 2004-01-14 17:14) (Agencies)
U.S. troops raided two homes in Samarra, a central Iraqi city early Wednesday, detaining four nephews of the insurgent suspected of organizing attacks against coalition forces.
The raid came a day after hostile fire brought down a U.S. Army Apache attack helicopter west of Baghdad ¡ª the third aircraft lost this month.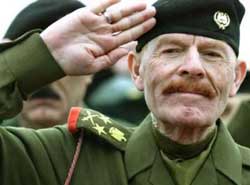 Four relatives of Izzat Ibrahim al-Douri, Saddam Hussein's former right-hand man and the most wanted fugitive in Iraq, were arrested in early morning raids Wednesday, the U.S. military said. Douri is shown saluting at a celebration at the Unknown Soldier Monument in Baghdad, Jan. 6, 2002. [Reuters]

The military said two of the detained men are suspected of helping to hide their uncle, former Iraqi Vice President Izzat Ibrahim al-Douri. The former right-hand man of Saddam Hussein, al-Douri has a $10 million bounty on his head and has become the most-wanted member of the former regime.

Lt. Col. David J. Poirier of Chicago told an Associated Press reporter who observed the raid that they hunted down the nephews in hopes of zeroing in on al-Douri.

"One of these days his head will rise up above the water, and we will be able to capture him as well," Poirier said.

Forty soldiers from 720th Military Police Battalion out of Fort Hood, Texas, raided the two houses in Samarra after a tip.

Two of the nephews are believed to be in close touch with al-Douri and finding safe houses for him.

"They are his enablers and his movers," Poirier said. "They have information they can provide to us ... that would be extremely important."

Al-Douri, a former Revolutionary Command Council vice chairman, is No. 6 on the U.S. list of 55 most-wanted Iraqis. The top five on the list have either been captured or killed.

His wife and daughter were arrested on Nov. 26 and remain in custody. The Army has refused to say why they were seized. Col. William Darley, a military spokesman, said Tuesday there were "special circumstances" surrounding their case.

The military said two other al-Douri nephews also were taken into custody but their connection to the insurgency, if any, was not immediately clear.

The raid began as the troops poured out of heavily armored Humvees into a darkly lit Samarra neighborhood, supported by Abrams tanks and Bradley fighting vehicles.

Soldiers climbed over a 7-foot-high fence into the garden of a house before entering the structure and capturing three men. The fourth man was seized at a nearby home.

The four men were taken to a detention facility in Tikrit at the 4th Infantry Division based inside one of Saddam's palaces. Tikrit is Saddam's hometown, 120 miles north of Baghdad.

U.S. troops have conducted scores of raids in central Iraq since the fall of Saddam's three-decade regime, leading to the arrests of Saddam, other former high-ranking regime officials and anti-coalition insurgents.

On Tuesday, coalition troops killed three Iraqis in restive cities outside the capital, relatives and police said.

And in Fallujah, west of Baghdad, hundreds of Iraqis protested, shouting "Bush, you coward!" after American troops detained a woman while searching for a Saddam loyalist. The 17-year-old newlywed was freed after several hours of questioning.

The AH-64 helicopter gunship from the 3rd Armored Cavalry Regiment went down Tuesday near the town of Habbaniyah, but the two crew members escaped injury, Darley said.

"It was apparently downed by enemy fire," Darley said.

The helicopter was covering a ground convoy moving in the area, the U.S. Central Command said.

In the same area, a medevac helicopter was downed Jan. 6, killing nine U.S. soldiers. A Kiowa Warrior helicopter was shot down in the area Jan. 2, killing the pilot.

Following the demonstration in Fallujah, gunmen fired rocket-propelled grenades at U.S. forces guarding city hall. The soldiers returned fire, killing two people and wounding four, witnesses, police and hospital staff said.

The dead included a 33-year-old woman shot in a home, and Ahmed Naji, 37, whose car crashed in a hail of gunfire. Naji's brother and father were seriously wounded, police Capt. Taha al-Falahi said.

Also Tuesday, Ukrainian troops opened fire to disperse several hundred protesters demanding jobs in Kut, 90 miles southeast of Baghdad. One man was killed and two other people were wounded in the second straight day of violent demonstrations in the mainly Shiite Muslim city.

In Baghdad, U.S. troops fired at a car Monday shortly after a roadside bombing in which an American soldier was killed. The driver and a 10-year-old boy were killed, the boy's aunt said.

Officials of the 1st Armored Division, in charge of security in Baghdad, said they would investigate.

The military also was investigating another apparent shooting of civilians by Americans ¡ª four Iraqis, including a 7-year-old boy, killed in a taxi near Tikrit on Jan. 3. A battalion commander in Tikrit, Lt. Col. Steve Russell, said it was "likely" coalition forces killed the four.

The incidents reflect the difficulties faced by U.S. soldiers trying to maintain order in Iraq, a country still reeling from the effects of decades of dictatorship, war and international sanctions. The mission has been made more difficult by the cultural differences between the United States and Iraq, a conservative Muslim society.

For example, the detention of the 17-year-old woman sparked outrage in Fallujah. Residents there, like many in the so-called "Sunni Triangle," are religious conservatives and equate a woman's dignity with family honor.

Relatives said the woman, who was married six days ago, was alone at home Monday when U.S. troops took her away. She was released five hours later.

Maher Turki, her brother-in-law, said the soldiers were looking for one of his brothers in the hope he would lead them to Khamis Sarhan, leader of Saddam's Baath party in Fallujah. Turki said his brother was acquainted with Sarhan but was not an associate.

"In all honesty, she was treated well. They only had women soldiers deal with her. They did not harm her. They didn't touch one hair on her head," Turki said.