Top oil company executive removed from post
( 2004-01-09 16:14) (Chinadaily.com.cn By Shen Wei)
A top official from the China National Petroleum Corporation (CNPC) was dismissed from his post following a deadly gas well blowout on December 23, 2003, which killed 243 people.
The removal of Wu Yaowen, deputy general manager of CNPC, was announced at a CNPC executive meeting on Tuesday in Beijing by General Manager Ma Fucai. CNPC is China's largest crude oil and refinery producer, whose shares are listed in the New York Stock Exchange.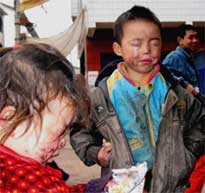 Two children, whose eyes were harmed by the toxic fumes from the fatal gas blowout, are seen Thursday in Chongquing, China. [file/Xinhua]

The decision to oust Wu, 60, came directly from the State-owned Assets Supervision and Administration Commission (SASAC), a State Council department in charge of the country's 141 large State-owned firms.

The commission also appointed three new faces, Zhou Jiping, Duan Wende and Wang Yilin, as CNPC deputy general managers.

According to a report by the Beijing Star Daily, Mu Fucai did not reveal the reason for Wu's dismissal, but insiders say Wu was forced to "retire" early, taking accountability for the December 23 tragedy.

As many as 243 villagers in rural Kaixian County, Southwest China's Chongqing Municipality, were poisoned to death, after a CNPC gas well explosion that released toxic gas. A large number of animals and poultry were also killed.

When inquired by reporters, CNPC officials declined to link the decision with the Chongqing accident, which has been dubbed as one of the deadliest gas blowouts in global mining history.

CNPC sent Su Shulin, another deputy general manager, to Kaixian on December 28 to apologize to the injured and victims' families. State media reported a total of 10 million yuan was given to the families of the victims as compensation.

The accident, blamed on negligence, has triggered widespread grievances from the ordinary Chinese. Popular internet chatroom-goers criticized the government's safety enforcement measures, especially with the mining industry.

Although the Chinese government has strengthened supervision at small, private firms, industry analysts argue that many problems still exist in workplace safety at SOE flagships.

Hundreds of poorly run, small, private mines were closed last year after a series of mine blasts and floods took the lives of hundreds of workers.

Meanwhile, two were detained by local public security for the deadly blowout, according to a report Friday by Xinhua News Agency.

The local public security has detained Wang Jiandong, an engineer from the drilling research institute of the Sichuan Oil Administration and director in charge of the No. 16 gas well in Kaixian county, and Song Tao, technician of the No. 12 crew of the Chuandong Drilling Company, said the report.

Also under investigation are Wang Jiandong, head of the No. 12 crew of the Chuandong Drilling Company, Xiang Yiming, a driller of the company, and Wu Hua, vice-manager of the company.