Ga. slayings suspect, three girls found alive
( 2004-01-09 10:21) (Agencies)
A jealous ex-husband allegedly killed three former in-laws and his infant daughter and fled with three girls, who were found safe late Thursday. The suspect shot himself following a police chase, a family member said.
Jerry William Jones was hospitalized in critical condition after the suicide attempt on Interstate 75 near the Tennessee line, said his former brother-in-law, David O'Donnell.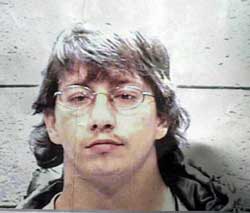 A murder warrant has been issued for Jerry William Jones,, shown in an undated photo released by the Georgia Bureau of Investigation on Thursday, Jan. 8, 2004. He is a suspect in the murder of four people in Ranger, Ga., and in the abduction of three children. [AP]

Jones, 31, is accused of shooting the former in-laws to death and strangling his infant daughter Wednesday before fleeing with the girls in a stolen sport utility vehicle. Two of the girls are his daughters, and the other is a former stepdaughter.

The suspect has a long criminal history, including convictions for burglary and auto theft.

Jones called his ex-wife, Melissa Peeler, late Wednesday and told her of the killings, adding that he would "start killing the kids one by one" if she alerted authorities, O'Donnell said.

Peeler had left the children with her parents and sister before leaving for Oregon to visit her boyfriend over the Christmas holidays. She notified police after getting the phone call.

Peeler's parents, Tom and Nola Blaylock, were found shot to death in one home. In the other house, authorities found Jones' former sister-in-law, Georgia Bradley, shot to death, while Jones' 10-month-old daughter by Peeler, Harley, was apparently strangled.

Georgia Bureau of Investigation spokesman John Bankhead said the crime scenes indicated that the killer was "very methodical."

"This wasn't quick. He clearly took his time," Bankhead said.

Authorities said the motive appeared to be jealousy over his ex-wife visiting her new boyfriend.

O'Donnell said that Jones was constantly threatening violence and that Peeler had been trying to get away from him.

"He says all the time, he'll kill you, he'll kill me or whoever," O'Donnell said. "He's an idiot, just a crazy person."

The missing girls are Peeler and Jones' children ¡ª Brandy Jones, 4, and Tammy Jones, 3 ¡ª and Peeler's daughter from a previous relationship, Brittany Phelps, 10. Officials say Peeler and Jones were never legally married but had a common-law marriage.

O'Donnell said he thought Jones would head for Florida, where his brother lives. O'Donnell said Jones often went to his brother for "security and money."

Jones' mother and stepfather were killed in the 1996 ValuJet crash in the Florida Everglades, and O'Donnell said Jones got a substantial settlement.

"He blew the money almost as fast as he got it, mostly on drugs," O'Donnell said.

Authorities believe Jones, who was in and out of prison in the 1990s on various theft charges, was driving a 1991 red or maroon Ford Explorer.

"We've had him in our jail and we're fixing to put him back in our jail. We're going to put him back on the chain gang he was on," the sheriff said.