'Arisan!' tackles taboos
( 2004-01-09 10:07) (Shanghai Star)
A candid home-grown tale featuring gay kissing has become an unlikely box office hit in Indonesia, the world's most populous Muslim country, challenging and wowing audiences in equal measure.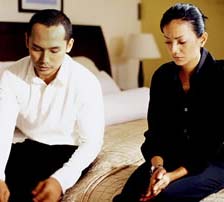 Playing to packed cinemas in Jakarta, "Arisan!" is a satirical comedy mocking the life of the rich in the nation's capital and tackling the taboo subject of homosexuality.
To the surprise of many in the Indonesian film industry, State censors passed the movie with almost no cuts. Scenes left untouched include an aerial shot of oral sex in a public toilet and a gay kiss.
"It is a breakthrough," said Dede Oetomo, a sociologist and one of Indonesia's few openly gay activists.
But not everyone enjoyed the kiss.
During one recent screening, some audience members jeered and shouted in disapproval when the main gay character planted a passionate kiss on the lips of his new-found lover.
"I heard about the gay thing, but I wasn't prepared for the kiss. It's kind of sickening, don't you think?" said Melisa Soeparman, a 28-year-old housewife emerging from a screening.
The movie follows the lives of the few, but very powerful, super-rich in Jakarta, drawn together in a traditional Indonesian-style social-support group known as arisan.
'A true reflection'
"It is a true reflection of life in Jakarta," said director Nia Dinata, puffing on a menthol cigarette.
"I am trying to capture the life and the habits of the rich who always put on masks as if everything was perfect," said the 33-year-old mother of two.
Arisan is a common term for a monthly social gathering between friends and relatives who chip in money to be won in turns through a lucky draw.
From villagers in far-flung areas to urban professionals in big cities, arisan - initially born as a type of support network for ethnic Chinese merchants - is hugely popular among Indonesia's 210 million people, especially housewives.
"It has become a uniquely Indonesian thing," says the US-educated Oetomo.
But some arisan in Jakarta have grown into an exhibit of wealth featuring a who's who of high society. The prize draws range from millions of rupiah worth of goodies to a date with a high-class prostitute.
The movie's three main characters are struggling to maintain a facade in front of the other arisan members although in truth their lives are less than perfect.
Meimei is a successful interior designer battling with infertility and married to an unfaithful husband, while Andien, a bed-hopping wife is also married to an unfaithful husband. Leading male character Sakt is their faithful gay friend who is struggling to "cure" his homosexuality.
Audience reactions may be mixed, but everyone has an opinion. Perhaps more importantly, the critics love it.
The respected weekly magazine, Tempo - home to the most influential Indonesian art critics - called the film "the freshest movie of the year with an almost perfect script".
The daily Jakarta Post said: "Achingly funny, an honest work from the heart."
The movie is low-budget by Hollywood standards. But into its third week in Jakarta alone it has drawn more than 100,000 viewers, a huge success in the small and competitive local market, according to an official at Indonesia's biggest theatre chain, Twenty One.
Shot in just 32 days on a budget of 2 billion rupiah (US$230,000), "Arisan!" is among a crop of new movies seen as signalling the revival of the Indonesian film industry after a decade in the doldrums.
But it stands out among the other offerings, which are confined to the staple fare of teen romance and horror.
Fear of backlash
Unlike in many Muslim countries, Indonesian society is relatively tolerant of homosexuality, but the topic does not usually get a public airing.
There is no mention of homosexuality in Indonesian law and the relatively liberal mass media rarely discusses the issue, despite the presence of a number of gay public figures.
Scriptwriter Joko Anwar said there were initial fears of a possible backlash by zealous religious groups, but they have yet to materialize.
Such worries are understandable in a country where the newly democratic government is battling an alarming rise of Islamic militancy.
But, says Oetomo, the lack of outrage does not indicate a new acceptance of gays in Indonesia.
"It's more like I know you exist, but please don't bother me. That's why we have everything here, from fanatic groups to gay rights groups. After all, this is democracy."