Guangdong steps up hygiene in SARS battle
( 2004-01-09 09:42) (Agencies)
Southern China mobilized a mass cleanup effort Thursday, sweeping streets, confiscating more civets and targeting rats, roaches, flies and mosquitoes ! in the attack on creatures suspected of carrying the virus.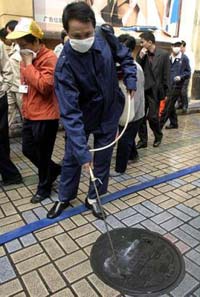 A city worker sprays chemicals into a manhole as part of a campaign to exterminate pests such as rats and roaches at a market in Guangzhou, Southern China, Thursday, Jan. 8, 2004. [AP Photo]

The push toward a cleaner Guangdong province came the same day the first SARS patient in the Chinese mainland of the season was released from the hospital ! and, minutes later, a waitress in the provincial capital of Guangzhou was announced as the second suspected case.

Thursday's main cleanup took place at Guangzhou's upscale Dongshan Market, where well-heeled consumers can choose from among 20 types of rice and 30 varieties of soy sauce.

Hundreds of residents took up brooms to scour the already tidy streets.

Authorities said Thursday that a waitress in Guangzhou could be Chinese mainland's second SARS patient since the disease was pronounced under control in July. The announcement came just as the first patient ! also in Guangzhou ! was pronounced recovered and allowed to go home after three weeks in the hospital.

The 20-year-old waitress sought treatment for a fever on Dec. 31 and, after diagnosed with suspected SARS, has now been quarantined at the No. 8 People's Hospital.

The hospital's president, Tang Xiaoping held a news conference Thursday to brief news about the previous case's release. When asked if it was true the second case worked in a wild game restaurant and dealed with civet cats before fell ill.

Tang said: "All I can say is that she is a waitress at a restaurant."

But he added: "We don't know if it had wildlife. Many restaurants do."

On Tuesday, the central government, trying to prevent a new epidemic, ordered temperature checks on passengers at railway stations across the country. Those with a fever over 37.5 C are forbidden to board trains.

In Guangdong, civet killings continued. Experts say the weasel-like creature, a delicacy in southern China, might harbor the SARS virus that infects humans. Animal wranglers have been drowning and electrocuting them by the thousands, boiling their remains into mist.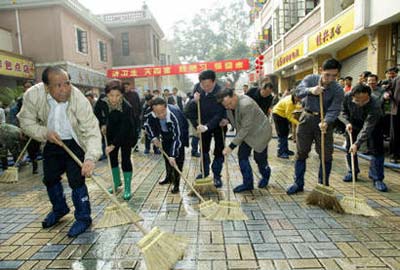 City officials clean a street in Guangzhou, the capital of China's southern province of Guangdong, January 8, 2004. [Reuters]
Next up, authorities want to mobilize all Guangzhou to exterminate rats, cockroaches, flies, and mosquitoes, which are also considered as a SARS threat.
Last year, the first SARS patient was found in Guangdong. The flu-like illness then spread to the world, killed 774 people worldwide, and caused mass panic.
Now that new cases were found, albeit far less threatening for the moment ! many are taking the developments in stride. Many people expressed their trust to the government.
"I'm definitely not worried about SARS, because the government's policies are all sound and the government has such strength," said a restaurant worker who gave only her surname, Ye.
However, some seems worried about what they see as overkill.
"There is only one SARS case in Guangzhou, so why must there be such a heavy reaction that affects the whole population?" said Sun Jianwu, owner of a chain of pet supply stores. He said the government efforts to kill civets and rats are "unscientific" measures.
"Ordinary people shouldn't be worried about SARS," Sun said. "They should be worried about officials who ignore science."
Sun, the pet-supply chain owner, thinks Guangdong should make its peace with SARS and move on.
"If you understand a disease you can control it and use good prevention," he said. "We treat pets here, but we can't guarantee that a pet won't get sick. It's the same with people."
WHO team heads to Guangdong
Meanwhile, a team of World Health Organisation experts Thursday headed to Guangzhou to deepen the probe into how the confirmed patient contracted SARS, a task which another Beijing-based WTO spokesman Roy Wadia said was "of paramount importance."
Experts will likely revisit the man's apartment compound, reinterview him and possibly look at the area's rat population and even study rat faeces, Wadia said.
"There are all these theories, such as that rat faeces scattered by the wind might be a source of infection. All these things need to be studied more," he said.

Meanwhile, the team will also try to find more information on the second case as the samples from the 20-year-old waitress were in Beijing for testing.
WHO officials said they had no further information on her.
"We'd like more information on it," said Roy Wadia, a Beijing WHO spokesman.
A WHO spokeswoman from Geneva said Thursday WHO wanted samples from the woman to be double-checked by an independent laboratory, like the last case.
The emergence of the latest suspected case should not be cause for alarm, given the heightened state of alert in China's surveillance system, said Bob Dietz, another WHO spokesman.
"What's reassuring to us at this point is we seem to be catching cases ... So it seems the surveillance system is working. People know what to do when cases show up," Dietz said.
He noted that as with the confirmed case, the patient was isolated and had apparently not infected anyone else.