Coroner: Diana not pregnant at death
( 2004-01-08 10:45) (Agencies)
Princess Diana was not pregnant when she died, a former royal coroner says, apparently ruling out one of the rumors which has swirled around her death in a car crash six years ago.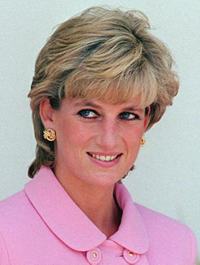 Princess Diana is shown in this Nov. 24, 1995 file photo in Argentina. Britain opened its first inquest into the deaths of Princess Diana and Dodi Fayed on Tuesday Jan. 6, 2004, more than six years after they were killed in the Paris car crash. [AP Photo]

Dr. John Burton, who was the royal coroner at the time, said he was present at a post-mortem examination after her body was returned from Paris, The Times newspaper reported in Wednesday's editions.

"I was actually present when she was examined. She wasn't pregnant. I know she wasn't pregnant," the newspaper quoted him as saying.

Burton spoke on the same day that the present royal coroner, Michael Burgess, opened formal inquests into the deaths of Diana, 36, and her boyfriend, Dodi Fayed, 42. They died when their chauffeur-driven car crashed in an underpass in Paris on Aug. 31, 1997.

A French judge laid responsibility for the crash on the driver, Henri Paul, who was found to have been intoxicated and driving at high speed. He was also killed.

Burgess announced Tuesday that he had asked police to look into theories that the princess was the victim of a conspiracy, variously attributed to the royal family and intelligence agencies.

"I'm aware that there is speculation that these deaths were not the result of a sad but relatively straightforward road traffic accident in Paris," Burgess said.

"I have asked the Metropolitan Police Commissioner (Sir John Stevens) to make inquiries. The results of these inquiries will help me to decide whether such matters will fall within the scope of the investigation carried out at the inquests," he said.

Dodi's father, Mohammed Al Fayed, has claimed that Diana may have been pregnant when she died. He has also accused Prince Philip, the husband of Queen Elizabeth II, of masterminding a conspiracy.

Diana still haunts royals

Though six years after her death, Diana still haunts Britain's royal family.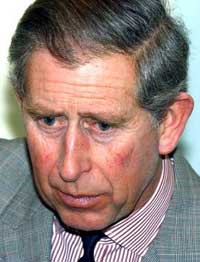 Britain's Prince Charles visits the Hereford Haven brest cancer centre in Hereford, January 7, 2004. The Prince's former wife Princess Diana was front page news again on January 6 as the opening of the British inquest into her death in a 1997 Paris car crash coincided with a British tabloid newspaper naming Charles as the person she suspected of plotting to kill her. [Reuters]

For her former husband Prince Charles and their two sons, the agony shows no sign of fading. For the conspiracy theorists, there is no smoke without fire.

From Scandinavia to Japan, photographers descended on London for an inquest on Tuesday into Diana's death in a Paris road crash in August 1997 with paparazzi in hot pursuit.

What made Diana front-page news yet again around the world was not just the opening of the inquest, but a tabloid newspaper naming Charles as the person she suspected of plotting to kill her.

Diana made the plot allegation in a letter she gave to her butler and confidant, Paul Burrell, before she died.

On Tuesday, London's Daily Mirror reported that Diana claimed in the letter that Prince Charles was "planning 'an accident"in my car, brake failure and serious head injury in order to make the path clear for him to marry.'' Charles"office said it would have no comment on the report.

Diana's former bodyguard Ken Wharfe dismissed the possibility that she was murdered.

"I have said this many, many times, the Princess of Wales was killed tragically in nothing more than a mundane road traffic accident,'' he told ITV television.

"If we look at the conspiracy theories perpetrated by Mohamed al Fayed again, you look at the evidence, there is no evidence here. It is mere speculation,'' Wharfe said.

Dodi's father, London store magnate Mohamed al Fayed, has long alleged the couple were murdered by British secret service because their relationship was embarrassing the House of Windsor.

"It is absolute black and white horrendous murder,'' he said after a separate inquest into his son's death.

There have been unsubstantiated stories of photographs of the crash site being stolen, of Diana being pregnant, suspicion about closed-circuit television cameras inside the tunnel where the crash occurred that were said to have been turned to face a wall, and claims that Diana could have been saved if she had reached a hospital more quickly.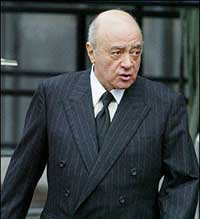 Mohamed al-Fayed leaves the opening of the first coroner's inquest in Britain into the death of Princess Diana and his son Dodi al-Fayed in London.

Royal commentators reflected sadly on what they saw as Diana's paranoia in the last year of her life. Few gave any credence to her reported suspicions.

Diana's former sister-in-law and a man who was her royal bodyguard for six years both scoffed at conspiracy speculation stirred up by the letter.

"I'm deeply shocked... The tabloids have gone too far,'' said Sarah Ferguson, former wife of Charles's brother Prince Andrew.

"It's disgraceful. I will not even discuss it. It's absolutely outrageous. I've never been more shocked... it just doesn't do her boys (Princes William and Harry) any good."

Many in Britain "and more around the world "appear to share al Fayed's suspicions in varying degrees, although Diana's friends and family dismiss the murder claim and other rumours.

A French judge ruled in 1999 that the crash was an accident, and an investigation concluded that driver Henri Paul, who also died, had been drinking and was driving at high speed. In 2002, France's highest court dropped manslaughter charges against nine photographers who pursued the car before it crashed or who took photos at the site.

In November, a French court acquitted three photographers in a case brought by al Fayed, who alleged they invaded his son's privacy by taking pictures at the crash scene. Prosecutors have appealed that verdict.

Clarence House, official residence of Diana's former husband Prince Charles, said that the prince and his sons, Princes William and Harry, "are very pleased that the inquest is finally under way.'' They did not attend the formal opening.

Royal coroner Burgess, signaling the broad probe, said he had asked London's Metropolitan Police to investigate whether conspiracy theories should be part of the inquest. Burgess then adjourned the case, saying it likely would reopen early next year.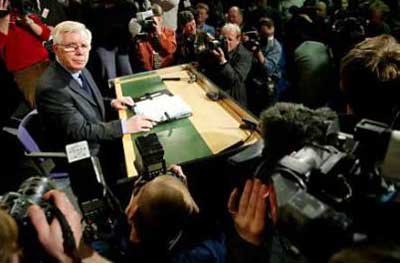 Royal Coroner Michael Burgess poses for the media at the opening of the British inquest into the 1997 death of Britain's Princess Diana, in central London, January 6, 2004. [Reuters]
Burgess said he would focus on four key questions " "who the deceased person was, and how, when and where the cause of death arose.''
Explaining why he was adjourning the proceedings for up to 15 months, Burgess said that judicial proceedings in France, including any appeals, must be concluded before he could have access to documentation compiled by French investigators.
Burgess also noted that many potential witnesses live abroad. He said the proceedings may "give rise to considerable and possibly unnecessary intrusion into private grief. That I regret, just as I regret the untold pain for some in having to relive the experiences surrounding the deaths.''