We married and then 'all hell broke loose:' Britney ex-husband
( 2004-01-07 14:09) (Agencies)
Marrying Britney Spears was a "cool" idea that quickly turned into a nightmare, the singer's ex-husband, Jason Alexander, said in an interview about their 48-hour union.
Spears and Alexander, both 22, filed for an annulment just hours after tying the knot Saturday in Las Vegas.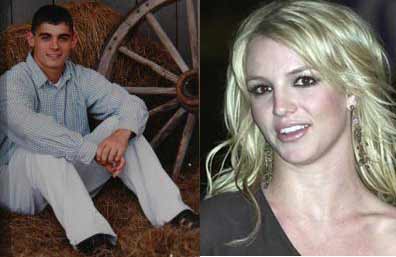 U.S. pop star Britney Spears (right) was married to childhood friend Jason Allen Alexander (left) Saturday Jan. 3, 2004 in Las Vegas, the Las Vegas Review-Journal reported. [AP Photo]


Alexander, a childhood friend of Spears, said the two had gone to the Nevada desert gambling resort on the spur of the moment to celebrate New Year's Eve and had found themselves in a hotel room in the wee hours of Saturday morning.

"We were looking out the windows and looking at the lights and the city. We were like, 'This is a real pretty, beautiful night,'" Alexander, 22, told NBC.

"It was cool and we were looking at each other and we were like, 'Let's do something wild and crazy and let's go get married just for the hell of it. Let's go.' So we just got up and said, 'Let's go do it'."

The couple chose to have the ceremony at the Little White Wedding Chapel -- one of many get-hitched-quick joints on the Las Vegas Strip.

"We did everything -- the whole pictures and everything," Alexander said, adding that by the time they came around to getting their official marriage license, the reality of what they had done was beginning to dawn.

"We were both like, 'Yes, yes!' on the outside, and I think we were both on the inside like, 'I don't know?'," he said.

"So we went ahead and did the whole thing and we got back to the room and we decided that's when we needed to tell everybody what we done did.

"Then that's when all hell broke loose and we realized that what we did probably wasn't the right thing ... We needed to fix the problem -- the mistake we had made -- so that's when the annulment came in," he said.

The annulment was approved by a judge on Monday.