News Analysis: China's "big four" eye commercial banks in real sense
( 2004-01-07 10:58) (Xinhua)
The State Council's capital injection into the Bank of China and China Construction Bank was a "very unusual and completely new" reform that targets the country' s massive state-owned commercial bank system, economists said Tuesday.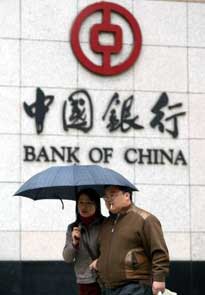 A Chinese couple walks past a Bank of China branch in Shanghai January 6, 2004. China has launched a long-awaited bail-out of its banking sector with a US$45 billion injection into Bank of China and China Construction Bank. [Reuters]

China's cabinet announced early Tuesday morning that it has finished capital injection into the two banks selected for joint- stock reform, using 45 billion US dollars of the nation's foreign exchange reserve.

Yi Xianrong, director of the financial development institute of the Chinese Academy of Social Sciences, said that the Chinese government has mapped out a detailed reform plan for turning the two state-owned commercial banks in "commercial banks in the real sense."

"The plan absorbs sufficient overseas experience and boasts great feasibility," he said in an exclusive interview with Xinhua.

Observers noted the move is aimed to help state-owned banks to mitigate the existing and potential financial risks to a great extent and sharpen their competitive edge in the face of foreign rivals entering the domestic market after the country's accession into the World Trade Organization.

China has promised to open its banking business + in all places and all currencies + to foreign banks by 2006. However, the four major state-owned commercial banks are still beleaguered by lack of corporate governance, high non-performing loan (NPL) ratio and low capital adequacy ratio.

Central bank figures show that the "big four" -Bank of China, China Construction Bank, Industrial and Commercial Bank of China and Agricultural Bank of China - had outstanding NPL amounting to 1.99 trillion yuan (239.76 billion US dollars) by the end of last September.

This represents a NPL ratio of 21.4 percent, 13 percentage points more than the country's 11 joint-stock commercial banks and even more than those well-known foreign banks.

"This has aroused great concern from China's leadership," said Qiu Zhaoxiang, director of the financial research institute of the University of International Business and Economics.

A decision of the Communist Party of China Central Committee has clearly pointed out that China will choose eligible state- owned commercial banks to conduct joint-stock reform, replenish capital in cash and create conditions for listing.

Wu Xiaoqiu, a financial research fellow of the People's University of China, predicted that the two pilot banks would be listed in the stock market in the foreseeable future so as to collect funds for their business expansion and risk control.

The Bank of China and Construction Bank of China made profits of 40 billion to 50 billion yuan (US$4.82 billion to US$6.02 billion) each in 2003; among the "big four" state-owned banks, Bank of China boasts the best financial conditions and Construction Bank boasts the best asset quality.

The two banks' pilot reform would offer experience for other state-owned banks, Wu said.

He noted that joint-stock reform and stock listing create only a platform for the market-based operation of state-owned banks. But it do not mean that all the problems the banks face can be solved. Rather, the banks must strengthen their internal control in line with corporate governance so as to become modern commercial banks with competitiveness in the international market.