Hongta makes West cigarettes
( 2004-01-06 00:59) (China Daily)
The nation's largest tobacco products maker, Hongta Group, has signed a 10-year co-operation agreement with Imperial Tobacco to begin production of the "West" cigarette brand in China.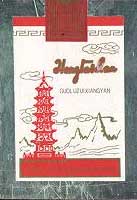 "Hongtashan" cigarette, a Chinese brand produced by Hongta Group. [file/newsphoto.com]

Production of the first batch of the West brand has already begun and will be available for sale this month in Shanghai and in the southwestern city of Kunming, located in the key tobacco-growing Yunnan Province where Hongta is based. The second batch is scheduled for mid-year, said Yang Xuemei, director of Hongta's department for overseas.

To western tobacco giants, production of the "West" cigarette brand in China is a prelude to bumper harvests in the country where there are the most smokers in the world.

But for China's top tobacco products maker, the deal is likely to result in a growing overseas market.

Imperial Tobacco, the industry's fourth largest producer worldwide, will invest US$8.4 million per year in the project and plans to sell 10 million cigarettes in China yearly, a tiny volume compared to the country's annual consumption of 1.7 trillion cigarettes.

This co-operation agreement, however, is tricky from a legal standpoint as tobacco joint ventures are not allowed in China at this time.

Gareth Davis, chief executive of Imperial Tobacco, played down the immediate commercial significance of the agreement.

"The potential is huge, we will be investing in infrastructure and marketing support and see it as a long term investment."

Hongta will share 60 per cent of West's sales income, Yang said.

Imperial Tobacco also agreed to market Hongta's cigarettes overseas through its sales network. Challenged by emerging local competitors, sales of the Hongtashan brand of cigarettes shrank to 20 billion cigarettes last year, compared to 40 billion in 1998. The Yuxi brand is another big seller of the group.

An agreement with Imperial Tobacco on which brand will be distributed and in which foreign market has not yet been determined, Yang said.

Challenges still face the company, however, as regional protectionism within the country continues to be"a big headache,"Yang said.

In China, tobacco plants are scattered all over the country, producing more than 2,500 brands of cigarettes. These plants enjoy stable sales within their cities or provinces secured by local government.

The top eight tobacco producers in China account for only 26.4 per cent of the national market.

But the central government's move to close inefficient small tobacco factories and foster competitive giants will definitely benefit Hongta, Yang said.

The State Tobacco Monopoly Administration (STMA) has unveiled a plan to aide major domestic tobacco producers capable of parrying the growing challenge from foreign rivals.

It has decided not to give production licences to factories with annual productivity of below 5 billion cigarettes. These small plants will be closed or merged with major provincial tobacco firms that are the mainstay in the State-run industry.

There will also be massive restructuring to fold all provincial companies into three to five national tobacco groups, according to industry sources.

Hongta is hopeful to be the administration's first choice to navigate one of the new conglomerates.

China becomes more and more appealing to international tobacco companies as world consumption drops by roughly 1 per cent each year.

The market in China is likely to grow further, as there are few high-profile public health measures in place to ban smoking.

The co-operation with Imperial Tobacco is seen by both parties as strategically important in terms of future sales returns as well as market perception.

The tariff rate on cigarettes will drop to 20 per cent by the end of 2004, compared to the 70 per cent upon China's accession the World Trade Organization in late 2001. Duties on tobacco leaves will be cut to 10 per cent from 40 per cent.

China will also scrap the special retail licence for imported tobacco starting 2004. The move will boost the sales of foreign cigarettes as licences used to be limited to very few domestic distributors.

However, the increase of imports is not expected to have a big impact on the market share as foreign cigarettes legally imported into China have taken only a 3 per cent portion of sales.