Britain opens inquest into Diana's death
( 2004-01-06 15:41) (Agencies)
Britain opens its first inquest into the deaths of Princess Diana and her boyfriend Dodi Fayed on Tuesday, more than six years after they were killed in a Paris car crash.
The hope is the royal coroner's hearings will put to rest years of speculation and conspiracy theories surrounding the crash, which continues to haunt many in Britain and around the world.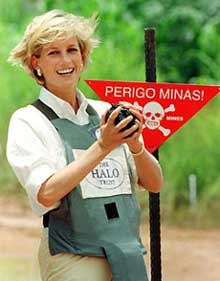 Diana, seen holding a landmine in Huambo, Angola, during a Red Cross campaign visit January 15, 1997, died alongside her lover Dodi Al Fayed and their chauffeur Henri Paul when their speeding Mercedes car crashed in a Paris tunnel on Aug. 31, 1997, as it was chased by paparazzi on motorbikes. [Reuters]

But it is unclear whether they will unearth any new information. Coroners' investigations are typically limited in scope.

Royal coroner Michael Burgess is conducting the inquiries, required by law when Britons die abroad of other than natural causes. The two deaths are being treated separately.

Burgess's spokeswoman said he held off beginning his inquiries until French legal proceedings in the case were finished.

He plans to hold two brief hearings Tuesday then adjourn the inquests to a later date so he can further research the case, according to his spokeswoman, who declined to be named. She said she did not know when public proceedings would resume and said Burgess did not plan to set a firm date immediately.

The inquests could be as narrowly focused as an examination of the immediate circumstances of the crash and the medical causes of Diana's and Fayed's deaths, or they could range more widely.

Coroners are charged with determining when and where a death occurred and how the cause of death came about, but it is unclear how Burgess will interpret that mandate.

When he announced the inquests last month, he said Tuesday's hearings would be devoted to discussing the purpose of his investigations, how he plans to run them and the type of evidence he expects to gather.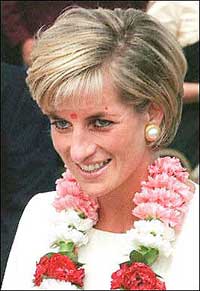 Britain's Princess Diana [AFP/File]

Fayed's father, Egyptian-born billionaire Mohammed al Fayed, has called for a full public inquiry, saying a coroner's inquest is too narrow.

Al Fayed plans to attend the hearings and would be willing to testify if asked, said his spokesman Chester Stern. He declined to say whether al Fayed, who owns Harrods department store, would provide any evidence.

Al Fayed says he believes Diana and his son were victims of a murder conspiracy plotted by people who disapproved of their relationship. He also says there was a cover-up of the circumstances of the crash.

Many of Diana's fans ¡ª and there are millions around the world ¡ª appear to share his suspicions in varying degrees although her friends and family dismiss the murder claim and other rumors.

A French judge ruled in 1999 that the crash was an accident, and an investigation concluded that driver Henri Paul, who also died, had been drinking and was driving at high speed. In 2002, France's highest court dropped manslaughter charges against nine photographers who pursued the car before it crashed or who took photos at the site.

In November, a French court acquitted three photographers in a case brought by al Fayed, who alleged they invaded his son's privacy by taking pictures at the crash scene. Prosecutors have appealed that verdict.

The Daily Express tabloid newspaper reported that Burgess had asked Diana's former butler Paul Burrell for a letter in which the princess purportedly said she feared someone wanted to harm her, and that the brakes of her car would be tampered with.

The newspaper cited no source for that assertion. It quoted Burrell as declining to say whether he had received such a request but promising to "give the coroner every possible assistance."

A woman who answered the phone at the office of Burrell's spokeswoman, Ali Gunn, declined to discuss the report and said Gunn was unavailable. The woman, who would not give her name, said the office would not comment on any aspect of the inquests and said she did not know whether Burrell planned to attend Tuesday.

A Buckingham Palace spokeswoman said she was not aware of any members of the royal family planning to attend either hearing or to send representatives. She said she did not know whether any royals would be called to testify during the inquests, referring all questions to Burgess's office.

Al Fayed champions one of the most popular conspiracy theories among those debated in thousands of Internet sites dedicated to questions surrounding the crash. It alleges that the pair were killed by the British Secret Service because Fayed was a Muslim.

The government denies the claims. But rumors that Diana, 36, was pregnant and planning to marry Fayed, 42 ¡ª both rejected by her friends ¡ª fueled the stories.

There also are unsubstantiated stories of photographs of the crash site being stolen, suspicion about closed-circuit television cameras inside the tunnel where the crash occurred that were said to have been turned to face a wall, and claims that Diana could have been saved if she had reached a hospital more quickly.