DPRk offers to halt nuke facilities
( 2004-01-06 14:22) (Agencies)
The Democratic People's Republic of Korea (DPRK) offered Tuesday to refrain from producing nuclear weapons as a "bold concession" to rekindle talks over its arms programs.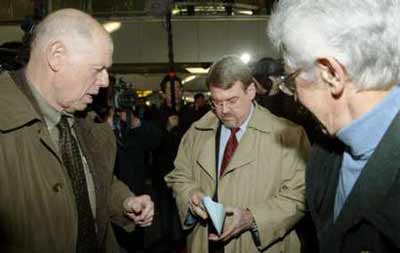 Charles 'Jack' Pritchard (C), the US State Department's former special envoy for DPRK, Sig Hecker (R), director from 1985 to 1997 of the Los Alamos National Laboratory, and John Wilson Lewis, a professor emeritus at Stanford University, arrive at Beijing Capital International Airport January 6, 2004 to leave for North Korea. [Reuters]
The move comes as the United States, China, Russia, Japan and the two Koreas scramble to arrange a new round of negotiations, with South Korea and Russian saying they are unlikely this month.
DPRK has said before it is willing to freeze its "nuclear activities" in exchange for U.S. aid and being delisted from Washington's roster of terrorism sponsoring nations.
Tuesday's developments come as a delegation of U.S. congressional aides heads to DPRK to possibly tour the country's disputed nuclear plant at Yongbyon. A South Korean Foreign Ministry official said on condition of anonymity that they were to stay in the country from Tuesday to Saturday.
The Yongbyon complex is at the heart of the standoff, and there has been no outside access to the facility since DPRK expelled U.N. nuclear inspectors at the end of 2002.
On Tuesday, DPRK said it was "set to refrain from the testing and production of nuclear weapons and stop even operating nuclear power industry for a peaceful purpose as first-phase measures of the package solution."
In a commentary carried by the official KCNA news agency, DPRK called the offer "one more bold concession."
Washington has said it wants North Korea to verifiably begin dismantling its nuclear weapons programs before it delivers any concessions.
DPRK said its first-step proposal should be the focus of preparations for new talks.
"If the United States keeps ignoring our efforts and continues to pressurize the DPRK to scrap its nuclear weapons program first while shelving the issue of making a switchover in its policy toward the DPRK, the basis of dialogue will be demolished and a shadow will be cast over the prospects of talks," KCNA said.
South Korea's Unification Ministry, which handles affairs with DPRK, says North Korea has at least three nuclear reactors.
Last year, it restarted a five-megawatt reactor at Yongbyon. An unfinished 50-megawatt reactor also stands at Yongbyon, and a 200-megawatt one is located just northeast of the site at Taechon.
A U.S.-led international consortium had been building two 1,000-megawatt light-water reactors on the country's east coast. But that project was suspended last month amid the nuclear standoff.
Chinese and Russian officials met in Moscow on Monday to try smoothing a way toward a new session of six-nation talks. A first round of talks in Beijing in August ended with little progress.
There were hopes a new round could open early this year, after differences between the United States and DPRK prevented more negotiations before the close of 2003.
But Russian and South Korean officials said Monday talks would probably not happen this month, citing differences between the Washington and Pyongyang as well as scheduling difficulties around the Russian Christmas holiday and the Chinese Lunar New Year.
The DPRK nuclear crisis flared in October 2002 when U.S. officials accused DPRK of running a secret nuclear weapons program in violation of a 1994 deal in which DPRK is obliged to freeze its nuclear facilities. Washington and its allies cut off free oil shipments, also part of the 1994 accord.