The World Health Organization (WHO)said in Beijing Monday that China is still a safe place to travel even though the suspected case of severe acute respiratory syndrome (SARS) in Guangdong was finally confirmed as diagnosed one.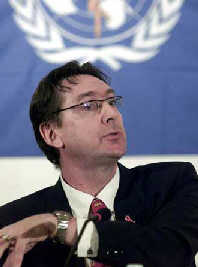 Henk Bekedam, World Health Organization representative in China, expresses his confidence about traveling within the country at a news conference in Beijing, Jan 5, 2004. [newsphoto.com.cn]
"It is perfectly safe for members of the public to travel to Guangdong Province," WHO representative in China Henk Bekedam said at a press conference Monday evening.
"One SARS case in China is not an immediate public-health threat and there was no evidence of a spread of infection from the SARS patient to date," Bekedam said.
A 32-year-old television producer, reported as a suspected case on December 27, has become the first confirmed SARS patient in Chinese mainland since the epidemic subsided last June.
Tests done in two labs in Hong Kong and one in Beijing resulted in the case getting upgraded from suspected to confirmed, the Ministry of Health and the WHO announced Monday.
No other suspected or confirmed SARS cases have been reported in China, including Taiwan, Hong Kong and Macao, said Mao Qun'an, spokesman of the ministry.
Although rumors of a second suspected case, a female patient in her early 20s, have been circulating, Guangzhou authorities denied it.
Wang Ming, deputy director of the Guangzhou Municipal CDC, said there was a patient with fever and pneumonia symptoms. She has had normal temperatures for a few days and none of those who had contact with her have had fever or similar symptoms.
WHO officials said last night they had not received any reports about the second case. But a team of WHO scientists planning to go to Guangdong for further investigation will also look into that, they said.
Meanwhile the confirmed patient appears to be on the way to recovery. He has had normal temperature for the past several days. Only 17 of his 81 contacts, all health care workers, are still under medical observation. The rest have been released from quarantine and are said to be well.
The 17 health care workers will be isolated for 14 days starting from the last time they had contact with the virus.
Health authorities in Guangdong treated the first case as SARS from the beginning. They used the 2003 system for tracing, isolation and medical observation of contacts.
Authorities in Guangdong and Hong Kong are working together to implement safety measures in the area, such as temperature checks for travel. They are also using this case to determine how well the current surveillance system works, and a review of the process so far in this case is already under way.
Lovely, Deadly Civet Cats
The latest research has shown a close link to the animal.Officials in the capital city of South China's Guangdong Province are now conducting a province-wide effort to cull 10,000 civets.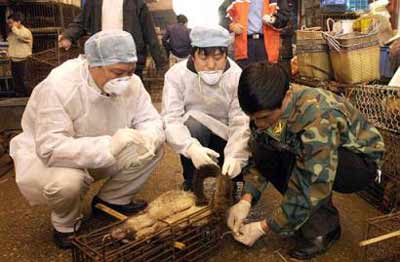 A civet cat stall is closed at a wildlife market in Guangzhou, capital of south China's Guangdong Province, Monday, Jan. 5, 2004. [Xinhua]
The genetic sequence of the coronavirus detected in the civets by researchers at the University of Hong Kong and the Shenzhen Centre for Disease Control and Prevention (CDC) has been found to be nearly identical with that of the virus sample of the new case in Guangzhou, said Lin Jinyan, deputy director of Guangdong CDC.
Hong Kong microbiologists have conducted a series of tests on civets since the suspected SARS case was reported late last month.
In the origin-seeking research, 27 mammal species were sampled, two more than a similar test last May, said Zhuang Zhixiong, director of Shenzhen CDC. And abundant strains of the deadly virus were found in civet samples.
Researchers from the Guangdong CDC further confirmed the finding, adding that the genetic differences between the coronavirus on civets and the virus sample separated from the patient is extremely slim, with only eight points in the respective genetic codes. In comparison, last year's test showed a difference of 18 points, said Chen Qiuhong of Guangdong CDC.
Experts from Guangdong and Hong Kong agree that masked palm civets are now considered the main carrier of the SARS virus.
Officials from the Guangdong Provincial Public Health Administration (GPPHA) have called on the public to stop any activities that involve the animal, including capturing, transporting, selling and eating it.
Even the badger, whose living environment is very similar to the civet, is being suggested for a ban.
Feng Liuxiang, GPPHA's deputy director, said that there are all together about 10,000 masked palm civets in Guangdong, most of which were transported from Shaanxi Province in Northwest China.They will be killed and buried to prevent another SARS outbreak.
Restaurants are being inspected and, if they are found to be processing or selling civet meat, their business licenses and sanitation certificates will be revoked, effectively resulting in a shutdown, said Feng.
WHO yesterday welcomed the decision to "try to minimize contact between humans and the animals thought to be carrying the SARS virus".
"WHO has long maintained that animals could be reservoirs for the SARS coronavirus, and hence a source of infection," said Dr Hitoshi Oshitani, who is leading WHO's response to SARS in the Western Pacific Region.
Oshitani cautioned that if wild animals are to be slaughtered, the people carrying out the cull should be protected from infection. He also warned against the danger of wildlife trading being driven underground, where it would not be monitored.
The civet has been through ups and downs since the first time it was identified last May as the likely SARS carrier from which the virus jumped to humans under the right, or rather wrong, circumstances, said researchers at the University of Hong Kong and Shenzhen CDC.
The civet is traditionally consumed in Guangdong as a nutrient food. It was banned during last year's SARS epidemic, but its fame as a culinary delicacy was reclaimed on August 12 when the State Forestry Bureau put it back on the list of acceptable commercial consumption. Public wariness was eased for a few months until yesterday's announcement.
According to Jiang Zhigang, president of the Animal Ecology and Conservation Institute under Chinese Academy of Sciences, there are about 600 civet breeding farms, with a total of 40,000 civets, on the Chinese mainland. Shaanxi alone accounts for a third of the total.
Guangdong is also launching a campaign to stamp out rats and cockroaches. It coincides with the traditional Chinese spring cleaning that happens before the Lunar New Year.
For a while, rats were the main suspects in the Guangdong SARS case since the rodents caught in the patient's apartment were found to contain a mutated strain of the virus.
Liu Qiyong, a scientist with China CDC who is on an inspection mission in Guangdong, yesterday told China Daily that more research has to be done before animal transmission and infection modes can be established.