Libai caught in controversy again
( 2004-01-05 10:19) (China Daily)
Free-spirited, with an unrestrained temper, in a long white gown and given to drinking all his life. That is how the "Immortal Poet'' Li Bai (701-762) lives in the minds of most Chinese people.
Arguably the most well-known romantic poet in Chinese history, Li has been so deified that he is a challenge to individuals or groups who wish to interpret him.
Twelve years ago, in 1991, the prestigious Beijing People's Art Theatre successfully staged the modern drama "Li Bai,'' with Su Min directing and Su's son Pu Cunxin in the title role.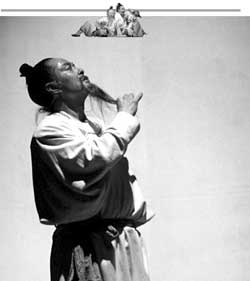 Li Bai (played by Pu Cunxin) pauses for a moment of meditation. For centuries, the Tang Dynasty (618-907) poet, who witnessed the huge empire's irreversible decline from its greatest glory, has been the Chinese people's "Immortal Poet." [China Daily]

With more than 60 performances, the play won wide acclaim from both common theatre-goers and critics, with the father-son combo coming on for special praise.

However, the re-staged version, which opened on December 25 and is running until January 28 at the Capital Theatre, is turning out to be one of the most controversial shows in the theatre's repertoire.

The heated discussions centre more on the wisdom of choosing a slow, poetic historical approach in direction at a time when theatre-goers want more drama and intrigue and fast-moving plots.

Actor more mature

Early last year, Pu Cunxin, who has risen to become a mature star both on stage and screen, was appointed as the vice-president of the theatre. He proposed that the theatre restage at least one play from its treasured repertoire every year, in addition to new shows.

"Li Bai'' became the first such initiative.

Expecting to attract many of the theatre-goers who took in the original show and to achieve a higher standard, Su Min, 77, again took the helm as director. And Su cast his son Pu Cunxin in the title role again.

Critics claim that Su has maintained his deft mature style and his poetic touch in direction and Pu, more relaxed and natural, has come closer to people's perceptions of Li Bai, especially toward Li in his later years.

In the new version, Pu convincingly plays a brilliant, commanding and passionate Li Bai.

One of today's most popular actors on screen, TV and stage in China, Pu's performance is definitive proof of his father's claim that "The stage refines performers while the movies and TV use them.''

Pu vividly depicts Li's rich and complex inner world, especially his unrestrained temper and free spirit. He portrays Li as a man who is sincere with his friends, overwhelmed with indignation when framed and persecuted, deeply repentant for his flattery and grieved by his failure to fulfill his ambition.

Pu said he has been trying to make up for his discontent with his portrayal of the role 12 years ago. "I could not be a natural Li Bai at that time. I was not very sure how to portray a beloved legendary poet,'' he said.

Director Su agrees with his son.

"Rich life experience, accomplishment in thought and culture and performing techniques are the three key elements for an actor,'' Su said. "Without all three of them, you cannot be a good actor.

"Twelve years ago, I had to explain to my son Li's personality and the predicament in which the poet was caught,'' Su recalled. "But now things are different. He has gone through a lot in life and work in the past 12 years and has a deeper understanding of fame and wealth.

"All this helps him to understand the role better,'' Su said.

Popular or highbrow

However, the play has been doing badly at the box office and the failure has been attributed to the fact that the play is too highbrow for the tastes of today's theatre-goers.

The play was written by Guo Qihong. Born into an intellectual family, the 63-year-old playwright has a special interest in the Chinese intelligentsia.

Some of his best-known works are the Peking Opera portraying the great Han Dynasty (207 BC-AD 221) historian "Sima Qian'' (1980), the Kunqu Opera featuring Han Dynasty poet "Sima Xiangru'' (1995) and the modern drama "The Elite'' (1996). He has also written other plays, all focusing on the fate of scholars or artists and the difficult social and political relationships in their lives.

"Intellectuals are the elite of society,'' said Guo.

"They concern themselves with the country and the people. They are willing to work and struggle for the country and the people,'' Guo said. "However, they also have weaknesses, for instance, not knowing how to make decisions, and often even fawning upon their superiors.''

The play "Li Bai'' portrays the great poet, who in his old age wavered between living the life of an unconventional poet or serving as an official in the decaying imperial Tang court.

The story is set in the Tang Dynasty (618-907), following the quelling of the armed rebellion led by An Lushan and Shi Siming in 755. Despite his old age, Li Bai, hoping to revive the Tang Dynasty, joins the court of Emperor Yongwang.

However he soon finds the intrigues within the court and fatuous emperor discouraging. Naive in politics, Li hates the scramble for power and wealth. Instead of getting promoted, he is accused of plotting against the throne and is sent into exile.

"Li Bai is an admirable poet and the deification of all that is great about poetry, but he is also a typical well-educated man who is ambitious to serve the court,'' Guo said in describing what lead him to create the play.

Li Bai's being caught in a dilemma in which he is unwilling to associate with treacherous courtiers but also unwilling to resign from the court reflects a common psychological predicament of Chinese intellectual's, Guo said.

"Guo finds a novel angle to examine and analyze Li Bai who is not simply a high-brow poet aloof from petty politics and all worldly considerations,'' Su said.

This is one of the key points that won the play much applause 12 years ago, for most people shared the writer's views.

But how about now?

Although Guo himself is still confident and said he feels the play will stand the test of time, quite a few audience members do not agree.

"I felt somehow distanced from the situation the play tries to present to us,'' said He Lulu, a drama critic with Beijing Morning Post and a graduate of the China Central Academy of Drama.

The sense of alienation might also come from the plot itself, which is too plain and simple.

"There's no drama in the plot to grasp me. It is too poetic and sometimes dull,'' said Zhang Gangzi, 26, a staff member with a performance agency.

Su argues that he and his crew "want to emphasize the character of the great poet and try to guide viewers into his mind.

"If you want a dramatic story, the play may not be the right choice for you,'' Su said.

Pu himself admitted that the general pace of the play is a little bit slow, although it is faster than the pace of the original version.

But Pu insists he is fascinated by the role. "I loved the character when I took on the part 12 years ago. And Guo's lines are really poetic and coherent.''

Many audience members also question the simple setting, composed of a bright full moon on the back curtain and a slow slope, which connects the court to the hard road of exile.

Su said: "Some recent plays with splendid and true-to-life settings distract audiences' attention from the protagonists.

"You go to the theatre for the roles or story not for the setting,'' Su said.

The old director also said with resentment that some young theatre-goers have got used to being entertained rather than being challenged by a play or prefer the novelty of avant garde theatre. "They are not willing to watch such a demanding work,'' he said.

But the director said he welcomes critics' opinions. He said: "We aim at perfection, but do not fear criticism and will seriously consider viewers' comments.''

Despite almost overwhelming praise of Pu's performance, some viewers have pointed out that Pu portrays Li Bai as a well-mannered and refined gentleman.

"He has missed the spirit of the unconventional and uncouth poet who overflows with talent,'' said Fu Xin, a 29-year-old accountant.

To this, Pu responds: "I try to feel natural in my performance. Every viewer has his or her set image of what Li Bai is like before he or she comes to the theatre. I portray him according to my understanding and hope the audience can accept my interpretation.

"I would like to be like water, to fit naturally into my role, like water poured into a bowl, a bottle or a cup.''

"Among all the roles I have performed, Li Bai and Hamlet are the two that fascinate me the most and that I most want to play again,'' he said in an interview with China Daily.

"It's a pity that I am going to be 50, and I might be too old to be the prince, but I am lucky that I am getting closer to the age of Li Bai.

"If possible, I would like to play the poet again when I am 60 years old.''