Questions raised on Egypt airline's safety
( 2004-01-05 09:28) (Agencies)
Questions were raised Sunday about a charter airline's safety standards after one of its planes crashed into the Red Sea, killing 148 people. Swiss authorities said they banned Flash Airlines 14 months ago after it flunked an inspection and an Italian passenger recalled a flight when an engine burst into flames.
The head of the airline said the aircraft had been in good condition before the crash. Officials suspect mechanical failure.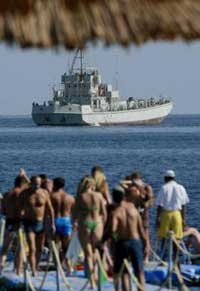 Tourists stand on a pier as an Egyptian naval vessel searches the crash scene of an Egyptian charter airplane in the Red Sea resort city of Sharm El-Sheik, Egypt, Sunday, Jan. 4, 2004. [AP]

"I am 100 percent sure that the plane was fit for flying," Mohamed Nour, chairman of Flash Airlines, told The Associated Press on Sunday. "Accidents happen. We are sorry for the losses of life but we shouldn't jump into speculation."

Search crews on military and civilian vessels continued efforts to recover bodies, the flight data recorder and the fuselage.

The extreme depth of the wreckage, believed to be resting in 2,600 feet of water, was hampered recovery, and only small plane pieces and body parts from the shark-infested waters near the resort had been found.

France dispatched three aircraft with 50 experts, a military surveillance plane, a naval frigate, 16 scuba divers and a robot submarine to help. Of the 148 passengers who died, there were 133 French tourists, a Japanese, a Moroccan and 13 Egyptian crew members.

French Deputy Foreign Minister Renaud Muselier told reporters there was nothing to suggest that terrorism was the cause of Saturday's crash of Flash Airlines Flight FSH604, which had just taken off from Sharm el-Sheik on its way to Paris when it crashed.

French Transport Minister Gilles de Robien said indications suggest the plane suffered "simply a loss of power."

Egyptian officials have said preliminary information indicates the crash was caused by a mechanical problem. Radar images showed the plane turned left as normal after takeoff, straightened out and then turned right before plunging into the sea.

Several tourists and witnesses interviewed by AP said they did not hear any explosions before the crash.

Egypt has said the Flash Airlines jet, an 11-year-old Boeing 737, had checked out fine before the flight.

Swiss officials said Sunday that technical problems forced them to ban the Egyptian company's planes from landing in Switzerland.

"A series of safety shortcomings showed up in a plane of Flash Airlines during a routine security check at Zurich Airport in October 2002," Celestine Perissinotto, a spokeswoman for the Swiss Federal Office for Civil Aviation, told AP.

Egyptian Aviation Minister Ahmed Shafeeq called the Swiss charge "baseless." French Transport Minister Gilles de Robien also cast doubt on the claim, saying he understood "it was more for economic reasons that this company did not fly over Switzerland."

"I call for extreme caution with this type of announcement that adds emotion for families who certainly don't need it at the moment," the French minister said on Europe-1 radio.

Perissinotto said the Swiss report had been given to Egyptian civil aviation authorities. "Since then we have had no reaction," Perissinotto said.

Nour, Flash's chairman, confirmed the Swiss had stopped flights but said the airline made the necessary maintenance and was inspected again.

"After that we were allowed to fly again, with Swiss citizens on board," he said, adding that the airline made one more flight to Switzerland the next week, and then the contract ended.

Nour confirmed Italian press reports that a Flash plane caught fire while flying over Greece the same month as the Zurich airport inspection. Italian tourists recalled seeing flames coming out of the starboard engine on a flight from Sharm el-Sheik to Bologna, Italy, on Oct. 27, 2002. The plane landed at Athens airport with fire engines alongside the runway.

"To say that the plane was decrepit would be a compliment," passenger Eugenio Gedda told Italian state television Sunday.

Flash Airlines' chief pilot Hassan Mounir could not say if the fire occurred on the same plane that crashed Saturday, but said such incidents aren't unusual. "It's normal," he said. "You can have an engine fire in flight."

Flash Airlines, which has been in business six years, operated two Boeing 737s.

Asked whether the fire and Zurich inspection raised questions about the standard of maintenance at Flash Airlines, Mounir replied: "No, our planes are very well maintained."

Flash Airlines' remaining plane, also an 11-year-old Boeing 737, flew tourists from France to Cairo Sunday, according to airport officials. It was not clear how many passengers were on board.

Muselier told reporters in Sharm el-Sheik that about 60 "portions of bodies" had been retrieved, but that the remains were so badly mangled that it would be difficult to identify them.

In a solemn, brief ceremony out at sea, the dead were bid a final farewell. French, Egyptian and Japanese officials led a convoy of three tourist ferries filled with journalists to the site where the plane went down.

There, they held three bouquets, wrapped at the stem with the French, Egyptian and Japanese flags, upside down and let them slip into the water, as helicopters flew overhead.