Britney said to tie the knot - but how tight?
( 2004-01-05 08:52) (Agencies)
Wearing a baseball cap and on the arm of a hotel bellman, pop star Britney Spears married a childhood friend in a Las Vegas wedding ceremony on Saturday, according to published reports.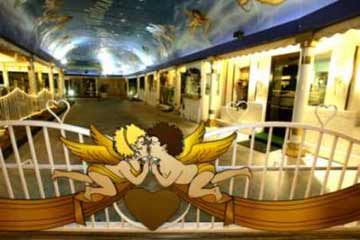 A view of the drive-though 'Tunnel of Love' at the Little White Wedding Chapel in Las Vegas on Jan. 3, 2004. Pop star Britney Spears was reportedly married here on Saturday. [Reuters]
A marriage license was filed in Clark County, Nevada, on Jan. 3, for Jason Allen Alexander and Britney Jean Spears, both 22. Signed by both, the document says they are both residents of Kentwood, Louisiana, who were born in Mississippi and have never been married before.
But how tightly the knot was tied was not immediately clear.
People magazine and the Las Vegas Review Journal newspaper said in their online editions that Spears married Alexander at the Little White Wedding Chapel on the Las Vegas strip early on Saturday. Both reports said she was walked down the aisle by a Palms Hotel bellman and People said she wore jeans and a baseball cap.
But on Sunday People.com quoted a source close to Spears as saying the wedding was a joke that went too far and the singer was already planning an annulment.
"I don't know what's going through her mind," the Web Site quoted "someone close to Spears" as saying.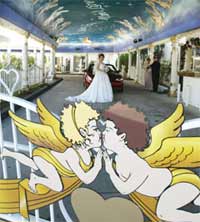 A bride waits in the Little White Wedding Chapel on the Las Vegas strip, Sunday. [AP Photo]

Although confirming details of the marriage license, Reuters could not immediately reach Spears' representatives for comment. Representatives for the Little White Wedding Chapel and the Palms Hotel declined comment.

The wedding was only the latest lurch toward adulthood by the pop princess, a one-time children's television performer turned teen-aged sex symbol who most recently has posed scantily clad on magazine covers and kissed Madonna on national television while promoting her latest album.

The pop diva's most high-profile romance previously was with fellow pin-up Justin Timberlake, now enjoying a successful solo career after years with the boy band 'N Sync.

Spears admitted last year she had sex with Timberlake, despite famously vowing to remain a virgin until she wed.

Spears shot to superstardom as a teen-ager with her debut album "...Baby One More Time." She released her latest, "In the Zone," in November, storming to number one on the music charts with the aide of a publicity blitzkrieg.

It was the singer's fourth consecutive No. 1 debut, but the album's first-week sales of 609,000 units fell short of her previous efforts. "Oops!...I Did It Again" sold 1.3 million units in its opening week in 2000.

To promote the album, Spears has posed topless, appeared in several television interviews and caused a major stir with her kiss with Madonna during the MTV Video Music Awards.

Spears will tour to support "In the Zone" in 2004.