Marilyn Monroe's first husband recounts romance
( 2004-01-02 15:26) (Agencies)
Before she blossomed into a glamorous image of beauty, Marilyn Monroe was Norma Jeane Baker. She had dreams of raising a family and wanted nothing more than to be loved. Jim Dougherty can attest to this.
At 82 years old, he fondly cradles the love he still has for his first wife.
In a 92-minute documentary called Marilyn's Man released this month, Dougherty tells his story about Norma Jeane. The film reveals unseen photos, pictures, letters and details illustrating his continual love for her.
"I'm sure she died with a broken heart," he says. "She should have stayed with this Irishman."
Passion Shows
The story is told through Dougherty's voice, and shows his passion for Maine with scenes shot at his condo and favorite sights in Auburn, says executive producer and director, Schani Krug, of Kittery, Maine, who founded founded his company, Valhalla Productions in 1999.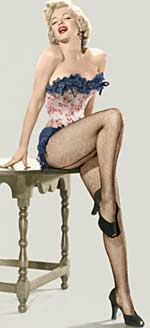 Krug raised money to help make this film by selling his antique collections. As a member of the National Association of Watch and Clock Collectors (NAWCC) for the past 20 years, he's been a watch and clock dealer and collector.
"I'm definitely a collectorholic," he says, "and a die-hard romantic to boot. Hence, the Marilyn story about Jim made me realize that their story had to be told, especially coming from the mouth of the only person who knew her so well."
Now, after more than 100 trailer screenings throughout New York, New Hampshire, Massachusetts and Maine, Marilyn's Man was to make its public debut Dec. 25 in Lewiston, Maine, says Krug. "Reactions are overwhelmingly positive; people cry and laugh."
The cost to make the film was around $450,000 ¡ª a fragment compared to the rocketing expense of Hollywood. Krug said he saved a bundle of cash and refers to the sequence of events leading up to the actual filming, as pure kizmet. "It fell on my lap. I was totally blessed," he says.
Joel Gravallese is the owner of Dunn's Watch and Clock Shop, in Kittery. About a year and a half ago, he asked Krug if he would give him an appraisal on his rare Marilyn Monroe memorabilia, which adorns his miniature museum in the shop. Dougherty had been to the shop before and was pleased with the presentation of Norma Jeane's legacy there, says Krug.
Around the same time, a contract with a Japanese production company had just fallen through. Many producers had thought about making a film with Dougherty, "but Jim didn't trust them," says Krug.
Dougherty and his biographer, LC Van Savage, were at the shop a week later signing for his book titled To Norma Jeane With Love, Jimmie. They crossed paths with Krug who took the opportunity to mention his documentary idea, which he called Marilyn's Man.
"Yeaaah, surrre," was Dougherty's first thought, he says.
No Bedtime Stories
People always want to know what it was like to sleep with Marilyn Monroe, and Krug promised him none of this. Nothing negative, Krug told him.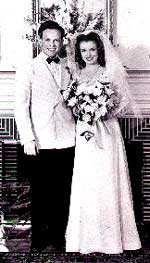 File photo shows the wedding ceremony of Jim Dougherty and Marilyn Monroe.

Krug says when he looked into Dougherty's 82-year-old eyes, the questions he asked were different from the rest. He didn't pry into Dougherty's intimate life, but focused on the synergy in the relationship he had with Norma Jeane.

"He loved the questions, no one ever asked him questions like this before," Krug says. Dougherty wanted the film to show how beautiful she was without tainting her.

Krug agreed to Dougherty's requests, and the two became fast friends, he says. The filming began soon thereafter, and took about a year to make. "I fell in love with his story," says Krug.

After filming a total of 14 hours, the challenge was to pick the most compelling scenes.

"I had to look for the golden nuggets," Krug says.

The goal of the documentary is, he says, to set the record straight.

Dougherty and Jeane, then 16, married in 1942. Dougherty joined the Merchant Marines and was posted overseas during World War II. By 1946, she had launched a successful modeling career. Later that year, they were divorced.

"There's no scandal; it's a touching story about the truth," he says. "The focus is on Norma morphing into Marilyn and how Jim integrated as a part of it."

It's like you're hanging out with Jim for a day ¡ª a very fast day, he adds.

The film features quotes and letters read aloud. "It takes your breath away that someone could be so in love," says Baron, referring to the letters. "There are a lot of quotes; she's an intellectual. She's an angel."

"The story's not about Marilyn Monroe, it's about Norma Jeane," says Dougherty. "She wasn't a whore. People claimed that they slept with her, they probably wish they could have, but didn't. I'm sure she had a lot of boyfriends, as beautiful as she was, she was bound to have a lot of boyfriends."

There's a small segment in the movie when Dougherty talks about her suicide in August 1962. "He wants people to know there's so much to live for ¡ª fame is not worth it," says Krug.

"We're not doing a campaign, there's no merchandising," says Baron. "Here's the story, if you want to see the truth, come and see the movie."

Subject Liked the Film

The crew has uncontrolled enthusiasm about the film. But when they showed the trailer to Dougherty for the first time, they were nervous to see his final reaction, says Baron.

"You've touched every nerve I ever knew I had," Dougherty said to them.

"I enjoyed it; I enjoyed every bit of it," says Dougherty. "I think there will be laughter, tears and the thorough enjoyment of Norma Jeane," says Dougherty. "Schani's a great guy, he let everything be natural."

"I had to let the story tell itself," says Krug. "As I got deeper into it, I felt a huge loss [and] the more I mourned her as a person. I felt Jim's pain, his anguish."