Late Anita Mui's CDs, movies fly off the shelves
( 2004-01-02 11:28) (chinadaily.com.cn)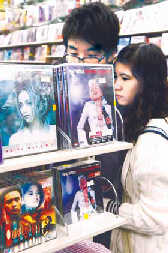 Songs are forever: Fans of Hong Kong pop star Anita Mui select her concert and movie DVDs at a music store in Hong Kong. [Reuters]

In Hong Kong, the tributes are pouring in for canto-pop diva Anita Mui, and fans are flocking to music shops for the late singer's CDs and old movies.

Some smaller shops at Causeway Bay and Mongkok have been quick to cash in on the high demand for the CDs.

The CDs, which usually cost about US$10, are now tagged at double that amount and they're still flying off the shelves.

The customers were as diverse as the singer's many images.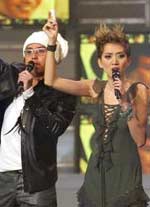 Like Roman Tam and Leslie Cheung, Anita Mui represents a golden era - a time, in the late 70s and 80s.

I feel very close to her. I just love her music and she was such a great actress," said an Australian man.

"In modern time, many singers use their face. She doesn't," said a young male fan.

At news-stands, Anita Mui graced the cover of almost every newspaper, and entertainment magazines issued supplements on her.

The Chinese language Apple Daily even chronicled her career not just in its lifestyle pages, but its main section as well.

Moreover, Hong Kong police estimated that more than 20,000 people came out to pay homage to Mui, one of Hong Kong's best loved singers and actress, on the new year's eve Wednesday night.

The 40-year-old star died of cervical cancer early Tuesday morning. Hong Kong doctors disclosed that she had actually known she had cancer two years ago but refused treatment.

Anita Mui's death has brought about a sense of nostalgia in Hong Kong.

Like Roman Tam and Leslie Cheung, Anita Mui represents a golden era - a time, in the late 70s and 80s, when its pop stars were among the most famous in the region and the economy was riding high.

Anita Mui's funeral has been scheduled for January 12.

(Courtesy of Channelnewsasia.com)