Younger students learning about sex
( 2004-01-02 09:11) (eastday.com)
With Shanghai girls reaching puberty at a younger age than in the past and a growing number of teenagers in the city dating, educational authorities have begun offering sex education classes to female middle school students.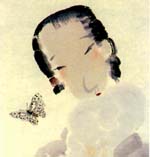 Shanghai, Beijing and Chongqing were selected as test cities to begin offering the classes, which were set up by the State Education Commission and Procter & Gamble (China) Ltd.
If the program succeeds in those three cities, it will be expanded to 302 cities around the country next year.
Girls at Shanghai Changning Middle School received the lectures last week, and said they were impressed with the classes.
According to medical specialists, local girls are now entering puberty around the age of 11, about two years earlier than in the past, due to improved diets as the city's economy continues to develop.
"Puberty is a key period in a person's life. Both parents and society should arouse their attention," said Dr Li Ruzhi from Shanghai No. 1 Maternity and Child Health Hospital, which set up the city's first outpatient department for girls seeking help with problems during puberty.
Educators also say that sex education is important for young girls.
"While physical maturity keeps advancing, girls, as a vulnerable group, are still immature psychologically," said Huang Hong from Shanghai No. 2 Medical University.
According to a recent study by the university, 29.4 percent of local high school students have started dating. About 3.5 percent have had some sexual experiences.
The recent case of a 15-year-old girl delivering a baby boy and then accidentally killing him while trying to keep her pregnancy a secret is proof of the urgent need for better sex education, Huang said.
Chinese middle schools do have some regular classes to teach students about their bodies. But students complain that teachers simply lecture from text books, making little impact on the class.
As a result, girls from Changning School welcomed this week's lectures.
"Nobody talked with me so carefully and professionally about these subtle changes before. We have read some books but the ideas are still vague to me," said student Zhang Xujun. "My mother seldom discussed sex with me. Books, the Internet and friends are the main sources (of information) for me."
Even in a modern city like Shanghai, sex is still a taboo topic for most families. Both girls and adults felt shy talking about it openly.
"It is really difficult for Chinese people to talk with young kids about anything related to sex. The result is that young people are puzzled and anxious when facing such problems," said Chen Xinna, a professor at Beijing Medical University who was invited to deliver the lectures to the young girls at Changning School.
"When the words such as 'breast' and 'sexual intercourse' came out, the classroom burst into uneasy laughter," she said.