New orbiter heads to Mars poles
( 2003-12-31 14:06) (Agencies)
Mission controllers on Tuesday redirected Europe's Mars Express orbiter closer to the red planet's poles, taking a crucial first step to push it into a lower orbit where it will be able to listen for its missing Beagle 2 surface probe.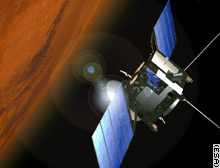 Drawing of Mars Express, the first European mission to another planet.

Officials at the European Space Agency's mission control center in Darmstadt, south of Frankfurt, adjusted the orbit by firing the main engine of Mars Express for five minutes at about 0800 GMT, spokesman Bernhard von Weyhe said. The maneuver "has been completed very successfully," he said.

The British-built Beagle 2 is believed to have reached the Martian surface early on Christmas Day, its impact softened by gas bags and parachutes. But several attempts to hear its signal have not been successful -- the latest Tuesday when NASA's Mars Odyssey failed on its sixth try, picking up no signs of life on a sweep of the landing site between 0724 and 0844 GMT.

Efforts by researchers using powerful radio telescopes at the Jodrell Bank observatory in England and Stanford University in California have also come up empty. Odyssey is due to try again Tuesday night, but von Weyhe said the chances of success would be increased "100 times" once Mars Express is in a position to hear its partner craft starting January 7.

Tuesday's maneuver allowed controllers to move Mars Express, launched into orbit around Mars on December 25, from some 188,000 kilometers (117,000 miles) over Mars' equator to roughly the same height, but over the planet's poles.

The craft will be progressively lowered over the next week, when it is to sweep as low as 200-250 kilometers (125-155 miles) from the surface -- allowing Mars Express to use its powerful radar to search for signs of water or ice on the planet during expected two years of surveying.

Officials also consider Mars Express their best chance to find the British-built Beagle, since their radios have been tested together and shown to link up.

"The probability of communications is 100 times higher than having Mars Odyssey try," von Weyhe said, adding that "the probability of finding Beagle from Earth is very low."

While Beagle's silence has worried the mission team, Mars Express' flight has gone smoothly, with the spacecraft making the tricky entry into Martian orbit flawlessly on Christmas Day.

The mission, launched from Kazakhstan atop a Russian booster rocket June 2, is intended to look for signs of past or present life on Mars, which scientists think may once have had enough water to sustain living organisms. Mars Express also will map the surface with a high-resolution camera and relay data from Beagle, if it is found.

The 67-kilogram (143-pound) Beagle, if it reached the surface intact, is to sample soil and rocks with a mechanical arm searching for indications of organic matter.