Seeking no ways out for sex, migrant workers go astray
( 2003-12-30 11:26) (China.org.cn)
China's millions of young and single male migrant workers, who are loaded with heavy daylight labor, are being troubled by the lack of sex, probably the most urgent private need in their hard lives away from home.
In Beijing, the capital city of China, there are 2.245 million migrant workers, most of them being adult or married males. Inadequate sexual life is a common problem for them, due to economic or geographical reasons. This cruel fact not only has affected their normal life but also leads to physical and psychological, even social problems.
In order to make a living and support their families in rural areas, these peasant-transmitted workers can endure any sufferings, including overloaded labor, but is there a limit? According to a small-scale survey made among 40 migrant workers by Beijing Star Daily, 45 percent, or 18 of interviewed workers had no sex in the past six months, nine single adults have never had sex during their urban life since they came to Beijing.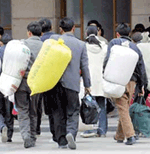 A 33-year-old worker from Henan Province told the reporter from Beijing Star Daily that after work, what he thinks about most is his wife. But he cannot remember when they last spent their intimacy time. Each time he sees young lovers strolling in the street, he feels the terrible gnawing.
Since it is hardly for them to find a way out for their libido, most of them prefer porn movie, fantasy, dirty talks or frequent masturbations. Nearly all single male migrant workers have been to underground cinemas, some even relying on it for their spare time. Most of them often read pornographies, including books, magazine and pictures, which are regarded as ¡°precious¡± for them and preserved in their bags as ¡°pressure-alleviating pills¡±.
It becomes commonplace that envious, jealous, sour or even more complicated sentiments emerge when they see intimate lovers in the street. Sex fantasy is more universal among these young adults. Some use peripheral way to meet their desire like harass women in a crowded bus. More vehement behaviors, such like rape and sexual harassment are also occasionally committed.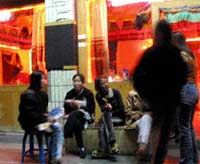 Several prostiutes are seen waiting for businesses on the street. The sexual services in cities provide, to some extent, possiblity to satisfy their needs, while at the same time, adds more social problems. [Reuters]

As for going to a prostitute, though the idea has hit upon many of them, it is still beyond their financial capacity. Being almost the lowest class in a city, they have too little pocket money to afford a call girl.

For some young and restless, melee and skirmish become a usual way to unleash their excessive energy.

While filling a questionnaire, most of them marked the options labeled with "depression", "oppression" and "uncomfortable" terms.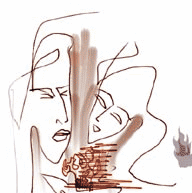 "China has more than 100 million migrant workers," said Zhou Xiaozhen, a professor in sociology from Renmin University of China, ¡°As a special group, their real sexual lives were still in the dark.¡± He said that though the results from surveys of such a small scale may not be typical enough, but the concern about migrant workers¡¯ sexual life shows the progress of the media, and the society as a whole.
"They are also human beings, they need normal sexual life, which is a basic human right that should not be neglected," Zhou added.