HK pop diva Anita Mui dies of cancer
( 2003-12-30 09:56) (chinadaily.com.cn)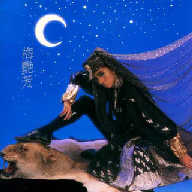 The cover of Anita Mui's album in 1986. chinadaily.com.cn/file
Hong Kong pop star and actress Anita Mui, well known in Chinese communities the world over, died early on Tuesday less than four months after revealing that she had cervical cancer. She was 40.
She died at Hong Kong's Sanitorium Hospital at 2.50am (1850 GMT), according to her friends, including action film legend Jackie Chan and fellow singer Alan Tam, who were keeping vigil at the hospital.
Earlier reports said that she had been admitted to hospital after slipping into a coma.
Other reports said Mui died of lung failure due to the side effects of the drugs she was taking to fight the cancer.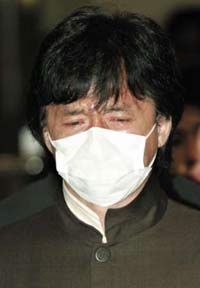 Action movie Jackie Chan grieves over the death of pop diva and actress Anita Mui, at a hospital in Hong Kong, December 30, 2003. [Reuters]

Jackie Chan said Mui died when family members and many celebrity friends were at the hospital Tuesday morning.

"She passed away peacefully and beautifully. Her own last wish was that her fans and reporters could let her go quietly, not to cry and call out her name," Jackie Chan, a good friend of Mui, told reporters after her death.

This has been a very unlucky year for entertainment, even in the last moment of the year, added Chan.

Sources said hospital was crowded with reporters eager to get the latest update on her condition.

Often compared to Madonna, Mui drew admiration from fans all over the region with her flamboyant on-stage persona.

"This is really very sad. I am going out to get her latest concert DVD so that I'll always be able to see her past glory," said Evelyn Ip, a 36-year-old Singaporean on a visit to Hong Kong.

"It's such a pity," said one middle-aged woman buying up Mui CDs at a Hong Kong shop. "I feel as though we grew up together."

Fighting to the last minute

The singer first confirmed that she was suffering from cancer at a news conference in September.

But she said her condition was stable, and that she had no fears and would win the fight.

Anita Mui is known as Hong Kong's Madonna. [chinadaily.com.cn/file]

'I am not a weak person... I can tell you that I have never had any fears and I will win this fight,' she said.

The spunky performer even kicked off a series of concerts in Hong Kong last month.

However, earlier this month, she missed an appearance in Singapore, triggering reports that her condition has worsened.

Hong Kong media reported last week she had to undergo dialysis due to side effects of chemotherapy. However, her manager denied it.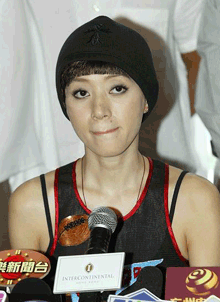 Anita Mui announces she had cervical cancer at a news conference in Hong Kong in September. [File photo]
Mui began her singing career as a little girl, giving shows at an amusement park.
Known as "Asian Madonna", Mui kicked off her career by winning a singing contest in Hong Kong in 1982. She rose to stardom with the song 'Homecoming' in 1984.
Mui also gained fame as an actress, winning Taiwan's Golden Horse award for best actress in 1987 for her role as a tormented ghost in the movie "Rouge."
She starred in more than 40 movies over 20 years. Recently though, on the advice of friends, she declined a starring role in a film by acclaimed Chinese director Zhang Yimou, the South China Morning Post reported.

The unmarried star was also known for her charity work. She set up the Anita Mui Charity Foundation in the early 1990s. Her elder sister, Mui Oi-fong, died in 2000, also from the same kind of cancer.