Humanities reborn at Tsinghua
( 2003-12-30 09:13) (China Daily)
Three years ago Li Xueqin, a historian and former director of the Institute of History under the Chinese Academy of Social Sciences (CASS), chose to return to his alma mater - Tsinghua University - to head the Institute of Humanities.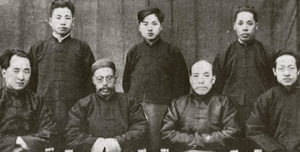 Wang Guowei (second from left, front row), Liang Qichao (first from right, front row), three of the "Great Four Tutors" at Tsinghua University's Institute of Chinese Classics (1925-29). [File photo]

"Difficult; it is very difficult to cultivate a generation of humanities and social science scholars again," Li, 70, told China Daily.

He made the remark during a ceremony to mark the 10th anniversary of the Tsinghua School of Humanity and Social Sciences (SHSS) on December 19.

And he was trying to summarize the struggle the faculty has endured over the past 10 years to restore the liberal arts tradition in this leading Chinese university, which is more renowned for its engineering and polytechnical programmes.

Tradition

Tsinghua University claims its rich humanities tradition goes back some 90 years.

Tsinghua Xuetang (School) - Tsinghua's precedent - was founded in 1911. It was essentially a preparatory institution for students before they went to study abroad on government scholarships.

Historian Chen Yinque, another menber of the "Great Four Tutors."

Economist Chen Daisun (1900-97), philosopher Jin Yuelin (1895-1984), aesthetician Pan Guangdan (1899-1967) and linguist Wang Li (1900-86) were enrolled in the Tsinghua Xuetang before they went abroad for further studies.

In 1925 Tsinghua opened its university section. Its Institute of Chinese Classics, though existing only between 1925 and 1929, had on its faculty what later generations called the "Great Four Tutors." They were scholars Wang Guowei (1877-1927), Liang Qichao (1873-1929), Chen Yinque (1890-1969) and Zhao Yuanren (1892-1982).

Wang Guowei was a famous philosopher, literary critic and historian. He was the first scholar who systematically studied jiaguwen, inscriptions on bones and tortoise shells from the Shang Dynasty (1600-1046 BC).

Liang Qichao was a politician and reformer in the late Qing Dynasty (1644-1911). He was also a great historian who combined Western scientific method with traditional Chinese historical study.

Chen Yinque obtained diplomas from several European universities and understood more than 20 languages, including several ancient ones used in Central Asia, which helped him trace China's cultural exchange through the famous Silk Road without any difficulty.

Zhao Yuanren obtained a PhD in linguistics from Harvard University. He understood more than 10 European languages and dozens of Chinese dialects. It was reported that in 1920 when he accompanied British philosopher Bertrand Russell (1872-1970) to travel around China, Zhao translated Russell's English into the local dialect at each of their destinations.

The four scholars were especially known for their unique approach to scholarship and independent spirit.

Though among the first modern Chinese scholars to study overseas, Wang Guowei maintained his plait, which to many was the stigma of the corruptive Qing Dynasty. He refused to wear Western clothes or to write in baihuawen (vernacular Chinese).

Wang committed suicide in 1927 by diving into Kunming Lake at the Summer Palace.

In an epigraph written for Wang, Chen Yinque said: "The suicide of Wang was because he worried about losing the independent spirit and free thought he long cherished in his academic pursuit."

Between 1927 and 1931, a succession of five presidents for Tsinghua were appointed by Kuomintang. These presidents pushed KMT's political agenda and in so doing provoked strikes and resignations among professors and students.

In 1931, president Mei Yiqi (1889-1962), a liberal engineering professor, eventually obtained the trust of Tsinghua faculties and students with his great tolerance.

In 1952, under the then Soviet education principle of developing specialized colleges, Tsinghua was geared into an engineering and polytechnic university. Its humanities, social sciences and science faculties were transferred to Peking University and Renmin University of China.

Thanks to the then Tsinghua University president Jiang Nanxiang (1913-88), books of liberal arts and humanities in the Tsinghua Library were able to stay.

"We welcome faculties and students elsewhere to borrow books from us, but the books should stay at Tsinghua to help cultivate future scientists," Jiang was quoted as saying in an annal of Tsinghua University.

Especially in the past 10 years, the books, including about 150,000 ancient volumes, have become an important resource for the university to restore its humanities studies.

However, books alone are not enough.

"Over the years, we had to grapple with the fact that Tsinghua students' humanities knowledge, social concerns and responsibility were quite limited," said Li Qiang, dean of SHSS.

It was reported that a Tsinghua graduate misplaced architectural styles of two Chinese localities in a term paper during his further study at a famous US university.

"For an architecture department student, for example, how can a student design good works in a place without knowing its history and culture?" said He Zhaowu, a professor of history at SHSS.

Tsinghua started to reopen its liberal arts programmes in 1978. It gradually restored the foreign language, social sciences and Chinese language departments, the Institute of Humanities, and the Institute of Education.

But the establishment of those departments mainly served as supplementary courses for natural science and engineering students.

"There were nearly no research programmes for liberal arts and humanities on the campus," said Sun Mingjun, a professor of Chinese language who came to Tsinghua in 1995.

"Sometimes I really felt lonely," Sun added.

In 1993, Tsinghua's School of Humanities and Social Sciences officially opened, launching Tsinghua's own humanities and social science researches.

Revival

Hu Xianzhang, former dean of the SHSS, said the school began to develop like a small boat in the big ocean of natural sciences and engineering at Tsinghua.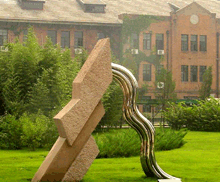 Tsinghua's School of Humanities and Social Science is surrounded by greenery.

"In 1995 we found Tsinghua's humanities and social science research was listed 122nd among China's universities and colleges, while its engineering departments are definitely No 1 nationwide," Hu said. "Yet it was a progress, because before that we were not even listed at all."

Tsinghua's struggle to revive its humanities tradition was espoused by both old and young scholars.

The 80-year-old He Zhaowu, a prestigious professor of history at Tsinghua, spent his undergraduate and graduate years at Tsinghua in the 1940s. Once the Institute of Humanities was established in 1985, which was later merged into SHSS, he immediately responded to the call to return to Tsinghua from CASS.

Before 1995, under the then stagnant talent management system, it was very difficult for the school to introduce a humanities faculty.

Most of the limited quotas of the university were left to the natural science and engineering departments, Hu said.

But the founders of SHSS did not give up. They repeatedly lobbied the university leaders and tried to obtain quotas one by one for leading scholars of humanities and social sciences from around the country.

Liu Guisheng, a renowned historian at Peking University who graduated from Tsinghua in 1951, could not obtain a full-time teaching position at Tsinghua. But he tried to become a part-time professor and eventually entered Tsinghua formally at age 70, just before his retirement.

There is more than alma mater emotion to attract humanities talent to Tsinghua.

Besides its long-standing fame, Tsinghua also offers a more liberal research environment and better living conditions, said Liu Jianming, a professor of communications.

The ongoing reforms in university education offer Tsinghua more chances to develop its liberal arts and humanities programmes.

In recent years, Tsinghua has been able to attract a group of famous sociologists, communication researchers and law scholars into its faculty.

The faculty members have delved into a wide range of social science research projects, ranging from crisis management and the problems of an aging society to AIDS prevention.

"But pragmatism still dominates the academic environment within the university," said Sun.

"The gathering of leading scholars cannot solve everything," Li Xueqin added. "The spirit of academic independence has to evolve through efforts of scholars of generations.

"But no matter how difficult, we will continue, because it (cultivating talent) is the only way to reshape the glorious humanities tradition on campus," Li said.