China launches scientific satellite
( 2003-12-30 08:20) (China Daily by Zhao Huanxin)
The first of two scientific satellites known as Double Star was blasted off into orbit early this morning from the Xichang Satellite Launch Centre in Southwest China.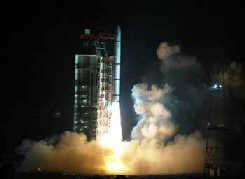 A Long March 2C/SM carrier rocket blasts off into sky at the Xichang Satellite Launch Center in Southwest China's Sichuan Province, carrying a high-altitude satellite into orbit early Tuesday morning.
The launch marked the beginning of substantial China-Europe collaboration in geospace exploration. It also capped a bonanza year of space activities in China, which saw a record six satellites and a manned spacecraft fly into orbits between May and December.
The Equatorial-orbiting satellite of the Double Star Programme was launched at 3:06 am yesterday atop Long March 2C/SM rocket, said a spokesman at the Xichang centre.
An improved version of the Long March 2C, the Long March 2C/SM contains multiple technological breakthroughs to ensure a steady rocket attitude-adjusting system and higher reliability, said the spokesman.
At 3:18 am, the satellite, Probe-1 or TC-1, was sent into its preset elliptical orbit ranging from 555 kilometres and 78,051 kilometres from the Earth, making it the farthest operational spacecraft China has ever catapulted into space, according to the spokesman.
Extending his congratulations to Chinese scientists, David Southwood, director of Scientific Programme of the European Space Agency (ESA), said the launch will herald further international co-operation between China and Europe in space exploration.
"The year 2003 is a year of miracles for China," he said. "We'll see what we could do together after this launch."
Probe-1 is expected to fly for one and a half years in space to study the effects of the Sun on the Earth's environment, and in particular the 'magnetotail,' where storms of high-energy particles are generated, according to Zhang Yongwei, chief engineer of the Double Star project.
The launch was the 75th flight of Chinese made Long March rockets. It is also the country's 33rd straight successful space mission since 1996.
"The successful launch of Probe-1 has further testified the reliability and progress of China's space technology," said Zhang Qingwei, President of the China Aerospace Technology Corp.
Probe-1 was designed and developed jointly by Chinese Academy of Space technology, Chinese Academy of Sciences and eight European institutions.
The "equatorial" satellite will be followed by a polar-range satellite (Probe-2), which is scheduled to be launched in June from the Taiyuan Satellite Launch Centre in North China's Shanxi Province, according to Zhang.
The project was initiated by Chinese scientist Liu Zhenxing in 1997. It has drawn keen interest from the international geophysics community.
ESA is contributing to this Double Star mission by providing eight on-board scientific instruments -- five on Probe-1 and three on Probe-2. It is the first time Chinese hardware and the European equipment are wired together, Liu said.
By combining the Double Star satellites and the mini-flotilla of four identical spacecraft the European agency launched in 2000 in its Cluster II Programme, scientists will for the first time in history be able to probe space from a six-dimensional perspective, Liu said.