Foreign auto financing firms approved
( 2003-12-30 08:17) (China Daily)
The China Banking Regulatory Commission (CBRC) has approved applications from three foreign auto giants wanting to offer auto financing in China, one of the world's fastest-growing auto markets.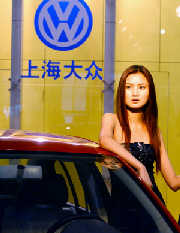 Auto show in Nanjing, east China's Jiangsu Province. [newsphoto/file]
The companies will be the first non-bank institutions to be involved in the lucrative business, where auto sales are expected to almost double this year after several years of rapid growth.
Volkswagon AG and Toyota Motor Corp will set up their auto financing subsidiaries in Beijing, while General Motors' auto financing arm - General Motors Acceptance Corp - will form a joint venture with the Shanghai Automotive Industry Corp (SAIC), the commission, China's top banking authority, said Mondayday in a statement on its website.
Greeting the news, Christian Weidemann, director of GM China's Financial Services Department, said: "We are pleased to have received approval from the China Banking Regulatory Commission for the preparation of an automotive financing company. This happened faster than we had anticipated."
He added: "In the coming months, we will work closely with the CBRC on preparations for our automotive financing joint venture with our strategic partner SAIC. Our objective is to be prepared to commence business as soon as the CBRC provides approval to do so."
The three groups are scheduled to complete preparations within the first half of next year.
Less than 20 per cent of cars in China are sold with assistance from loans, compared to more than 70 per cent in developed countries. Commercial banks started to provide auto loans in 1998.
China published rules on auto financing in October as part of the nation's World Trade Organization commitments. The three foreign automakers filed their applications earlier this month.
"It's not common in the history of China's financial supervision to complete market entry approvals of three financial institutions in such a short period of time," the CBRC said in the statement.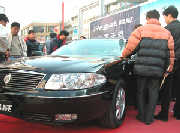 Chinese consumers looks at a new sedan launched in China market in Nanjing. [newsphoto/file]

Chinese auto companies are also preparing to set up auto financing businesses, but none have obtained permission so far. The statement said Chinese "enterprises hoping to set up auto financing companies are busy preparing, and we believe auto financing companies that are basically invested by Chinese enterprises will soon appear in the market."

Chinese regulations require auto financing companies to have at least 4 billion yuan (US$483.2 million) in asset registration, which some local enterprises have said is a little bit too high.

They also must have capital adequacy ratios of 10 per cent, which is stricter than the 8 per cent requirement on commercial banks set up in China.

GM's financing arm - which includes residential and commercial credit - has earned US$2.16 billion for the year to date, three times more than its auto division, Reuters reported yesterday.