Big performances in small theatre
( 2003-12-29 09:14) (China Daily)
While box office blockbusters are enthralling moviegoers during holiday season in the capital, fans of live theatre are being treated to a unique cross drama experience at the Bei (north) Theatre.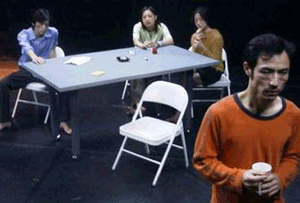 A scene from "Morning, Night, Train," which is directed by Fu Hongzheng and fetures a star-studded cast from Taiwan's OFF PW. [China Daily]

The 2003 Beijing-Taiwan-Hong Kong Experimental Drama Festival is running until January 11.

In recent years experimental drama has flourished in Taiwan, Hong Kong and on the Chinese mainland. Working in their own ways, theatre devotees from the three regions have not had chances to communicate with each other until this festival.

This festival, organized by the Beijing Drama Association and Bei Theatre, has attracted many participants from Beijing, Hong Kong and Taiwan.

Aside from the stage presentations, nine workshops are held for the theatre professionals to compare notes and explore deeper into Chinese as well as the world experimental theatre scene.

"We would like to do something for the development of the small theatre in China and promote the diversity of drama," said Yuan Hong, director of Bei Theatre.

"I am happy to see they are building a free space for all those who love drama. It's a long way and a hard way, but has a promising future," said Lin Kehuan, retired president of the former China Youth Drama Theatre which has been merged into China National Drama Theatre in 2001.

Performance workshop

Theatre companies from Taiwan have brought six shows to the month-long event, attracting the most attention from critics and audiences.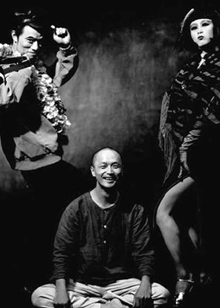 Director-actor Wang Rongyu (middle) and two performers with the Golden Bough Theatre present "She is so lovely."

The contemporary theatre in Taiwan started in 1980 when Chin Shih-chieh's play "New Marriage between Lotus and Pearl (He Zhu Xinpei)" premiered in Taipei.

Then Stan Lai and his Performance Workshop theatre debuted "The Night We Became Hsiang Sheng Comedians (Nayiye Women shuo Xiangsheng)" on March 1, 1985, in Taipei. The production was considered a milestone in the development of contemporary theatre in Taiwan for its fusion of tradition and modernity, as well as its innovative creativity and powerful performance.

Led by artistic director Lai and comprised of a core of Taiwan's leading theatre artists, including Chin Shih-chieh, Lee Li-chun and Li Kuo-hsiu, the Performance Workshop has remained the island's leading contemporary theatre group and one of the most prominent and influential voices in Chinese language theatre in the world.

"Its plays have revived dying theatrical traditions and created a new audience for theatre in Taiwan as well as the Chinese-speaking world," said Lin.

The group makes extensive use of improvisation in the creation of its work, and over the past decade has performed successfully in Taiwan and on tour around the world, forging a rare mix of experimental methods and a wide, popular audience base.

With the establishment of Off Performance Workshop (OFF PW) in 2000, the group created a platform to stage alternative works in experimental settings. OFF PW's inaugural season featured works by Stan Lai as well as those by talented young directors such as Fu Hong-zheng.

In fact, Fu's "Morning, Night Train (Zao'an Yeche)" opened the curtain for the Beijing-Taiwan-Hong Kong Experimental Drama Festival early this month.

It reflects the common spiritual dilemma of youngsters in the Chinese mainland, Taiwan and Hong Kong.

Fu interprets the unsteady and hasty mood with the image of fake swimming scenes. For example, the characters wear swim suits when they are sleeping.

The scenes alternate between daily life and dreams, combining the change of language cadence and misplacement of body movements.

Fu said after the first performance he was intrigued to see the different responses of the young theatre-goers in Beijing from their peers in Taiwan.

"It is probably because of the different culture background and living environment as well as Taiwan performers' little different language from standard putonghua," Fu said.

For instance, Beijing theatre-goers even found the name of one protagonist amusing, but Fu said local Taiwan people took the name for granted because it is the same as a popular brand of a coffee.

Creative groups

"Six Memos for the Next Millennium - Movement" (Gui Xiayilun Taiping Shengshi de Beiwanglu) is directed by Wei Ying-chuan from Taiwan's Shakespeare's Wild Sisters Group.

The play is based on a collection of five lectures which Italian writer Italo Calvino (1923-85) was about to deliver at the time of his death.

In each of his lectures, Calvino pinpoints a universal value - lightness, quickness, exactitude, visibility, and multiplicity - which become the theme of body movements on the stage.

"Six Memos" has a very colourful presentation in theatre, with the body movements as its sole means of performance.

Founded in the summer of 1995, Shakespeare's Wild Sisters Group owes its name to the fictional character in Virginia Woolf's novel "A Room of One's Own," meaning to liberate women's talents from the oppression of patriarchy.

Free from the specific issues or conventional aesthetics, the group takes materials from all arts inspiring to create original theatrical works, which have been brought to participate in many theater festivals in Taiwan as well as overseas for years, Wei said.

The Golden Bough Theatre, also from Taiwan, showcased its "She Is So Lovely," directed by Wang Rong-yu. The play features native dialects from both the Chinese mainland and Taiwan as well as ethnic groups' languages in Taiwan.

Wang noted that it is a traditional and distinguished characteristic of the Golden Bough Theatre to combine modern theatre with Taiwan folk art and culture.

"The Fireworks on Other Side," staged this past weekend was directed by E-Run from a Hong Kong company called Office 30.

It tells the story of a Japanese and a Chinese girl who meet in Hong Kong. One is a little sad and sensitive while the other is a little naive and full of dreams. But it is so difficult to realize these colourful and ideal dreams in a bustling metropolis like Hong Kong, as the background is supplemented by dazzling multi-media, contemporary dance and traditional Chinese lion dances.

"Black Hole, Beyond" will be staged from December 30 to January 1.

Directed by Wang Mo-lin, Taiwan's influential theatre critic, the play is the third in his "Black Hole" Trilogy, a three year project with the theme of "forgetting" through the solo performance of a blind performer.

Wang founded the Body Phase Studio in 1992 aiming to promote the communication between different cultures. He and his colleagues mainly explore how people's bodies work in different cultures. Since its founding, the troupe has toured to Hong Kong, Tokyo, Sydney, San Francisco and Berlin.

From January 7 to 11, viewers will see Shan Cheng-ju's "Best Wishes to You."

Premiered in Taiwan two years ago, the story is inspired from the "Love Letters" by Albert R. Gurney.

It opens on a sun-drenched afternoon in a primary school classroom, with a little girl and a boy passing notes to each other. The teacher forbids them, so they start to write letters to each other.

Ever since, they have kept writing with the beginning "best wishes to you," for 40 years, though they are separated after graduation from the primary school and each has their own life.

It is not until a windy winter night that they read the letters beginning with the regular "best wishes to you," they realize the lasting love between them.

Throughout the play, there is only the hero and heroine reading 70 letters, in a most simple way to tell a moving love story that spans 40 years.

Wan Fang, who portrays the heroine, will attract most eyes, for she has been well-known as a pop singer among Chinese mainland's youngsters.