Fingers do the talking
( 2003-12-29 08:43) (China Daily)
As the popular joke goes, an alien is very excited about its new findings on a trip to Earth.
"The people on Earth no longer talk to each other using their mouths," it reports. "They now communicate with their fingers by typing into a tiny toy."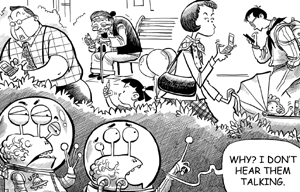 Indeed, for 26-year-old Kong Yan, who works at a US company's Shanghai office, using SMS (short message service), a form of text messaging, has become an important and inalienable part of her life.
"I use it everywhere. The first thing I do after I get up every day is send a message to my boyfriend. And my day will end with a 'good night' message sent to him," said Kong, a typical white-collar urban office worker.
She is just one of millions of Chinese now immersing themselves in the expanding universe of SMS.
This new form of silent communication has come to dominate the life of all sorts of people.
he scene of one clutching his or her mobile phone and thumbing SMS is frequently seen at almost every corner of most Chinese cities - on buses, streets, at theatres, and even during concerts.
The short message service is now so pervasive in China that local media have described it as "SMS mania."
It has gone beyond being simply fashionable and has become a "sociological phenomenon."
National craze
The early signs of text mania in China emerged about three years ago, when cellphones were beginning to gain ground.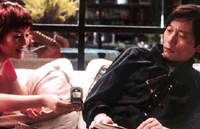 Yan Shouyi is frightened by a cellphone presented by her relative named Niu Caiyun. [File photo]

According to Victor Wang, CEO of mobile entertainment company Mtone Wireless Corporation, China accounted for only 1 per cent of the world's short messages sent by mobile phones in 2000.

But one year later, the figure jumped to 7 per cent, or 18.9 billion messages.

In the following two years, Chinese society witnessed text messaging grow from a popular toy to an essential communication tool for many.

In 2002, about one-quarter of the 36 billion short messages sent worldwide were sent by Chinese people, according to China Mobile, the country's largest provider of cellphone services.

The proportion is expected to continue to rise this year, and account for one-third of the world's total.

In the film "Cellphone," Yan Shouyi (played by Ge You) is caught by his girlfriend Shen Xue (played by Xu Fan) as he hides in the washroom to send a SMS message.

China Mobile estimates this year's SMS volume will hit some 170 billion messages. In few other cultures is text messaging such a vital part of everyday life.

One of the reasons behind that is the popularity of mobile phones.

China is the world's largest cellular phone market today.

Currently there are more mobile phones than there are fixed phones in China. The country now has 259.6 million mobile phone subscribers compared to 255.1 million landlines.

By 2007, mobile phone subscribers are expected to exceed 400 million.

Another reason for its popularity is that it is relatively cheap. It costs only 0.1 yuan (1.2 US cents) or 0.15 yuan (1.8 US cents) to send one text message, not counting the many favourable packages that cut the charge even more.

But there is much more behind why SMS mania has gripped China.

"It is an integral part of my daily communications. Both private and business," says Chen Wei, who now runs a business in Beijing.

Chen says he sends about 1,000 messages every month.

"SMS is less intrusive," Chen said. "For example, I can confirm an appointment without worrying about whether I am interrupting a meeting."

"Some other times, there are some things that I cannot talk about for certain reasons. So I send SMS to my friends and they will SMS me back," Chen said.

"For example, if I am angry, I might feel more comfortable if I send the guy a message than if I speak to the person, where I might probably lose my temper," said Chen.

"Maybe it is a communication that is more fit for the Chinese, who are not used to expressing their feelings directly, than it is for Westerners," said Chen.

Besides using SMS as a replacement for daily conversation, many Chinese also send funny, humorous messages. Some of these messages are adult jokes or even political jokes. The others are merely jeu de mots - nonsense that makes people laugh.

People also favour sending greetings to friends and relatives during holidays.

During last Spring Festival Holiday, the lunar Chinese New Year, a total of 7 billion messages were sent across the country.

The business world has been the quickest to adapt.

According to Zhou Yunfan, Chairman and CEO of Kongzhong.com, currently more than 1,000 websites provide SMS value-added services.

They are all striving to tap the gold mine by profiting from the craze for SMS.

Among all those websites, Zhou said his 200-employee company is now the "largest multimedia messaging service (MMS) content provider."

The company has established a "strategic partnership" with China Mobile, Zhou said. It profits by selling SMS and MMS content to mobile phone users, charging 1 yuan (12 US cents) or 2 yuan (24 US cents) for each message. Generally 15 per cent of that revenue goes to China Mobile.

"We now have several million registered users," said Zhou, whose company was founded last March.

Zhou himself is quite addicted to using SMS. He said he sends about 20 or 30 short messages every day, including a few multi-media messages.

One of Kongzhong.com's major rivals is Mtone.

Recently, Mtone released a new SMS game based on blockbuster film director Feng Xiaogang's New Year's celebration movie, named "Cellphone (Shouji)."

Drawbacks?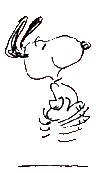 SMS Run SMS

The popularity of SMS has also aroused worries that SMS may be eroding normal communication between people.

Wang Lihua, a reporter from Beijing, has not gone to a movie in more than a year.

The last time she showed up at a cinema, she missed almost every scene, tied up in chats on her cellphone with distant, and ever pestering friends whom she met and got familiar with on the Internet.

That did not disturb fellow moviegoers seated around her because her conversation was all thumbs.

But sometimes such dumbness hurts.

Wang admitted she is so concentrated on sending SMS sometimes that she is on the phone even at dinner time with the family.

She recalled one incident during a conversation with a close friend. She kept sending SMS on her mobile phone, which finally got her friend annoyed.

These behaviours are charged by some social scientists as being "anti-social."

Others are concerned about the spread of pornographic jokes via SMS.

"With more and more children now having their own mobile phones, they are exposed to pornographic jokes, which otherwise would not reach them in daily life," said Yuan Yue, a Beijing-based researcher on social sciences.