Gas well sealed off; Victims begin to return home
( 2003-12-27 02:17) (China Daily)
After two hours of struggle to pump mud into a gas well which blew out Tuesday in southwest China's Chongqing Municipality, emergency teams and technicians finally sealed it off Saturday morning.
Preparations for the capping operation started Friday evening at the gas field. Reporters were ordered to stay at least four kilometers away.
The operation, originally set for 10:00 am Friday, was postponed by one day in order to complete the evacuation of non-essential personnel.
Victims begin to return home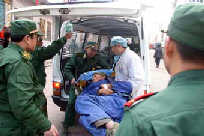 A poisoned villager is convoyed to an ambulance by the soldiers during the rescue operation Friday, December 26, 2003. [newsphoto.com.cn]

Dozens of local villagers began to go back home Saturday, after authorities and technicians sealed the gas well which blew out Tuesday night in southwest China's Chongqing Municipality.

"We are going home today," said a farmer from Sanxi Village, Zhenba Town, more than 10 km from the gas well.

"I want to clean up my house and count my losses, because we can't smell the fumes now," said the farmer, who did not want to be named.

He said all his seven family members were healthy, and they had been away from home for four days.

Only those living far from the villages are allowed to return home currently and villagers within five km from the gas field are still not allowed to go home, according to local rescue headquarters.

Over 100 medical experts began to disinfect eight villages closest to the gas well, and the results of environmental tests of the air and surface water will be available within two days, local officials said.

"Health departments will test and disinfect the drinking water, vegetables and local people," said Zhang Mingkui, director of the Kaixian County Bureau of Environmental Protection.

"The corpses of animals will be cremated," Zhang said. "Then a thorough disinfection and environmental evaluation will be conducted before villagers near the blowout site are allowed to return home."

Soldiers search for victims

Servicemen were stunned at what they saw in Gaoqiao Town, when they were searching for victims in this worst-hit area of the catastrophic gas blowout, prior to an operation to capping the burst well in Kaixian County, Chongqing Municipality, southwest China.
A poisoned villager receives emergency treatment. Many of the poisoned villagers suffer from optic injuries due to the toxic gas. [newsphoto.com.cn]
"Gaoqiao has become a 'ghost town,' and I can never forget what I saw there," said a member of a Chinese People's Armed Police ( PAP) brigade.
Lieutenant Liao Yiquan is even sadder. When he led a search team to his home village, Xiaoyang, they found the dead bodies of his uncle, aunt and niece. Later, Liao came upon his father, who had been blinded by the escaped gas. Liao's mother is still missing.
During the search operation, Liao and his colleagues rescued dozens of villagers, and collected a dozen corpses. One member of the team revived a 70-year old man using mouth-to-mouth resuscitation.
As of 8:00 am Saturday, the PAP troops evacuated over 900 villagers to safer areas, and carried 182 dead bodies away.
A 70-member team of the Chinese People's Liberation Army (PLA) chemical troops also participated in the capping maneuver. At the same time, they trained local villagers on ways to protect themselves from the gas.
In related developments, PLA vehicles have transported rescue goods in large quantities to the affected areas, and distributed food and clothes among the local people.
According to previous reports, the tragedy began at 10:00 pm Tuesday, when the well in a gas field of the China National Petroleum Corporate burst suddenly and released a high concentration of natural gas. Most of the deaths and injuries were caused by gas inhalation.
Quick compensation for victims urged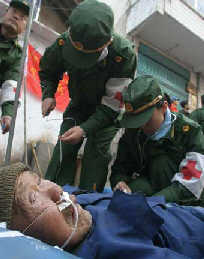 An elder poisoned villager receives emergency treatment during the rescue operation Friday, December 26, 2003. [newsphoto.com.cn]

China Insurance Regulatory Commission (CIRC) Saturday urged insurance companies in Chongqing, a municipality in southwest China, to pay prompt compensation to victims of the catastrophic gas blowout in the area that has claimed 198 lives.

According to an official of the CIRC, its Chongqing office has set up an emergency leading group to oversee the issue.

Official figures show that local clients in the affected area have bought premiums worth a total of 400 million yuan (about 48 million US dollars), including 230 million yuan in the form of property coverage, and the rest for life insurance.

Some of the victims have already been compensated by local insurance companies.

The gas blowout took place at 10:00 pm Tuesday, when a well of the China National Petroleum Corporation suddenly burst, and released a high concentration of natural gas and poisonous sulfurated hydrogen.

The well was successfully capped Saturday morning.



Death toll climbed to 198

The death toll from the gas blowout rose to 198, according to local government sources.

The tragedy took place at 10:00 p.m. Tuesday at a natural gas field in Kaixian county, operated by the China National Petroleum Corporation, when a well burst suddenly and released a high concentration of natural gas and sulfurated hydrogen. The natural gas field is 337 kilometers northeast of Chongqing Municipality.

An operation to cap the gas well completed successfully at 11:00 a.m. Saturday and expert predicted that there would be no new blowout in capped gas well.

Over 1,500 police, firemen and soldiers joined the rescue operation on Friday morning, searching for survivors over an area of about 80 square kilometres. More than 4,000 local people have been involved in the rescue.

Fourteen camps have been established to accommodate more than 23,380 people , while more than 18,000 others have been evacuated to homes in areas not affected by Tuesday night's tragedy.

A well blew out suddenly at 10 pm, releasing a high concentration of natural gas and sulphurated hydrogen at the Chuandongbei gas field in Kaixian County, about 340 kilometres northeast of Chongqing.

A Beijing-based reserve medical team including respiratory disease and burn treatment experts has been organized by the Ministry of Health in Beijing and was preparing to head to the county on Friday.

Also, relief material including rice, biscuits, instant noodles, tents, quilts and cotton-padded overcoats were sent to victims.

A donation hotline, 86-23-63631520, was opened on Friday in Chongqing. It received more than 500 calls from all over the country with offers of donations.

The victims suffered mainly from acid burns on their skin and through the respiratory system.

The latter is particularly difficult to treat if too much poisonous gas is inhaled. It may lead to lung hydropsy and death due to the collapse of the respiratory system, said Doctor Li Hongjun at the Kaixian People's Hospital.

Chen Feng, a spokesman for the Chongqing municipal government, said about 430 people were still hospitalized, including 37 in critical conditions. The others were recovering well.

The death toll was reported as eight on Wednesday but soared into the hundreds on Thursday when the poisonous gas was cleared, allowing rescuers access to the area.

Local police have identified 182 victims, two of whom worked at the gas field -- the rest are local residents.

The aged and children accounted for a large proportion of the dead with 39 victims under the age of 10 and 46 above the age of 60.

Over 80 per cent of those killed by the toxic gas were from the Liao Village in Gaoqiao township. Scores of dogs, ducks, rabbits and other domestic animals also perished. Even fish did not escape.

The blowout was described by a work safety official as "unprecedented.''

Huang Yi, a State Administration of Work Safety spokesman, said on Friday the tragedy illustrated the need for the establishment of an effective accident alert and emergency response mechanism. With such an apparatus, he said the death toll would not have been so high.

198 deaths could lead to emergency response system

Huang said the administration has made a tentative plan to set up a State emergency response base in a bid to reduce the number of casualties during such tragedies by making effective use of resources around the country.

The China National Petroleum Corp (CNPC), owner of the culprit gas field, issued an emergency notice on Friday, ordering production safety checks at all of its gas fields.

The inspections include both well equipment and emergency responses. CNPC's companies will inform and evacuate nearby residents in a timely and efficient manner if any emergencies arise in the future, a CNPC spokesman said.

CNPC will suspend the production at any of its facilities that fall short in terms of safety measures, he said.

A capping operation, originally planned for Friday morning to block the gas flow, was delayed to Saturday to allow more time for rescue operations around the accident site.

Two major gas field blowouts had occurred in China before Tuesday's incident in Kaixian County:

March 22, 1998: Eleven people dead, 13 poisoned and one injured in Kaijiang County in Southwest China's Sichuan Province.

September 28, 1992: Six people dead and 24 others poisoned in Zhaoxian County in North China's Hebei Province.