Four U.S. soldiers killed in spate of Iraq attacks
( 2003-12-26 21:40) (Agencies)
Guerrillas extended the biggest insurgent attacks in Iraq since Saddam Hussein's capture, killing four U.S. soldiers in mortar and bomb attacks, the U.S. military said on Friday.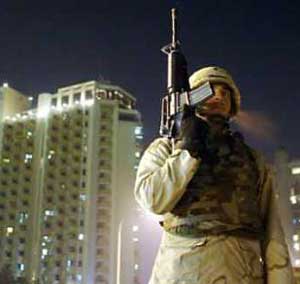 A U.S. soldier from the 1st Infantry Division guards a fortified Baghdad compound containing the Palestine and Ishtar Sheraton (R) hotels December 25, 2003. Guerrillas sent more than a dozen rockets and mortar rounds slamming into Baghdad on Christmas Day, hitting hotels, embassies and the vicinity of the U.S.-led occupation authority in Iraq. [Reuters]

A roadside bomb killed one soldier and wounded another when it exploded by a convoy near Baquba, about 65 km (40 miles) north of Baghdad, early on Friday. A second soldier was killed the same day trying to defuse a bomb outside the town, a U.S. military spokesman said.

Two other U.S. soldiers were killed in a mortar attack on a U.S. camp near Baquba on Thursday.

Guerrillas also wounded two Polish soldiers in an ambush in southern Iraq, the latest in a string of attacks on the forces of countries which have answered Washington's call for troops to help it secure the country it invaded to topple Saddam.

Two Iraqis were killed when a roadside bomb exploded on a road near Baghdad airport on Friday, witnesses said. There were no further details.

The U.S. military said it had arrested 66 people in a night swoop in Baghdad, including a major general with links to Saddam and 20 other "significant" figures.

The latest attacks capped a Christmas Day in Iraq shaded with gloom by projectiles that slammed into Baghdad hotels used by Westerners, embassies and an apartment block, as well as near the headquarters of the U.S.-led occupation.

The U.S. casualties brought to 210 the number of U.S. combat deaths since Washington -- now under pressure over troop casualties as the 2004 presidential election approaches -- announced the end of major combat in Iraq on May 1.

In the northern city of Mosul, an army spokesman said three U.S. troops were wounded on Friday in an ambush on their patrol. Witnesses said troops returning fire killed a taxi driver, but the military said it knew of no civilian casualties.

A Polish-led division of multinational troops said the Polish troops were attacked on Thursday night with bombs and small arms fire near Mahawil, about 80 km (50 miles) south of the capital.

"Their injuries are not life-threatening," a spokesman for the division said.

SIRENS WAIL

Those attacks on U.S. troops and their allies came as warning sirens wailed from within the U.S.-led occupation headquarters in the ousted Iraqi leader's sprawling palace on the Tigris, where mortars thumped late on Thursday.

A spokesman for U.S.-led forces confirmed only that there had been "impacts" in the area, without elaborating on casualties or damage.

The Christmas guerrilla attacks in Baghdad were the most extensive since Saddam's capture on December 13 and followed warnings by U.S. officials that there could be spectacular attacks during the holiday season.

Guerrillas fired rockets that hit the outside wall of the Iranian embassy, the Turkish embassy and a residential building next to the German embassy. The rockets blew a hole in the front wall of the Turkish mission and shattered windows.

Shortly after nightfall, U.S. forces using aircraft and artillery pounded suspected guerrilla hideouts on the outskirts of Baghdad for the third consecutive night as part of Operation Iron Grip, aimed at flushing guerrillas from the capital.

The U.S. Army's 1st Armored Division said it had captured 21 important prisoners, including a major-general tied to Saddam and members of a guerrilla cell, in what it called the heaviest night of operations in Baghdad since the war.

It called the guerrilla attacks, including mortars that smashed into the Sheraton hotel where Western contractors and journalists stay, "weak" and "feeble."

A U.S. officer said the attackers left behind leaflets urging staff to stop working at the hotel and demanding U.S. forces leave Iraq.

The bombings deepened the gloom that cast a pall over Christmas celebrations, with Baghdad churches skipping midnight mass for Thursday morning. Worshippers, rattled by the turmoil in the capital, opted not to venture out at night.