Gas blowout created 25-sq-km "death zone"
( 2003-12-26 15:34) (chinadaily.com.cn & Agencies)
A gas blowout in southwest China turned an area of 25 square km (10 sq miles) into a death zone, killing at least 191 people as they slept or scrambled to escape, officials said on Friday.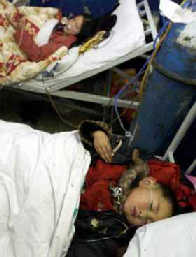 A child (bottom) and woman receive treatment at a local hospital after a blowout at a natural gas field, in China's southwestern municipality of Chongqing on December 25, 2003. At least 191 people were killed and hundreds poisoned. [Reuters]

Rescue workers raced to stem the foul-smelling toxic fumes from the natural gas well which was being drilled in mountains 340 km (200 miles) northeast of Chongqing city when Tuesday night's disaster occurred.

Xinhua News Agency said an operation to cut off the gas planned for 0200 GMT on Friday had been postponed for 24 hours. Eighty-two separate rescue teams scoured surrounding villages for survivors. Dozens of fire trucks and ambulances were standing by.

"They have not found any more dead bodies today," a county government official said.

Fire was deliberately set up to consume the poison gas.

The Chongqing Morning Post quoted one survivor who lived within 100 metres of the well, 41-year-old peasant Liao Yong. He described a hissing black mist of gas which chased him as he fled in his farm vehicle -- with more than 20 relatives and neighbours hanging on.

After driving several kilometres, Liao no longer sensed the strange odour of the fumes and stopped his vehicle to look back, the paper said. "But within just minutes, Liao Yong again caught whiff of the smell of stinky duck eggs...and hastily drove on."

But at least 191 others were killed.

The poisonous gas hovering in the air made an area of 25 sq km a death zone as many villagers were intoxicated by the fumes in their sleep.

Bodies by roadside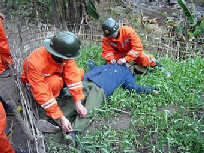 Firemen tidy up the clothes of a man who died following an explosion at the natural gas field in Kaixian County, southwestern China's Chongqing Municipality, Thursday, Dec. 25, 2003. [Xinhua]

"Most of the bodies were found at home or by the roadside or in a valley," the county official said by telephone.

"Chickens, horses and pigs were also killed."

About 41,000 people, most of them farmers, were evacuated from villages within a radius of five km (3.1 miles) from the remote accident site, where the temperature at night drops to freezing.

About 740 people were still being treated in hospital while outpatients with ailments such as conjunctivitis and other eye problems numbered nearly 10,000, the official said.

Earlier Xinhua report said 291 people were hospitalized, many of them children.

When the well erupted, it spewed a high concentration of natural gas and sulphurated hydrogen 30 metres (100 feet) into the air.

The fumes spread quickly to nearby areas and caused "mass
casualties", Xinhua news agency quoted Wu Jianong, vice mayor of Chongqing, as saying, adding that poor communications and transport facilities hampered rescue efforts.

Sulphurated hydrogen is a toxic gas that can poison or kill people who inhale 760 to 1,000 milligrams per cubic metre. Only after the gas was set ablaze were rescue workers able to enter the area, vice mayor Wu said.

Among the dead were 39 children under 10 and 46 people over 60. Two of the dead were well workers, the rest farmers and their families.

The well where the blow-out occurred is owned by China National Petroleum Corp (CNPC), parent of oil major PetroChina.

Leaders stress rescue efforts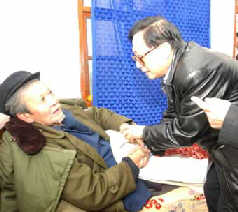 State Councillor Hua Jianmin talks to a survivor in Kaixian county. [Xinhua]

A work team headed by State Councillor Hua Jianmin arrived on the scene yesterday evening to organize the rescue work and an investigation into the cause of the accident.

Chinese leaders, including President Hu Jintao and Premier Wen Jiabao, called for unreserved efforts in searching and rescuing the victims.

The leaders said in their instructions that relevant departments should go all out to rescue victims, prevent poisonous gas from spreading further and reduce casualty.

The leaders also called for effective efforts in evacuating local residents to safety and arranging proper accommodation for them.

Chongqing's Mayor Wang Hongju was also at the site, visiting the wounded in hospitals and overseeing the relief goods being sent to the homeless.

Meanwhile, six other work teams were preparing rescue materials, vehicles and gas-combating equipment for an all-out effort to curb the outflow of gas this morning.

The cause of the accident is under investigation.