France says no proof of hijack plot found
( 2003-12-26 09:48) (Agencies)
French investigators questioned seven men pointed out by U.S. intelligence but found no evidence they planned to use a Los Angeles-bound jet to launch terror attacks against the United States, French authorities said Thursday.
American warnings of a plot had prompted Air France to cancel six flights on Wednesday between Paris and Los Angeles ¡ª three in each direction ¡ª amid a stepped-up terror alert level in the United States.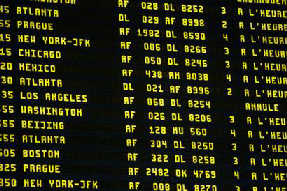 A flight timetable displays the canceled flight AF 068, amongst other flights for which departure is scheduled on time, at Terminal E at Roissy airport, north of Paris, Thursday, Dec. 25, 2003. [AP]

U.S. intelligence officials told their French counterparts that members of the al-Qaida terrorist network would try to board the planes over Christmas, said a French judicial official, speaking on condition of anonymity.

The seven questioned men, who all had tickets for Air France Flight 68 to Los Angeles, were on a watch list provided by U.S. authorities, an Interior Ministry spokesman said. But all were released after questioning Wednesday night, the spokesman said.

"There are no longer any investigations," he said.

France's anti-terrorism judicial unit chose not to launch a formal investigation because of a lack of evidence of an attack, the judicial official said. None of the passengers on the canceled flights, including those questioned at the airport, were known to French intelligence authorities or found to have links with Islamic extremist groups, the official said.

French authorities also investigated a man from Tunisia whose name was supplied by American intelligence. But the judicial official said man was in Tunisia with no plans to leave for the United States. He has no criminal record and does not belong to any radical Islamic groups.

Passengers were subjected to intense searches before being told hours later that their flights had been canceled. Many were angry.

"We had to wait nearly six hours without any explanation as to what was going on. We noticed dogs and police," said Jean-Marie Buchet, 54, of Paris, who was traveling to Los Angeles to spend the holidays with family. "Everyone was very irritated. We imagined it was to do with security, but they could at least have told us."

Still, the French government portrayed the operation as an example of cooperation between France and the United States on terrorism.

"What is important is that the evaluation of threats continue, and they are undertaken between the Americans and the French in a framework of intense cooperation," said a spokesman for the prime minister's office. "Franco-American cooperation in this domain is exemplary."

Officials from the U.S. Homeland Security Department met with French officials in recent days to discuss terrorism concerns as part of an effort to get foreign airlines to provide American officials with more information about people on flights heading to the United States, a U.S. official said earlier this week.

France and Mexico were of particular concern in this regard, the official said on condition of anonymity.

On Thursday, frustrated passengers scrambled to reacher their destinations.

"I am angry," said Jannita Moe, a 61-year-old from Tahiti who was flying home via Los Angeles. "You don't notify people at the last minute."

After missing her flight, she was forced to rebook an itinerary that was to take her through South Korea and New Zealand en route to Tahiti ¡ª a 38-hour journey.

Air France said that flights were to resume normal service Friday.