Pakistan's Musharraf blames extremists for attack
( 2003-12-26 09:04) (Agencies)
Pakistani President Pervez Musharraf narrowly survived a second attempt on his life in two weeks on Thursday when suicide car bombers attacked his motorcade, killing themselves and at least 12 others.
Two cars packed with explosives were driven out of two petrol stations and into the president's motorcade just 200 yards from a bridge on a main road in the city of Rawalpindi, where Musharraf escaped a bombing on December 14.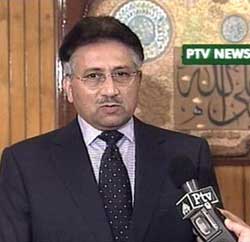 Pakistan president Gen. Pervez Musharraf tells details of suicide attack on him to Pakistan Television on Thursday, Dec. 25, 2003 in Rawalpindi, Pakistan. The president's car was damaged but he was unhurt. At least 14 people were killed, including two attackers, and 46 were wounded. [AP]

Two huge blasts scattered debris and body parts over a wide area, damaging the windshield of Musharraf's armored Mercedes and blowing the green and white state flag from its wing.

Musharraf appeared on state television hours after Thursday's attack looking well and unruffled and vowed to step up his campaign against Islamic extremists, who he called "enemies of Islam and Pakistan."

He said it was still unclear exactly who was responsible, but added: "Certainly they are terrorists, extremists and wayward people...They are endangering Islam."

"We are fighting against terrorism. We will continue to fight it. It is my mission to take this country forward," he said. "My faith has strengthened, my resolve has increased. We will wipe out extremism."

He said his car came under attack when he was returning home to Rawalpindi from a meeting of ministers of the Organization of the Islamic Conference in the adjoining capital, Islamabad.

"A suicide bomber first attacked me, but thank God nothing happened to us and we moved ahead," he said, adding that another car then tried to attack his limousine.

"I am sorry that 14 people lost their lives and more than 40 were wounded," he said. "They lost their lives because of me."

Musharraf said some people had said there had been a major security lapse, but he did not want to make any hasty comment.

"These are suicide bombers and to check them is not easy. They are like mobile bombs," he said.

MUSHARRAF PLAYS DOWN SUMMIT WORRIES

Musharraf brushed aside concerns about a security threat to regional leaders, including Indian Prime Minister Atal Behari Vajpayee, who are due to attend a January 4-6 summit of the South Asian Association for Regional Cooperation in Islamabad.

India's Foreign Ministry condemned a "heinous terrorist attack" on Musharraf, but made no mention of the summit.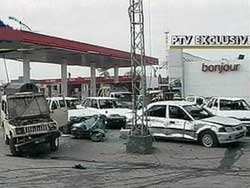 Damaged vehicles are seen in this image made from television after two massive suicide bombs exploded Thursday Dec. 25, 2003, in Rawalpindi, Pakistan, moments after a motorcade passed by carrying Pakistan President Pervez Musharraf, the second assassination attempt against him in 11 days, officials said. [AP]

"It is targeted bombing and I am the target," Musharraf said. "People around me are in some danger, but others are not."

Interior Ministry spokesman Abdul Rauf Chaudary said at least 14 people had been killed, including at least two bombers. Officials said at least 46 people were hurt.

A soldier and three policeman died. Some police officers in the motorcade were hurt and a diversionary open-topped Mercedes at the tail end of the motorcade was blown across the road.

Military spokesman Major-General Shaukat Sultan said an investigation was under way. "It could be al Qaeda, it could be an internal factor, or both internal and external," he said.

The list of Musharraf's enemies has lengthened since he took a front-line role in the U.S.-led war on terror after the September 11 attacks on the United States in 2001.

Musharraf told Reuters a few days later after the December 14 attack that it could have been the work of Osama bin Laden's al Qaeda network and he believed "destiny" had shielded him.

He has angered militants by dropping support for the former Taliban regime in Afghanistan, arresting hundreds of members of al Qaeda and cracking down on domestic groups, while at the same time edging toward peace with rival India.

In September, an audio tape purportedly from al Qaeda deputy leader Ayman al-Zawahri urged Pakistanis to overthrow Musharraf.