At least 90 killed in Benin plane crash
( 2003-12-26 08:45) (Agencies)
An airliner clipped a building during takeoff and crashed into the sea off the West African nation of Benin on Thursday, killing at least 90 people ¡ª mostly Lebanese on their way home for the holidays.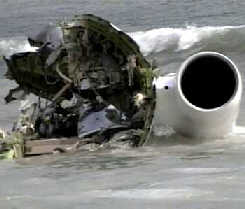 A video grab image shows wreckage from a Boeing passenger plane that crashed shortly after takeoff in the West African country of Benin on December 25, 2003. [Reuters]

Grief was mixed with hope in Beirut as families of passengers kept vigil and prayed their relatives were among the survivors.

Benin's Health Minister Celine Segnon said there were 18 survivors after four people earlier rescued died in hospital. Rescue workers toiled into the night, working under powerful lights set up at the crash site.

Tearful relatives at Beirut's airport mingled with others carrying bouquets of flowers, anticipating cheerful Christmas day reunions with passengers arriving on other flights.

"My brother and my uncle are on this plane. We have called people we know in Cotonou and they said they got on the plane. Now we don't know what happened to them," one man said through tears while waiting at the airport for news.

"We hope they are still alive. We don't know their fate," he added, without giving his name.

Some relatives watched breaking news of the crash on television sets in the airport, collapsing into loud sobs when news of the Lebanese dead was broadcast on Lebanon's al-Manar television.

After the plane was reported down, a screen listing arrivals still showed the flight as scheduled to arrive at 11 p.m. local time from Cotonou and Conakry.

Lebanon's Transport Minister Najib Mikati said the survivors were mostly Lebanese and in good condition with minor injuries.

The aircraft belonged to Union Transport Africaines, owned by two Lebanese, and had a carrying capacity of 141 passengers and crew.

Officials at the control tower in Cotonou said 63 people had boarded the plane in Benin, all but four of them Lebanese and heading to Beirut for seasonal holidays.

Police sources at the airport in Conakry, capital of Guinea where the flight originated, said 31 passengers had earlier boarded the plane there, of which 19 were Guineans.

West Africa has had Lebanese communities for more than a century, forming the backbone of some economies.

RAY OF HOPE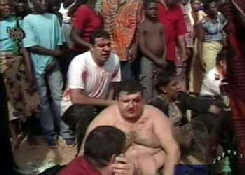 A video grab image shows injured people on the beach following the crash of a Boeing 727 passenger plane shortly after takeoff, in the West African country of Benin, December 25, 2003, killing at least 90 on board. [Reuters]

But tears turned to relief for at least one man at the Beirut airport when he learned by phone that his son Muhammed Bashir survived the crash with broken bones and was in hospital.

"This was my son calling me from Germany. He just told me he has spoken to his brother, who was aboard the plane, and he is alive," said Ali Bashir, as relatives of other passengers crowded around, desperate for details.

"I learned that my son has broken bones. But what matters is he is alive," he said.

Other relatives said they were frustrated they had not received news in Beirut on the fate of passengers.

"If they don't comfort us by giving us information, who is going to?" asked one man who had three cousins on the flight.

Lebanon's national carrier Middle East Airlines said it had been asked to send a plane to Cotonou to take on injured passengers.

"I am waiting here to hear the news and to find out what happened to my nephew. We spoke to him last night and he told us he was coming and was bringing gifts to his kids," said Youssef Ghadar, whose 31-year-old nephew was on the plane.

"Now I am lost. I can't focus. His family can't believe the news. His wife is breaking down, so she didn't come," he said crying.

"From the number of the dead, I feel he couldn't have survived."