At least 191 killed by gas blowout, 291 hospitalized
( 2003-12-26 01:26) (China Daily)
At least 191 people were confirmed dead in a fatal gas blowout that occurred Tuesday night at a natural gas field in Southwest China's Chongqing Municipality, according to local government sources.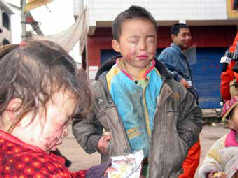 Two children suffered eye injuries from toxic fumes from the fatal gas blowout. [Xinhua]

The tragedy occurred at 10 pm when a well, located in the town of Gaoqiao of Kaixian County, some 337 kilometres northeast of Chongqing, burst suddenly and released a high concentration of natural gas and sulfurated hydrogen rushing 30 meters high, said Chen Feng, spokesman for the Chongqing municipal government.

The poisonous gas hovering in the air made an area of 25 square kilometres a death zone, as many villagers were intoxicated by the fumes in their sleep.

Some 291 people, mostly children, were hospitalized and four of them were still in critical condition while some 4,000 local people were reported to have suffered sulfurated hydrogen-caused symptoms like slight conjunctivitis and colds, according to local health bureau.

"We have admitted 138 patients poisoned by the toxic gas," said a doctor with the internal medicine department at Kaixian County People's Hospital.

"They have received timely and effective treatment and their conditions remain stable," the doctor said. "We are mainly using the antidotes medicine on the patients."

A total of 28 villages were hit by the gas blowout as local authorities had set up 15 shelter centers in schools and canteens for those evacuated.

"Many young people have gone out to work in faraway cities, leaving behind the elderly and kids at home who could not act swiftly to seek safety,'' said Pan Benqing, an official with a hospital in Zhonghe Town.

Pan said he heard of more deaths in a few villages. In one case, all seven members of one family died at home.

The wounded, showing symptoms of headache, nausea, breathing difficulty and some with sore eyes, are mostly in stable conditions, said Pan.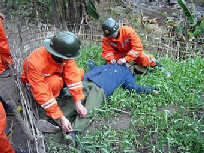 Firemen tidy up the clothes of a man who died following an explosion at the natural gas field in Kaixian County, southwestern China's Chongqing Municipality, Thursday, Dec. 25, 2003. [Xinhua]

More than 30,000 villagers were forced to flee from the danger zone to the county seat 70-kilometres away and other nearby towns or villages.

It is feared that the number of casualties might rise as 20 special teams are identifying casualties and continuing combing the nearby areas for survivors.

"The county government has assembled quilts, biscuits and instant noodles for the victims," said She Mingzhe, Communist Party Secretary of Kaixian County.

Meanwhile, six other work teams were preparing rescue materials, vehicles and gas-combating equipment for an all-out effort to curb the outflow of gas this morning.

The cause of the accident, considered to be the worst in China's history, is under investigation.

A work team headed by State Councillor Hua Jianmin arrived on the scene yesterday evening to organize the rescue work and an investigation into the cause of the accident.

Chinese leaders, including President Hu Jintao and Premier Wen Jiabao, called for unreserved efforts in searching and rescuing the victims.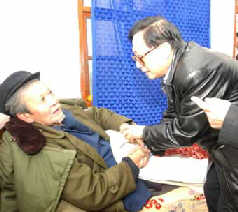 State Councillor Hua Jianmin talks to a survivor in Kaixian county. [Xinhua]
The leaders said in their instructions that relevant departments should go all out to rescue victims, prevent poisonous gas from spreading further and reduce casualty.
The leaders also called for effective efforts in evacuating local residents to safety and arranging proper accommodation for them.
Chongqing's Mayor Wang Hongju was also at the site, visiting the wounded in hospitals and overseeing the relief goods being sent to the homeless.
Fire used to block gas spread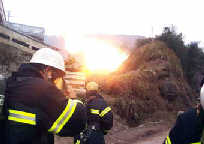 To control the further spread of toxic fumes, fire is set to the excess gas released yesterday after a sudden blowout at a natural gas field in Chongqing on Tuesday night. The explosion and fumes killed 191 people by press time. [newsphoto.com.cn]

To curb the gas spread, technicians from the China National Petroleum Corp, owner of the gas field, set fire to the excess gas yesterday afternoon.

Some 260 cubic metres of concrete carried by 13 vehicles will be pumped into the well this morning to completely block the flow of the toxic sulfurated hydrogen.

According to Qian Zhijia, deputy head of the company, operations appeared normal until the gas suddenly blew out from the side of the drill and got out of control.

But experts point out that accidents are likely when drilling a new well, as pressure conditions under the earth are not predictable. This particular well fell into that category, local sources said.

The gas contains a large amount of sulfureted hydrogen, which is heavier than air and tends to stay on the ground during blowouts, killing people, animals and plants as the burning acid mixes with water, said Tang Zhenghua, adviser to the China International Engineering Consulting Co.

The gas field in Kaixian County has a storage capacity of 50 to 60 billion tons of natural gas.

A senior official with the State Administration of Work Safety Thursday said localities across the country should upgrade their supervision and safety inspection processes during production, as well as management and storage of toxic products.