Vice-premier visits Henan AIDS patients
( 2003-12-24 01:31) (China Daily)
In a visit to China's hardest-hit village in Henan Province late last week, Vice-Premier Wu Yi urged AIDS patients to trust the government in the joint fight against the deadly disease.
During her three-day tour that ended on Saturday, the vice-premier shook hands with villagers infected with HIV and chatted with them in their homes in Wenlou, Shangcai County.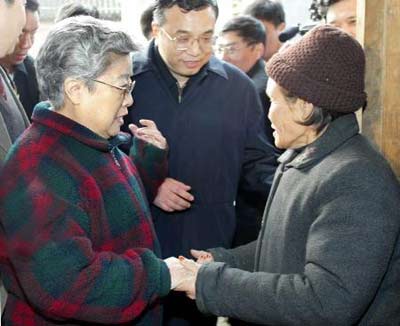 Vice-Premier Wu Yi greets an AIDS patient at Wenlou village in Shangcai of Central China's Henan Province. The village has been struck by mass infections of the HIV virus from unregulated blood banks. [Xinhua]
The face-to-face visit was the second public meeting between a senior Chinese Government official and AIDS patients.
Premier Wen Jiabao met AIDS patients at a hospital in Beijing earlier this month in a move to display support for a nationwide push to curb the spread of the disease.
Wu's Henan tour also included visits to a clinic in Wenlou, and hospitals and healthcare centres in the capital city of Zhengzhou, where she discussed AIDS-related issues with local government officials and medical staff.
According to a report provided by the provincial government, contaminated blood transfusion involving farmers before 1995 resulted in the spread of the disease in some areas in the province.
Describing the situation of AIDS prevention and control as grim, the vice-premier said China will improve its monitoring of the epidemic situation by punishing those who are found responsible for covering up AIDS cases.
She said governments at all levels should continue to crack down hard on illegal blood dealing, and regulate the blood donation system.
The central and provincial governments have allocated at least US$2 million to control the disease, a county official told Xinhua.
China reportedly has 840,000 HIV carriers, including 80,000 AIDS patients. The figure might rise to 10 million by 2010, experts warn.