Gang leader executed after retrial
( 2003-12-23 01:31) (China Daily)
In a landmark decision, a notorious gang leader has been executed after his suspended death sentence was overturned by the nation's highest court.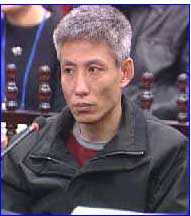 Liu Yong on the court

It is the first time the Supreme People's Court has retried an ordinary criminal case, and overturned the previous ruling of the second-instance trial.

According to China's legal system, a criminal case can usually be tried only twice.

Found guilty for willful and malicious injury, Liu Yong was given a lethal injection yesterday afternoon after the death sentence was handed down by the supreme court.

Liu's wife witnessed the execution and his body has been cremated.

The ringleader of a gang in Shenyang, capital city of Northeast China's Liaoning Province, Liu was charged with organizing, leading and actively participating in a Mafia-style organization, willful and malicious injury, pillage, illegal business operations, evading taxes, extortion, illegally holding or hiding a firearm or ammunition, disrupting public services, intentionally destroying or damaging public or private property, theft and offering bribes.

Liu, 43, was first sentenced to death by the Tieling Intermediate People's Court of Liaoning Province on April 17 last year.

But the original ruling was then overturned by the Liaoning Higher People's Court in August this year. He was sentenced to death, suspended for two years.

According to experts, China's highest court can step in if it believes an earlier trial was flawed.

On Thursday, the Supreme People's Court initiated a retrial procedure for Liu using the Law of Criminal Procedure as its basis.